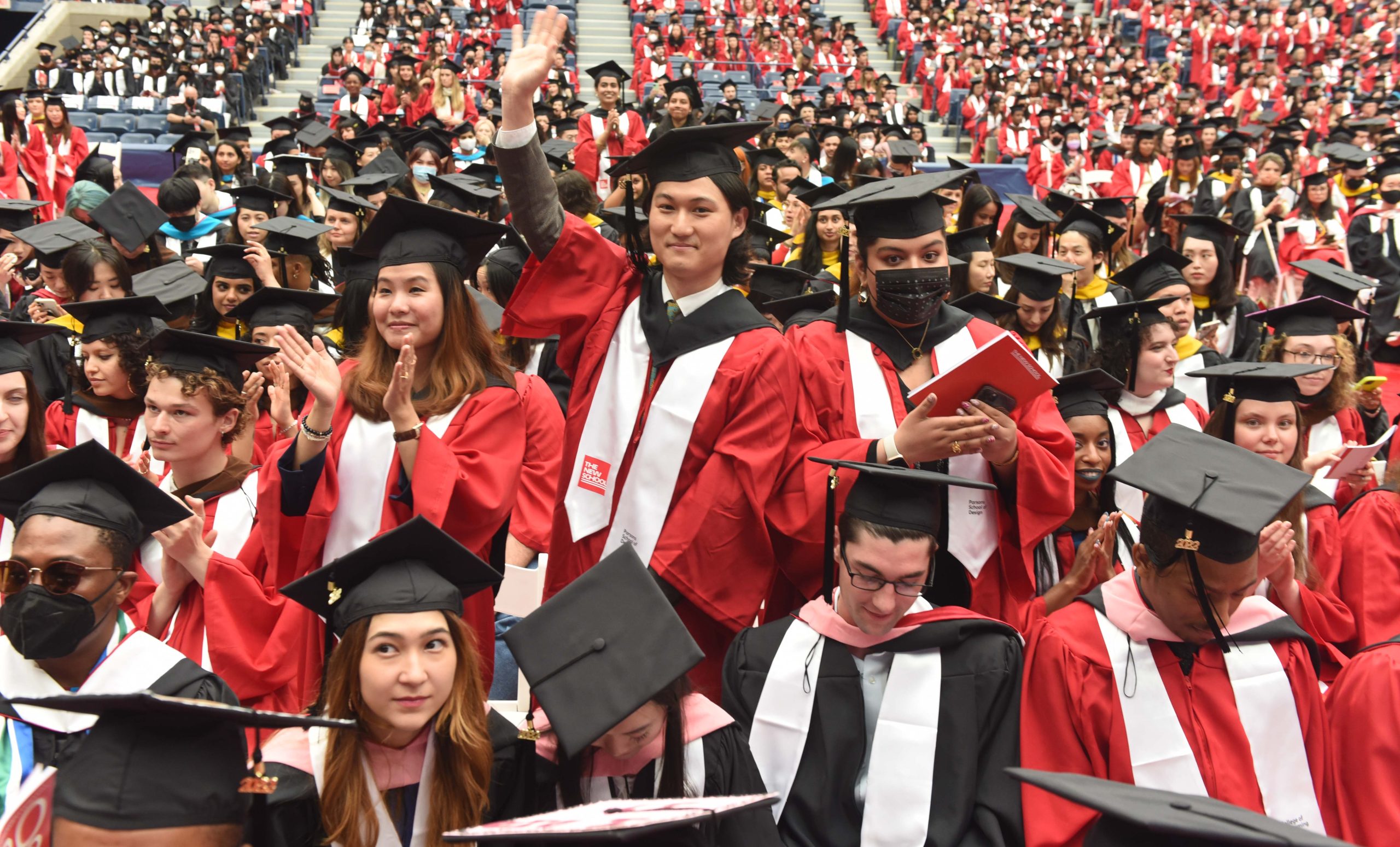 The New School's 86th Commencement: A Celebration of "Heart, Hustle, and Hope" for the Classes of 2020, 2021, and 2022
With a record attendance, The New School's 86th Commencement returned with a boisterous celebration at the Arthur Ashe Stadium at the USTA Billie Jean King National Tennis Center, after a two-year hiatus due to the COVID-19 pandemic. This return to in-person celebration was infused with a spirit of renewal, as The New School Community gathered to honor the university's graduating class of 2022, and the alumni classes of 2020 and 2021, whose Commencements were held virtually. The ceremony recognized the grit, creativity, and ingenuity that saw graduates through the challenges and triumphs they experienced during their university careers.
Sharing their excitement for the day, student speakers Ali Bebry Contemporary Music and Psychology '22, and Jon May, MS Media Management '22 used this special moment to address their classmates on their collective achievements as they prepare for their next steps after The New School.
"I got to be a part of something new—a community of individuals seeking something different and unexpected where we could pursue our most niche interests and in the process enact change…Our university has a long history of taking in scholars—faculty and students alike—who are either running from something old or towards something new. Whether it be something as large as political unrest, oppressive structures or exile, or as small as an instance of rejection. We're a community of the avant-garde ready to change the world," says Bebry.
May noted how students at The New School "are without a doubt anything but traditional. Challenging the status quo has been built into this university since its founding in 1919 and continues to this day…From my very first day of class, the curriculum made me ask the more challenging questions of myself and how I could impact society for the better…we attended school in a global pandemic, a recession, political upheaval, and a racial reckoning this country has yet to resolve, and we endured. These aren't the typical questions universities ask its students and they aren't the traditional challenges any normal student rises to. But now and forever at The New School we seek to challenge what is traditional."
Before Bebry and May's speeches, the crowd was treated to a performance by graduate Amanda Barise '22, vocalist, songwriter, and independent artist, and her musical partner, Nico Sleator, '21, a New York-based pianist, synth player, producer, composer, DJ, and educator. Celebrating her graduation today from Eugene Lang College and College of Performing Arts, Barise performed rousing renditions of old standards and new classics that brought students and families to their feet.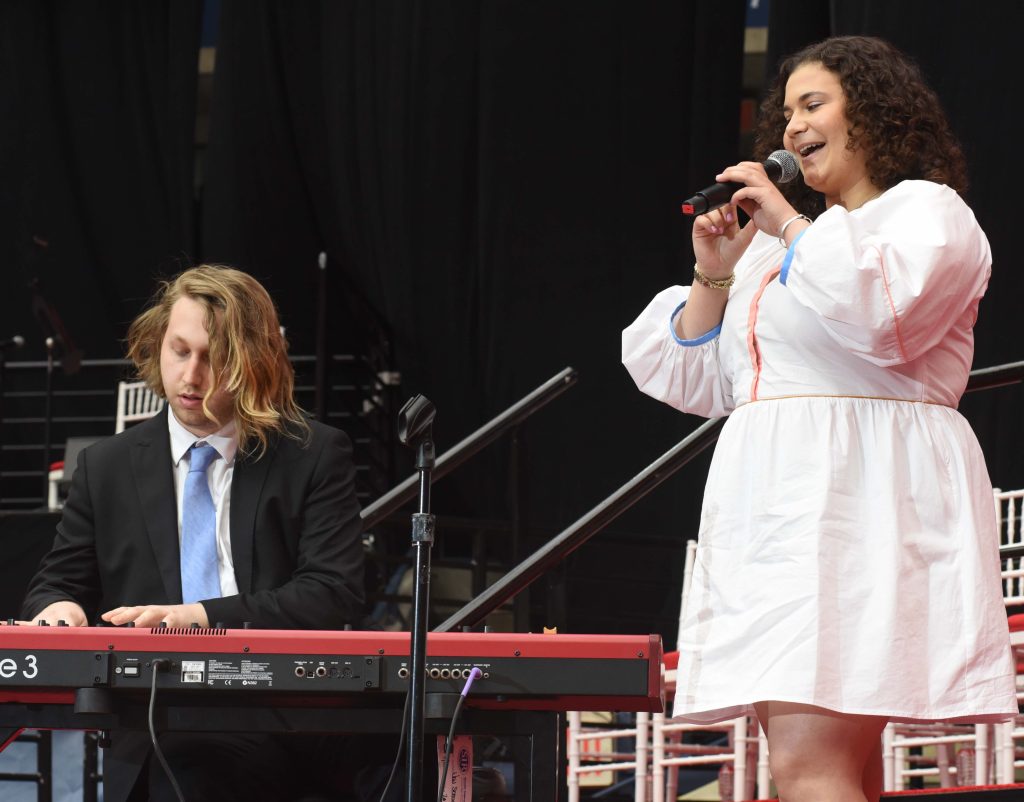 The excitement wasn't just felt by the graduates and their families and friends, as New School President Dwight A. McBride was thrilled to preside over his first in-person Commencement since arriving at the university three years ago. "Beginning my tenure as President of The New School as I did in March 2020, I feel incredibly connected not only to the class of 2022, but also to those who are joining us today from the classes of 2021 and 2020. I mean, what a journey we have been on together," said McBride.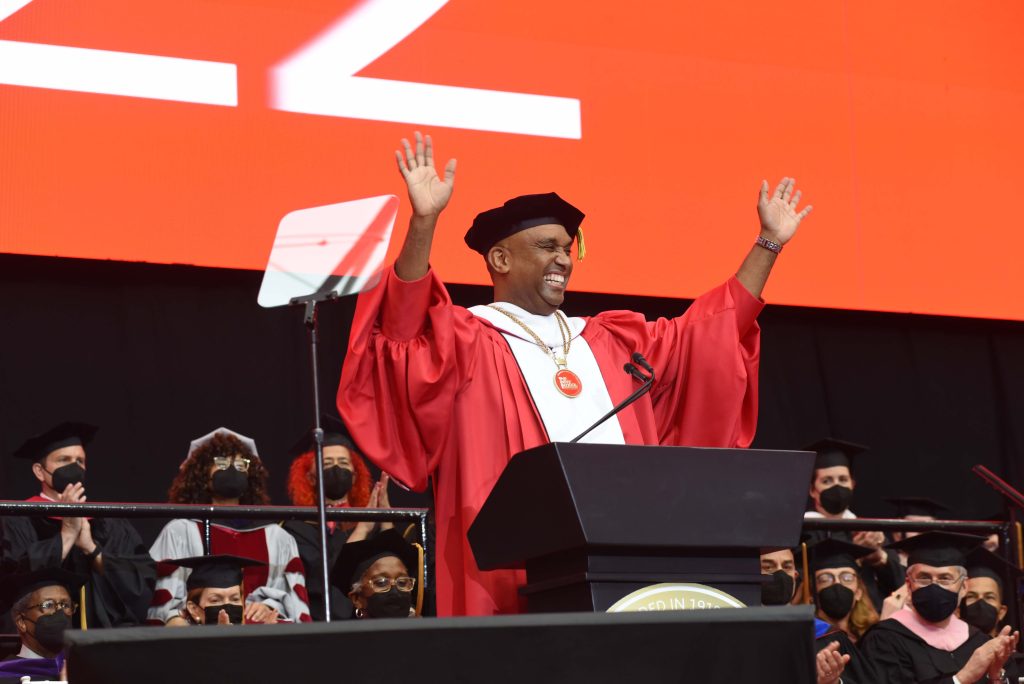 Honorary degree recipient and Commencement speaker Thelma Golden noted that today's graduates are "stepping into this uncertain world in the midst of so many attacks on much of what we all hold dear and true. But you know all this because you have been living, working and studying through this. And this is the world you have inherited. It's what you've been learning about, what you've absorbed, what you've been thinking about creatively, artistically, and intellectually. And what you've experienced. And now it is up to you to lend your voice and your vision to change. Like the founders of The New School who responded to their own time by promoting a radically different idea, a new innovative model of education that would enable transformation…You are bearers of this incredible legacy. My charge to you on this day of rejoicing is to discover for yourselves, each in your own way, how to carry forward what you have learned in these years."
Golden was one of five socially engaged individuals who received honorary degrees, acknowledging their ability to create transformative action through the use of music, art, health, activism and scholarship. These special degrees are given to inspiring figures whose contributions embody The New School ethos. This year's honorees included director and chief curator of the Studio Museum in Harlem Thelma Golden; six-time GRAMMY winner Terence Blanchard; director of the Samuel DuBois Cook Center on Social Equity William A. "Sandy" Darity Jr.; economist and environmental activist Winona LaDuke; and director of the Africa Centres for Disease Control and Prevention Dr. John Nkengasong.
The ceremony also honored the recipients of the Distinguished Teaching Award that recognizes faculty across the university for excellence in teaching, and the Award for Outstanding Achievements in Social Justice Teaching that recognizes faculty members who actively promote social justice through their teaching. Honorees demonstrated particular ingenuity, resourcefulness, creativity, availability, and attention to equitable access in in-person, hybrid, and online teaching environments while dealing with the ongoing and changing nature of the COVID-19 pandemic.
Recipients of the Distinguished Teaching Award are Leonardo Figueroa-Helland, Schools of Public Engagement; So Mak, Parsons School of Design; Dianca Potts, Eugene Lang College of Liberal Arts; and Joel Towers, Parsons School of Design. Ujju Aggarwal, Schools of Public Engagement; and Frank Leon Roberts, Eugene Lang College of Liberal Arts were honored with the Award for Outstanding Achievements in Social Justice Teaching.
Earlier in the ceremony, McBride reaffirmed his sense of The New School as a 'Place of Fearless Progress,' sharing that he hopes graduates "will carry that idea of "fearless progress" with you into whatever path you choose or create for yourselves. For now, more than ever, our world needs you to be the powerful, courageous, and true change agents and champions that you most surely are."