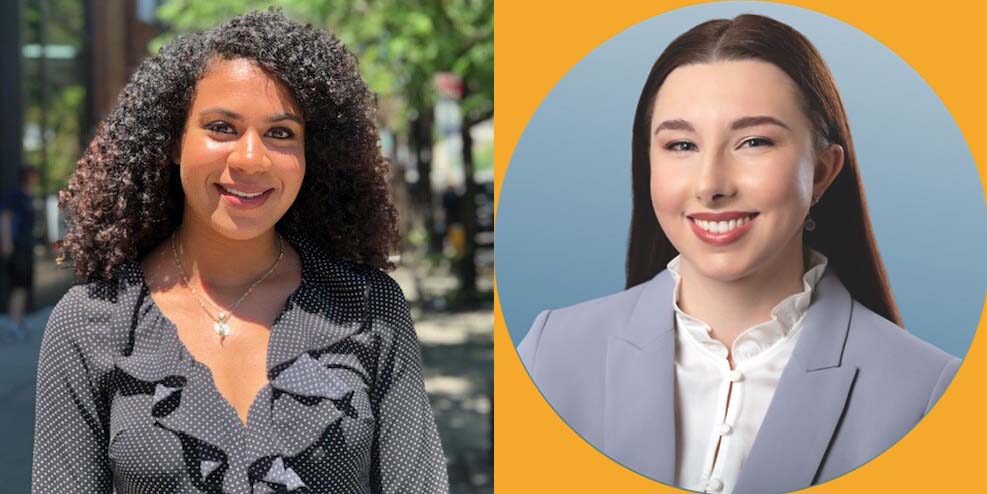 Lang Fellowship Program Connects the Social Sciences and Society for Undergraduate Students
Popular culture still stereotypes liberal arts college graduates as overeducated and underemployed. But graduates of Eugene Lang College of Liberal Arts can attest to the many varied career options they've discovered that allow them to both think critically about pressing issues and apply their knowledge to real-world challenges. One Lang program, the Social Science Fellowship, gives undergraduates a taste of what that is like, placing them in internships and supporting independent research projects that enable them to discover how organizations use research. Two Lang graduates who participated in the fellowship are returning to the program, this time as mentors hosting current fellows at their job sites. They are hoping to give students the opportunity to explore their interests and begin developing their own professional networks.
"I spent the years at Lang thinking deeply about policy and issues, and I didn't think that was something I was going to be able to continue to do once I graduated," says former fellow Michelle Mason, BA Political Science '19, who went on to work at John Jay's Institute for Innovation in Prosecution. "However, I've been able to bring that theoretical approach that's so unique to Lang to my work, which I didn't think would happen so early in my career." Mason, who will begin studying at Rutgers School of Law this fall, credits the fellowship with helping to put her on this path.
During the fellowship, students spend the fall semester interning with an organization that connects with their academic interests. The spring semester is spent in an independent study course, during which students complete a research paper related to their internship. Throughout the fellowship, students are also matched with a PhD student from The New School of Social Research who advises them on developing and executing their research project.
Bernadette DeVito, BA Psychology '19 MS Public Policy '21, was surprised to be assigned to the New York City Central Labor Council, AFL-CIO, for her internship. But she came to realize that working with this organization on policy development, legislative advocacy, and on-the-ground political advocacy gave her skills that would inform her work later on. "When I applied for the fellowship, I chose two positions that focused on writing. I was not expecting to get the Labor Council position, but it ended up being the best fit for me, and it really shaped my career trajectory," says DeVito, who currently works at Hollis Public Affairs. "I do some policy and legislative advocacy now, and  I think working at the Central Labor Council gave me a taste of what that looks like from one stakeholder perspective. Now I see the intersections of many stakeholders—from political figures and groups to unions and nonprofits to other organizations. That experience gave me a unique background as I pursue my work today."
Through her placement she was able to organize and lead campaign operations on the ground. She even had the opportunity to work with  Letitia James, now attorney general of New York, on her campaign, leading teams of canvassers who were union members.
Both Mason and DeVito credit the program with not only giving them the research and administrative skills to thrive after graduation but also helping them begin to develop their own professional networks.
"When you look back, you can connect the dots of your life and see how everything comes together like you wanted it to," says Mason. "Lang encourages the fellows to participate in the Dean's Honor Symposium. After that, I was asked to present my research to the Board of Governors to give the members a better understanding of the fellowship program. After my presentation, one of the board members offered to introduce me to her sister, who does this type of work. This person became my former boss at the John Jay Institute.
"The Social Science Fellowship gave me more legitimacy, experience, and connections that led to these other opportunities. It also provided me with a background that was immediately of use once I joined John Jay."
"Having access to an alum is giving you access not only to that person but to their network, which might help you home in on what you want to do in particular," says DeVito. "Gaining hands-on experience in a professional environment is important, and having a connection to an alum will help you create that nurturing relationship. Alumni can help the students in a unique way because they have a shared history at The New School."