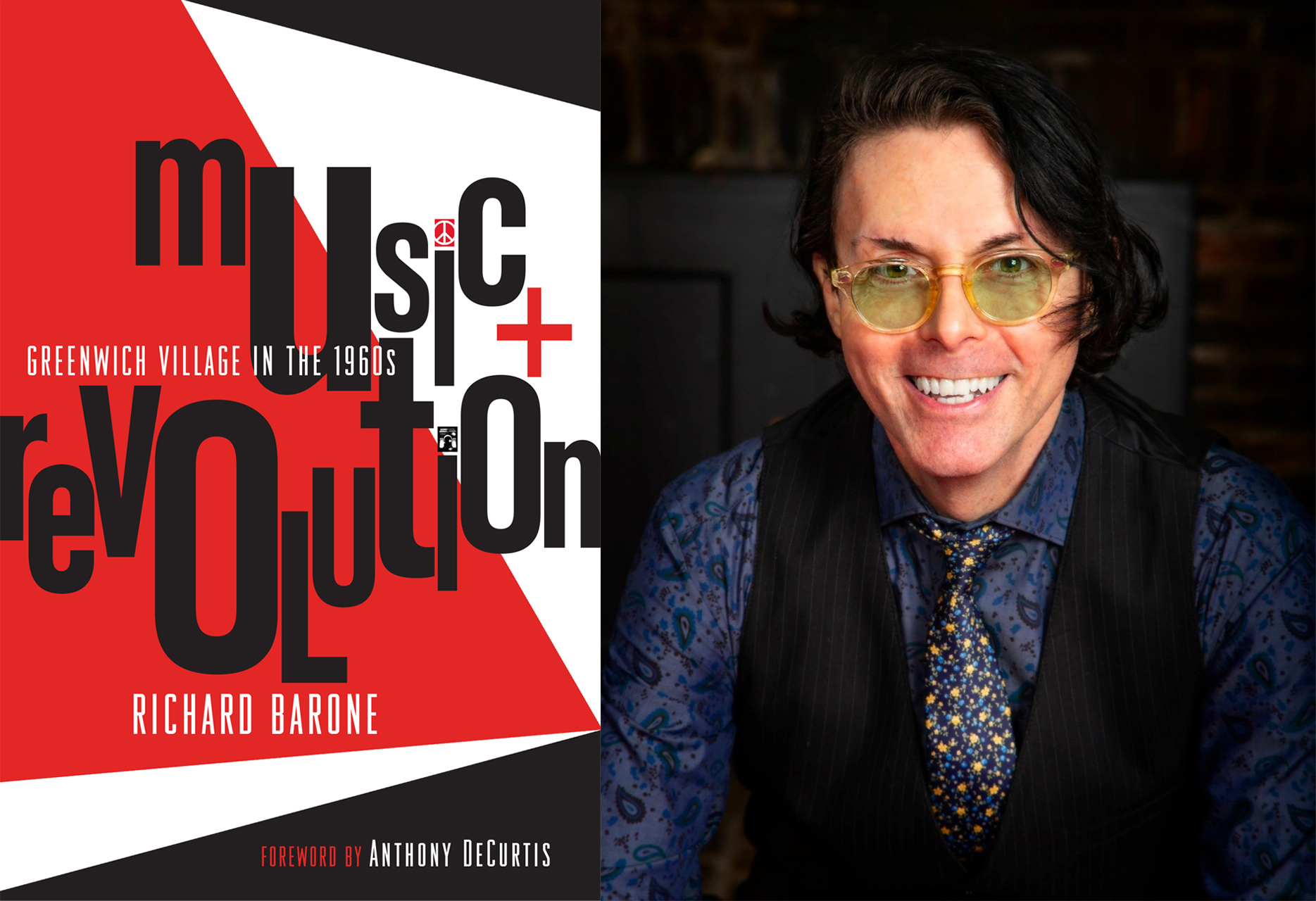 Richard Barone, School of Jazz and Contemporary Music Faculty Member, Debuts New Book about Music Scene in 1960's Greenwich Village
Back in 2016, Richard Barone, a faculty member in the School of Jazz and Contemporary Music, was working on an album called "Sorrows and Promises" that featured contemporary interpretations of songs from Greenwich Village in the 1960's. During his research into the songs and artists of that time period, he realized that a very small group of musicians, including Bob Dylan, Buffy Sainte-Marie, Janis Ian, and Phil Ochs, among others, were responsible for creating new bodies of work that had profound impacts upon the entire music industry.
Barone's research led him to create a course at The New School centered around these artists and their contributions, as well as a series of concerts with musicians from the time period. Now, he has turned his research and work into a book, "Music + Revolution: Greenwich Village in the 1960s," which explores how that remarkable era came to be.
"During the onset of the Covid-19 pandemic, as my concert schedule came to a screeching halt, I found myself in a quiet and reflective state of mind that allowed the narrative to form in my mind, with few distractions," shares Barone. "The streets of the Village were empty, allowing my mind to fill in the characters, the sights, and sounds of sixty years ago."
The subjects of Barone's new book are artists and musicians who used their songs to address major topics of their day, including subjects and themes that especially affected young people such as civil rights, race relations, war and peace, self-identity, and more. In addition to serving as a textbook for his coursework, Barone's book is also useful as a guide for the types of musicians who come to the College of Performing Arts.
"In 2022, we find ourselves in a society that is similarly divided, and I felt compelled to share the story of how these musicians in the 1960s took it upon themselves to speak out with their songs," he explains. "It can be done in myriad ways, from poetically to journalistically. I want my students and young musicians in general to know they have that option with their own music and their own convictions, during this equally divided time in history. In that way, the book is a call to action."
Throughout the book, Barone is careful to highlight both the superstars and those artists who did not go on to become household names, but still helped create the scene, and ultimately change music history. He's hopeful that readers come away from his book with a new appreciation for the artists who broke out of the conformity of the 1950's, paved the way for our own popular music scene, and helped lay the foundation for musicians who are in control of their creative destinies.
"I also hope readers come away with a new appreciation of Greenwich Village itself, a neighborhood whose history and uniqueness had an undeniable effect on the music created and the lives lived there," he shares. "The fact that The New School is situated within the boundaries of Greenwich Village, only a few blocks from the heart of the action of the book, will hopefully help students have an even stronger connection to the story."
Currently, Barone is actively promoting his book, with events and discussions scheduled throughout the Fall. He is also producing and performing music around the city, and hosts the "Folk Radio" show on WBAI Radio in New York.