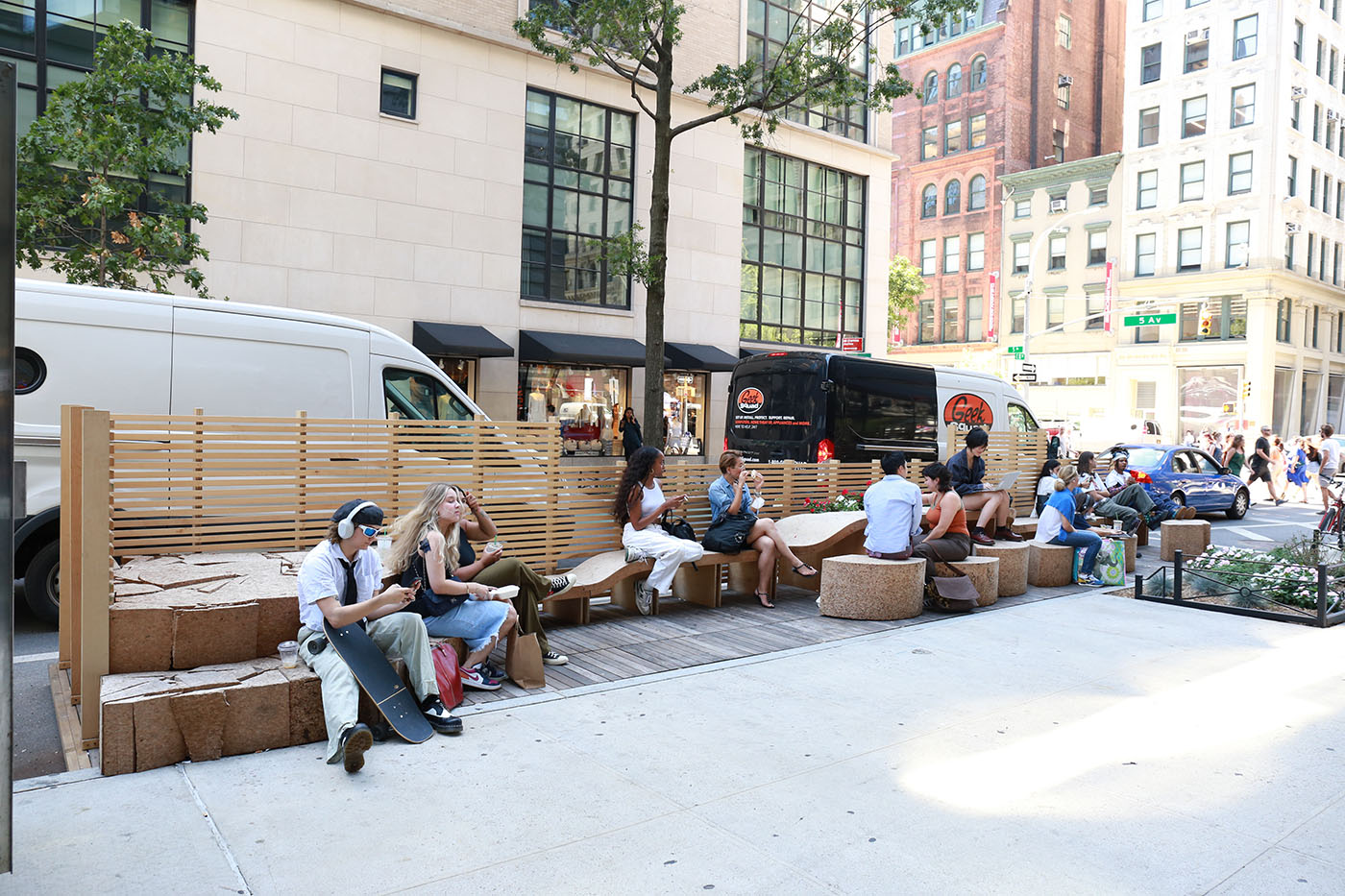 Street Seats, Designed and Created by School of Constructed Environments Students, Returns to Greenwich Village
There are a variety of well-known materials used in public spaces, including steel, wood, plastic, and more. For the 5th iteration of Street Seats, the popular Design Build course in the School of Constructed Environments at Parsons, students utilized cork, which isn't used to build public spaces often, but was perfect for a project centered on temporary seating.
"Cork is a brilliant material, because it's inherently waterproof, lightweight, sustainable, and non-toxic," explained Mike Verbos, Assistant Professor of Product Design and Director of Design Build Projects. "It's also enjoyable to build with. We were extremely fortunate to have an in-house cork expert in Assistant Professor Daniel Michalik, who's creative practice centers on cork furniture."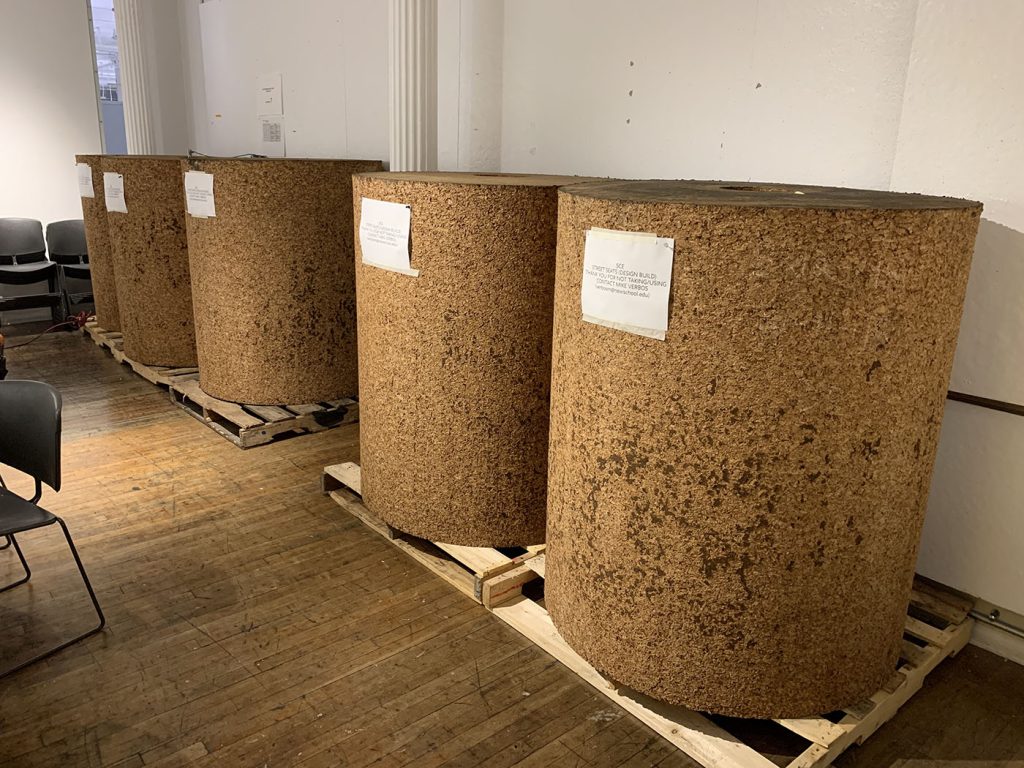 Street Seats began in 2015, and is a collaborative, student-driven project that fully embodies the mission and vision of Parsons. For this year's project, students focused on the freedom and diversity of interaction with the hope that Street Seats users would find meaning in their design through the various ways they can sit, stand, lay, and engage with the public space.
This year's project was also the first since the coronavirus pandemic began, which gave students the opportunity to think about the public space they were creating in the context of increased outdoor structures thanks to outdoor dining policies.
"The design intention, from my perspective, of an Open Restaurants' hut serves the needs and desires of their consumers, and to an extent their employees who serve these individuals, above all else," shared Verbos. "In our effort, we attempted to empathize more with the community, both Parsons' and Greenwich Village."
Street Seats also takes into consideration feedback from the community that the project serves, which helps inspire future iterations and builds a sense of trust among the students, faculty, and users. For Verbos and others, they hope that the project will create more mindful designers who understand their work might not always be used as they intended.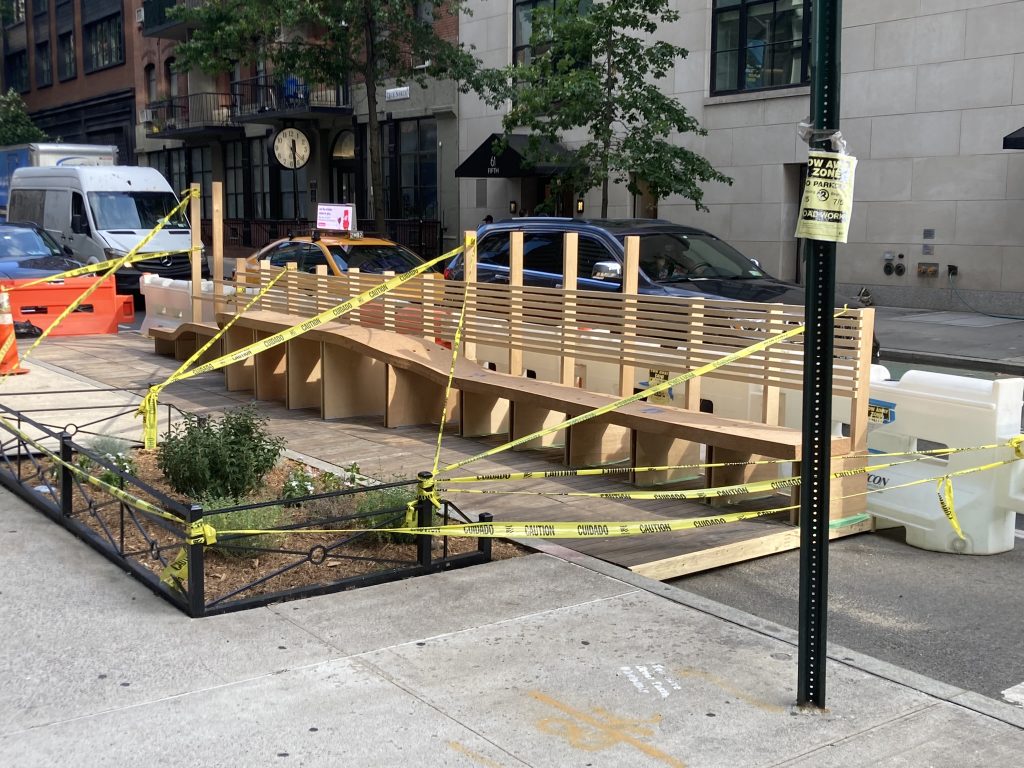 "For me, as an educational exercise, Street Seats is special because it allows design students to create something and then see people use it," said Verbos. "Meaning is revealed to designers through use, and given that people and things are continuously changing, what meaning people find in a specific designed object, in this case Street Seats, can only be understood as it reveals itself to us over time."