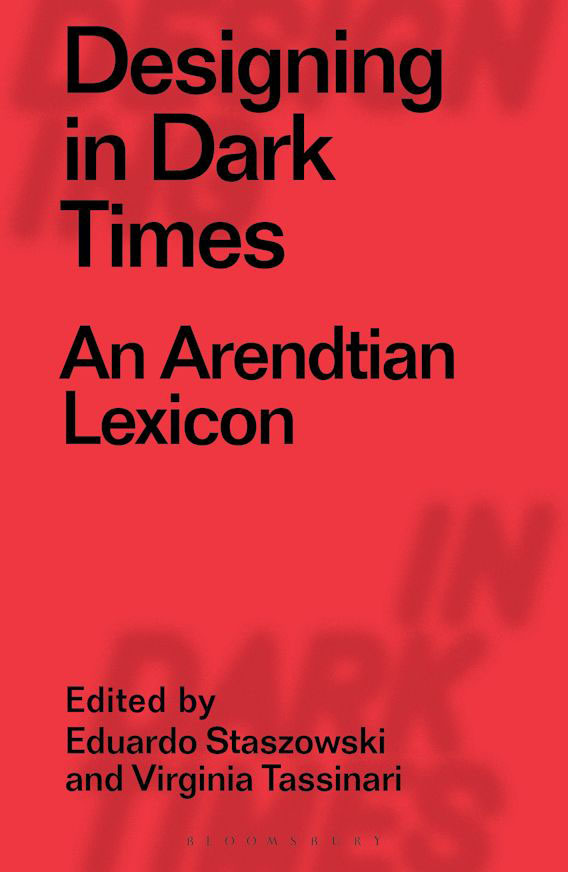 Eduardo Staszowski, Associate Professor of Design Strategies, Wins Compasso D'Oro Award for "Designing in Dark Times: An Arendtian Lexicon"
As the co-founder and Director of the Desis Lab at Parsons, Eduardo Staszowski, Associate Professor of Design Strategies, is actively engaged in research and work that seeks to create social change through a variety of design-led initiatives including workshops, exhibitions, toolkits, and more. During the pandemic, Staszowski and Virginia Tassinari, a visiting scholar at Parsons and a lecturer/researcher at Politecnico di Milano, co-edited a book of essays called "Designing in Dark Times: An Arendtian Lexicon," which was designed by Andrew LeClair, Assistant Professor of Communication Design at Parsons.
Recently, the book was awarded a Compasso D'Oro by the Associazione per il Disegno Industriale (ADI). Originated in Italy in 1954, the Compasso D'Oro is the highest honor in Italian design. Awarded only every two years, the book won in the section for theoretical, historical, critical research and editorial projects in design.
Below is a conversation with Staszowski and Tassinari.
What inspired you to co-create/edit this collection of essays?
We are living in times that remind us in many ways of those described by Hannah Arendt more than fifty years ago. In times like this, we asked ourselves what does it mean to consider design's role in times of fear and uncertainty? We decided to look to Arendt as a possible guide in this process and to ask ourselves if her definition of "dark times" could be helpful to understand these possibilities. How, we wondered, might Arendtian perspectives inform the work of designers as they attempt to shape the ways in which we act in the world? Could reflections on her thought provide us with some concrete indications on how to respond to these dark times? And perhaps also help us understand designing not just as praxis but also as thought, as reflective practice?
How did you and your co-editor choose which writers would be featured in the book?
As editors, Virginia Tassinari and I decided to bring together a community of designers and scholars of design and related fields (anthropology, architecture, art, civic media, film, foresight, management, philosophy, political science and urban law) to discuss and expand the language we encounter and use every day in our profession and as citizens. Instead of theorizing what Arendt's philosophy can represent for designers today, we decided to ask our invitees to respond to quotations and concepts taken from Arendt and to think out one of Arendt's political and philosophical concepts with an eye toward exploring its implication for understanding what it is for them to design in these dark times. The result is a work that sometimes misses the qualities of a strict philosophical analysis, and yet it had to pay this price for being a real dialogue, which is, as in real life, made of different registers. This variety of voices is, we believe, the strength of this project.
What makes Arendt's writing still so relevant?
The dark times through which Arendt lived did not stop her from theorizing a possibility for action. Far from being a naive optimist, she nonetheless declared that dark times could also be precious moments for developing an "activity of thought," where the thinking and action are deeply intertwined. This activity of thought is to her an intellectual praxis that individuals can articulate from within situations of despair, which has the potential to open new courses of action: it has a deeply transformative—and therefore political—potential. To her it is in those that seem the most hopeless of times that something like an activity of thought, and therefore also the thinking of new forms of acting, also becomes possible. This is the reason why reading today's world through the lens of Arendt's notion of dark times is not a pessimistic operation. Instead, it brings some hope. Her specific attitude toward action and her skepticism toward the dichotomy theory/practice make her particularly interesting for designers today to support them to go beyond the paths of an idea of design as pure practice. Quotations from Arendt were offered not as an authoritative reference to her philosophy—which, as indicated by many scholars, has blind spots that naturally need to undergo a critique—but rather as prompts, ways to shake the use of words in thinking and practicing design today. Nevertheless Arendt's politics helps us to focus on how concretely design can be powered by this courage she envisions for intellectuals in dark times, entangling the relationship between actions, words, and artifacts and, in detail, addressing the importance of action and speech for human artifice.
What are the major themes/takeaways from the book?
It is often claimed that for designers, actions come before thought. This, we argue, is a false understanding of design. The book opens a discussion on the interplay between design word, concept, and action. In reconnecting word and action with respect to design, old divisions between abstract thinking and the practical stance of designing, making, and shaping the world dissolve. By extension, the dissolution of artificial boundaries between thought and action refuses other kinds of unproductive bifurcations, for example, the conventional separation between design and social theory or those even more fundamental separations between subject and object, artifice and nature. It also opens up new possibilities to re-articulate the relationship between design and philosophy and thought in general, where design can find in philosophy and thought tools for reshaping and strengthening its thinking from within—and through which, conversely, philosophy and thought can be triggered to be a real action of thought, to become interventions and affirmations and not merely contemplative critique.
This is what the Italian Association of Designers (ADI) responded to when they awarded us the Compasso D'Oro prize. They say in their citation for the award that they saw the book as "the first in a series aiming to define design and its potential in response to current systematic, social, economic, political and environmental challenges, opening up new possibilities for contemporary design, and rethinking its political responsibility among other things. It questions the meaning of the kind of thinking that develops through design and the words used to conceive design practice today. Starting from the reflections of the philosopher Hannah Arendt on the potential of human thought and action to react in times of crisis, it provides designers and design theorists with 56 Key words (including citizenship, common good, action, democracy, humanity, public violence and totalitarianism)."
Why do you think design plays such an important role in solving societal issues?
Much has been said about the growing relevance of designing for society and its potential capability to address complex problems and inform new possibilities. This is something both theorists and practitioners have been thinking through in a variety of different ways and from a variety of different motivations. As design influence and agency increases, so must designer's responsibility increase to confront the inherent political and philosophical questions raised by their work and the world in which they live. This means that a deeper understanding of the meanings and consequences of their actions is crucial. Designing needs to face this potential and undergo a serious reflection. On the other side, social theorists and political activists interested not just in analyzing but in making interventions in the world have a need for understanding the capabilities of designing as a mode of acting that can enable processes of change and make desired situations relations and events possible and probable.
How has your work on this book informed your work in the classroom? And vice versa?
Virginia Tassinari and I have been co-teaching a course called How To Think/Act in Dark Times: Exploring a Critical Praxis (UTNS 5123), which intends to challenge the old division between the theoretical focus of the social sciences and the practical stance integral to art and design practices and open up a space for inquiry on how to think/act in dark times. A space that gives form to discourses that are radical in its criticism and affirm other possibilities through proposition and aesthetic discovery: a critical praxis that acts as an operational critique. Classes are structured around a series of readings, discussions and exercises engaging with key issues from contemporary philosophy, sociology and anthropology stressing where those discourses interplay with those currently developed through artistic and design practices. Learning from these, students curate and examine situations, modes of life, ways of dealing with material and social human needs and discuss new potentialities, categories, models and capacities to transform our relationship with socio-technical and natural systems.
Please share news of anything else you're working on at the moment!
The Arendtian Lexicon was one of the first projects to be conceived and initiated in the series Designing in Dark Times published by Bloomsbury in New York and London. But while the contributions in the book are the proof that there can be real value in thinking about our times through the lens of some of Hannah Arendt's insights, it was an anthology that came out of the modern tradition. While many of the entries contested the limits of the modern and took Arendt's thoughts further that she might have done herself, nonetheless—as we acknowledged in the book—both her philosophical background and her position in that world necessarily limited what could be thought. Based on this necessity of imagining another kind of constellation of categories for practice we decided to edit a new Lexicon that is currently in progress. While our first Lexicon began with a selection of terms and extended quotations from Arendt and what they might imply for designing and acting today, no such neat starting point is possible with this new Lexicon. The task here is subtly different. The aim is to identify concrete potentialities for designing to think/act out of and past the limits of the Modern. This task is not easy. We are trying after all to name what the unilateral, dichotomic thinking of modernity cannot think. The risk is that we try to name what cannot be named by using the words of modernity, and yet we have to trust language and its ability to also think outside of the Modern so that what is named can point or can be a gesture towards, new beginnings.