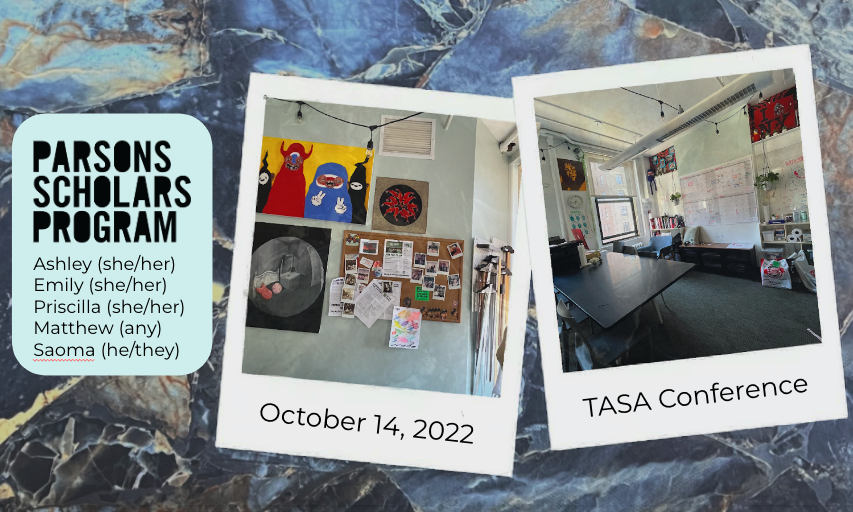 Parsons Scholars Program Presents Research and Resources on Decolonizing Mentorship Programs
Decolonization can mean many things. It is an opportunity for people to unlearn and challenge colonial structures, recognize that decolonization is not a structure but a mindset, all while acknowledging history, and at the same time moving forward and embracing cultural differences.
For Matthew Villarreal, Director of the Parsons Scholars Program and a faculty member at Parsons, it is also important to emphasize what decolonization is not. It is not an authoritative call out culture, individualist, hopeless, or cynical. It does not reinforce social and colonial norms, nor does it simply provide a diversified reading list for people to tackle and then move on from.
Villarreal, together with four mentors from the Parsons Scholars Program, recently presented research on decolonizing mentorship programs at the Texas Association of Schools of Art (TASA) conference in El Paso, Texas. The Parsons Scholars Program, which centers high school students of color from low-income backgrounds as they explore their individual interest in art and design, served as the inspiration for the presentation, where mentorship is a vital aspect of the program.
"The core of Parsons Scholars programming focuses on helping students discover a multitude of ways in which art and design skills and creative/critical thinking effectively support and build communities, leverage social change, and can lead toward vibrant, creative futures," explains Villarreal. "Using close mentorship models and interventions, the Parsons Scholars Program creates a college-going culture for scholars and their families and helps prepare them for future studies at competitive colleges and universities, including The New School's Parsons School of Design."
Villarreal is aware that most people think decolonization is more about symbolic change that's meant to promote diversity than anything else, but he believes the work is more immediate and fundamental than that, and hopes to shift mindsets and educational approaches.
"This starts with calling out and scrutinizing the colonial forces (social structures and power dynamics) we assume are a given…including the structures of authority and order in educational environments we are programmed to accept from a young age," he shares.
Currently, Villarreal teaches a course at Parsons called "Access, Equity, and Social Justice in Art and Design," which inspired a friend and colleague of his in Texas to recommend that he give a presentation at the TASA conference. Villarreal presented his work alongside four mentors from Parsons Scholars, which highlighted the pedagogical structures he aims to utilize in his educational environments. The session also explored ways in which mentorship and decolonizing methodologies can be embedded in studio and seminar-style art and design courses, with an open and honest discussion about both practical and conceptual strategies for constructing courses, syllabi, reading lists, assignments, and activities that engage in genuine community building while still being mindful of core learning objectives and educational standards.
"We talk a lot about access and social justice in higher education," says Villarreal. "Oftentimes the conversation sounds larger or more grand than the reality…I think it's important for art and design school educators and administrators to remember that the foundation of access and social justice is more immediate…it should be more practical than ideal, meaning access initiatives should be responsive to the practical needs of students, including the ones created by the system we are complicit in. Accessibility initiatives can and should build community through consensus building and buy in, mentorship being one of the most impactful ways to do so."
Priscilla Villacres, an alum of the Parsons Scholar Program and currently a PSP Lead Mentor and Fine Arts student at Parsons, was one of Villarreal's co-presenters. The PSP program helped shape her as she discovered her voice as an artist, develop the ideas she explores in her work, and gain confidence in herself and her leadership style.
"The work around decolonization is work that is necessary, especially when we are part of an institution that contributes to and will (un)intentionally uphold certain notions of colonialism," she explains. "The New School was built on colonized land and will always encourage things like gentrification, so when we are implementing decolonization in the work we do, we are pushing a conscious effort to unlearn and move forward from the damage that has been done. Art and artistic practices have historically been used as a catalyst of change and empowerment, which is why decolonization should absolutely sit at the forefront of the curriculum and structure of arts institutions."
Similarly to Villacres' hopes about decolonizing curriculum and pedagogy, Villarreal looks at every educational space he contributes to as an opportunity for him to learn and reframe the various ways in which he and his students can challenge traditional pedagogical mindsets and outcomes.
"I'm interested in how Parsons as a school can benefit from challenging the power structures we automatically accept as a given, and what our university can look like if we create more meaningful opportunities to upend traditions that feed educational trauma," he says. "I'd be interested to see what can be fostered from mentorship mindsets implemented at a scale larger than a single classroom or program. I'd personally love to see what can be built in support of the mentorship of students, faculty and staff alike."
Villarreal is hopeful that attendees of his presentation left with practical ways to incorporate unlearning in their classroom environments, and that they consider scrutinizing traditional notions of what an educational space can be.
As Villarreal looks ahead to the academic year, he remains focused on expanding access to art and design education, and is currently exploring the viability of high school dual enrollment programming at Parsons. Students who take college courses during high school are two times more likely to attend college after high school graduation, while studies also show that mentorship is proven to increase the college graduation and success rates of first-generation college students.
"The idea behind my exploration is to find scalable ways to increase early access to quality college education for students locally, regionally, and/or nationally, ideally with elements of mentorship structures to foster student buy-in as a way to increase persistence. I'm also thinking about ways to strengthen the PSP curriculum, including the possibility of including opportunities for our high school students to earn more college credits that build toward a degree plan."