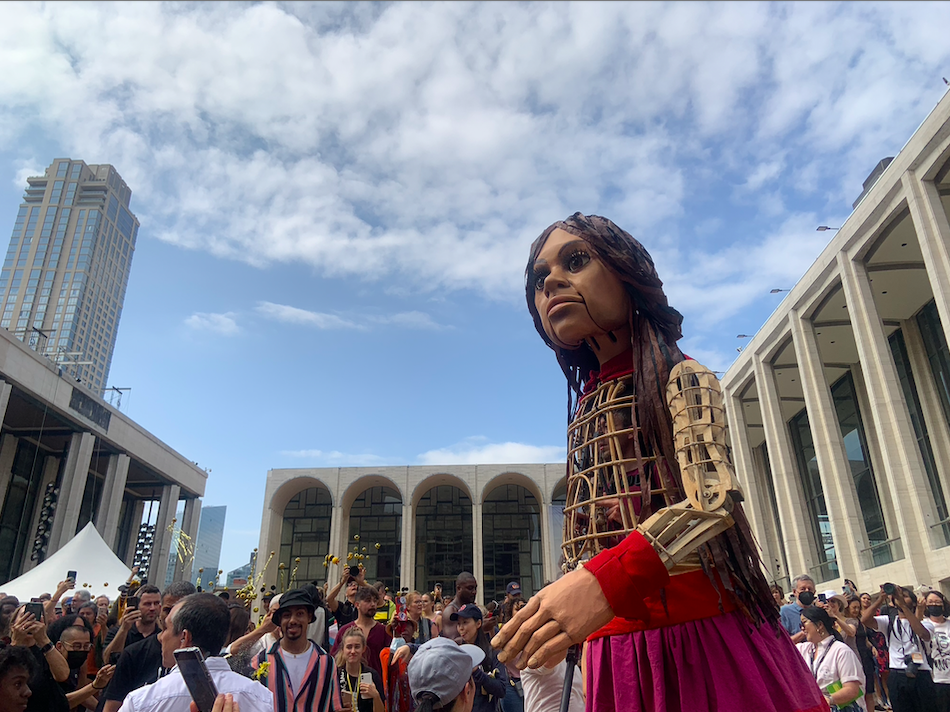 Tea Alagic, School of Drama Faculty Member, Directs 'Little Amal' Performance at Lincoln Center
The refugee crisis encompasses different time periods, different wars, different nationalities, and has been dramatized by documentaries, movies, televisions shows, and more. Starting in July, 2021, the refugee crisis received a new ambassador, "Little Amal," a 12-foot tall wooden puppet created by the Handspring Puppet Company, who has since toured various countries in walks and performances that are meant to shine a light on refugees all around the world.
For a recent appearance at Lincoln Center Plaza, the "Little Amal" walk was directed by Tea Alagic, a faculty member in the School of Drama. The giant puppet, who is a Syrian refugee child, danced alongside a brass band in the world famous Plaza, while onlookers of all ages and backgrounds looked on. The performance was inspired by the history of displacement in New York City, specifically the San Juan Hill neighborhood of African American, Puerto Pican, and European residents that existed where Lincoln Plaza now stands.
"Every project that talks about refugees is important because we forget in our everyday busy lives that refugees are civilians who are victims of war and have been displaced from their homes and loved ones," shares Alagic. "Refugees are people, they are not numbers, they are real humans with their dreams, feelings, personality, culture, humor, and hope. It makes no difference where refugees are coming from, what country they are coming from, they can't be ignored."
Alagic is a refugee of the Bosnia-Herzegovina war, and was forced to leave her country by herself. As the child of a mixed marriage between a Christian mother and Muslim father, she saw firsthand the genocide of Muslim people in her country, and is hopeful that people who see "Little Amal" are able to feel what the puppet, as the embodiment of a refugee child, feels.
"She is a 9 years old child who lost her mother in the war and she is walking to find her family," explains Alagic. "Uncle Sam in NYC? Would she be able to find him? What is the future for 'Little Amal' and what is our responsibility to help her and every refugee? She is a Muslim child speaking Arabic, not speaking English. How many kids are here today in the USA? What are we doing to help them? This is what I hope audiences will ask of themselves."
As a faculty member in the School of Drama, Alagic teaches in the MFA program, where her students are often experienced in theater practice, and are involved in her own productions. She finds inspiration in her student's work, and often continues to collaborate with them after graduation.
Next up for Alagic will be a production of her play "Zero Hour," about her experiences as a refugee, and her journey to America. In addition to the Long Wharf Theater production of her new play, she will also debut "Zero Hour" this Spring at the National Theater in her hometown of Mostar in Bosnia Herzegovina, which marks the first time her work will be performed in her mother tongue in her own country.