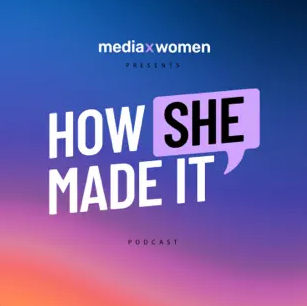 Podcast Created by a New School Team of Students, Alumni, Faculty and Staff Named a Finalist in the 2022 Signal Awards
"How She Made It," a Media x Women podcast that was launched in 2020 by a team of students and alumni from Media Management program and Linda Saint Marc, Associate Professor of Professional Practice In Media Management, has been selected as a finalist in the 2022 Signal Awards.
A finalist in the Signal Awards Education category, "How She Made It" is a career journey podcast focused on amplifying accomplishments of women across the media industries. Featuring distinguished guests who share the experiences and challenges they faced building a successful career, the series offers priceless media industry insider strategies, mentoring advice and secrets to boost career and life goals.
"How She Made It" will compete for the Gold, Silver and Bronze Signal Award, as chosen by the Signal judges panel, and the Signal Listener's Choice, voted on by the online public. The Signal Awards, which celebrates the world's best podcasts, received nearly 1,700 entries this year, establishing it as one of the largest podcast competitions in the industry.