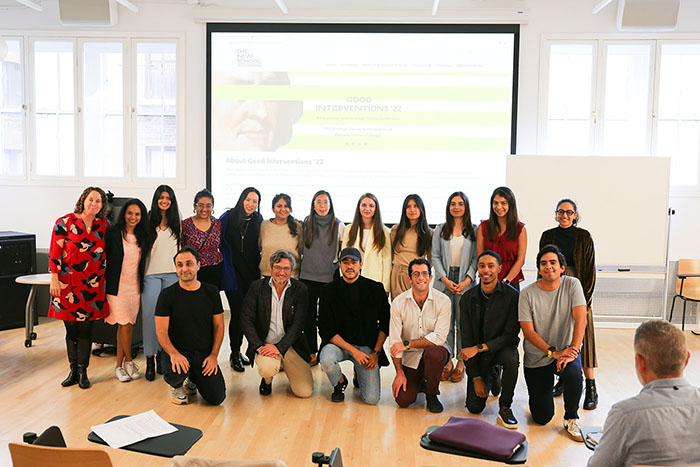 Good Interventions Design Exhibit Presented by the MS Strategic Design and Management Program Explores Economics, Societies, and Politics in New Ways
A core principle of the Parsons mission and vision is that design can be used to change the world, and address pressing social issues. Throughout every school and program within Parsons, students are regularly challenged to think about the critical role design plays in our society, and how it can improve our everyday lives.
For the "Good Interventions" exhibition last fall, presented by the MS Strategic Design and Management program in the School of Design Strategies at Parsons, curators evaluated 70 design projects created by more than 85 designers that all have one thing in common: Deploying design, arts, and social sciences together to address pressing problems of our times.
Ultimately, 15 design projects were chosen, ranging from a dance choreography to perform the everyday life of a platform economic worker, to a feminist speculative design in money making; from metaverse financial space-making to attention deficit economies, from taqueria banks to macrame accounting, and more. The winning projects highlight the work of designers who are approaching economics, societies, and politics in new ways.
"The role of design in society is evolving," explains Ishaanee Pandey, one of the curators of the exhibit and a current MS SDM student. "As we move beyond aesthetics, the focus of design, today, is more on the needs, the foundation of how we function, as a society. The Good Interventions Exhibition acts as a platform for designers to think and see beyond what they know – a challenge to address pressing questions of our times. As a reflection of who we are, and what matters to us, the GIE helps us take a step back, calm ourselves down, and dive deeper into the change that we wish to see around us."
Many of the people involved in evaluating the projects had never curated an exhibit before, so it was a chance for them to establish their own criteria and parameters about what they wanted to include in the exhibit, and how they would go about determining what would be selected. After identifying the winning projects, the team of curators collaborated with the artists to formalize a presentation structure, design the exhibition and promotional materials, and co-host the events which took place throughout the exhibition's life cycle.
"Personally, it was interesting to see how, as a cohort, we had similar and yet distinct views of topics of interest," shares Pandey. "As we grow up, we start structuring our thoughts and let go of the fluidity that we hold as children. The exhibition was an eye-opener, a reminder, in a way, to keep experimenting with ideas."
"It was an interesting initiative and we wanted to help out, we knew that this exhibition would have the potential to be something that other generations of designers would be able to be part of, and both Ishaane and I were very eager to contribute to build community in our school," notes Joana Chang, another curator and a current MS SDM student.
The team behind the exhibition is hopeful that the designers who visited the exhibit are reminded about the importance of keeping their design simple, so that the projects they work on are readily accessible for others to understand.
"Additionally, we can't create just for the sake of creating something, or innovate for the sake of innovation," explains Chang. "We have a responsibility to understand the social systems that are in place, the city we live in, the space we occupy, to share what we learn, but also to be humble and seek knowledge from other disciplines."
Looking ahead, the exhibit will continue to be presented annually, with calls for submissions every year, culminating in the publication of an exhibition book in 2027 that gathers all the projects together.