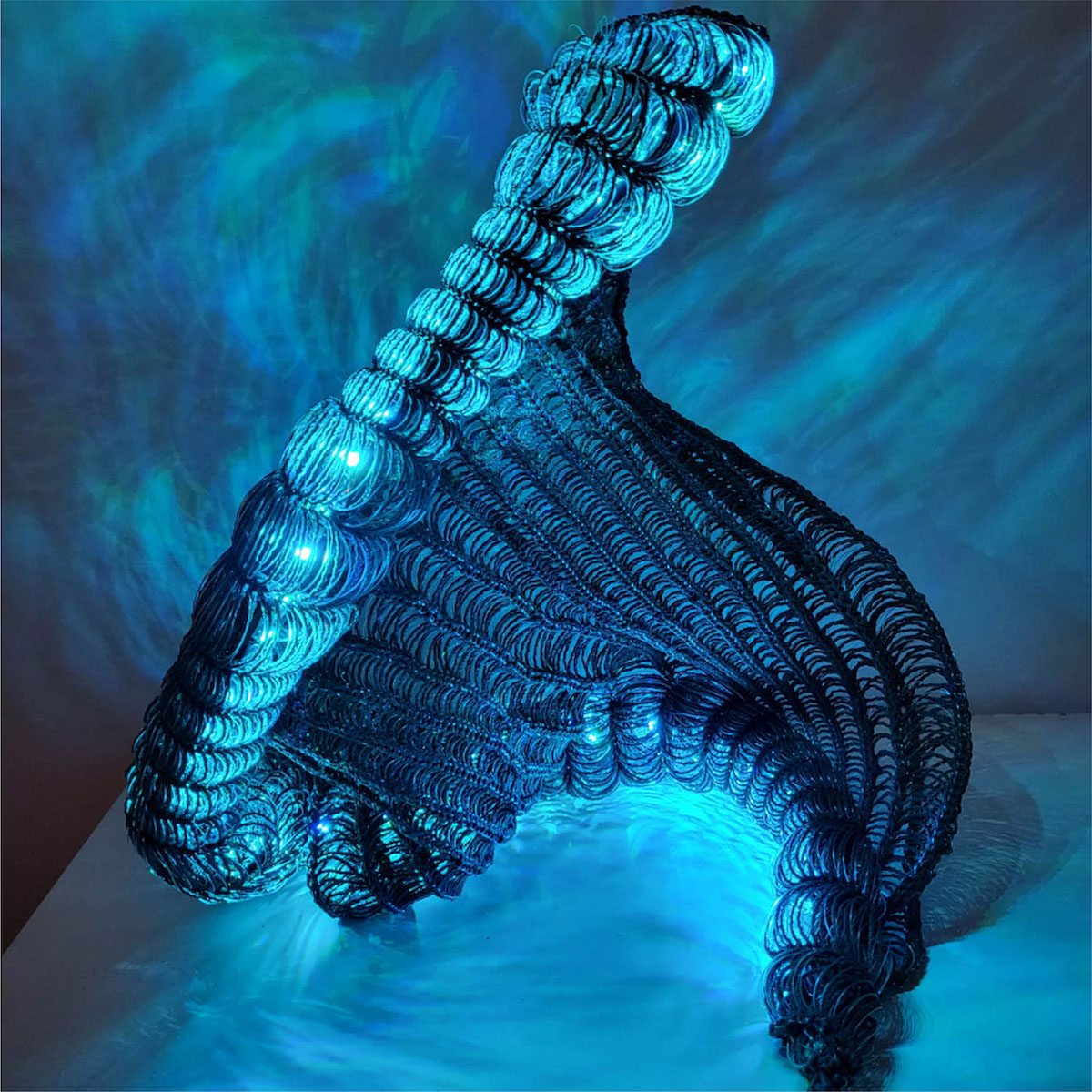 Parsons MFA Textiles Students Collaborate with Aquafil for Award-Winning Project
What do you do when a product you use and depend on has stopped working? For decades, people have been forced to throw away items like lamps or shoes, or hope that the pieces can somehow be recycled. For a recent collaboration between the MFA Textiles program at Parsons and Aquafil, the purpose in creating new products with the company's ECONYL® nylon was to ensure that they'd be easy to recycle when their life-cycle ended, which led to the development of an award-winning project that's innovative, sustainable, and imaginative.
The collaboration, which took place during the Spring 2022 semester, recently won a Student Award from Interior Design magazine as part of their 2022 Best of the Year Awards. The annual awards highlight the industry's best and brightest, and shine a spotlight on unique and inspiring projects from around the world.
"Our philosophy at Aquafil is to design with the end in mind, considering the complete life cycle of a product and finding ways to repurpose materials in order to reduce waste," said Gaëlle Merlin, BCF yarns – Design & Development Manager at Aquafil Group. "We look to the future of sustainable design in today's students. Parsons School of Design is known for artistry and innovation, while the MFA Textiles program is engaged with sustainability in design. This partnership was the perfect marriage between our values and goals for the future of the interior design industry. It was an honor to work with the Parsons program, and a thrill to see the imaginative talent of its students."
"It feels gratifying to win this award and see my cohort's fantastic work featured in a magazine among notable industry professionals," shared Padina Bondar-Gibbs, MFA Textiles '22.
"Winning this award feels like a true recognition of our commitment as a program to sustainability and our ability as designers to successfully merge climate conscious materiality with aesthetics and function," said Aradhita Parasrampuria, MFA Textiles '22 and a current faculty member.
Throughout the semester-long course, students were challenged to create products made with ECONYL® nylon that could be deconstructed and recycled at the end of its life. Results included a Moroccan-style chandelier, wall hangings, a pair of shoes, and more. Three students, Hannah Kim, Jason Phillip Greenberg, and Xinyu Wang, won the "Designing for the Future" award from Aquafil, and were invited to display their designs in Aquafil's showroom at theMART for NeoCon 2022 in Chicago.
"The products can be undone easily when the thread is pulled on at a certain predetermined point to make recycling of the material easier after the product's useful life is over," explained Parasrampuria about her designs. "As a designer it is essential for me to consider not just the experience at point of purchase but the lifecycle impact of material and design choices on consumers, producers, and the environment as a whole."
The MFA Textiles program in the School of Fashion regularly collaborates with leading brands and manufacturers, including Sister Parish, a textile company, and Obeetee, a rug brand. Thanks to the program's partnerships, students are given unique opportunities to gain knowledge from industry experts, and push themselves to design and develop exciting projects.
"The partnership between Parsons and Aquafil provided my students an incredible opportunity to stretch their creativity and think about sustainability in a new light," said Preethi Gopinath, MFA Textiles Director Associate Professor. "My students are focused on creating change in the textiles industry through sustainable design practices, but most had not had experience using a circular material. They were amazed at the ECONYL® nylon's durability, versatility, and high quality. Aquafil's circularity has given the students hope for the future of design and has inspired the practices they will use in their careers beyond the classroom."
"Working with ECONYL gave us firsthand insight into the potential and possibilities of sustainable innovation on a global level," shared Bondar-Gibbs. "The experience was inspiring, motivating and enlightening for me as well as my peers with sustainable goals and missions."
"As a young designer pushing for sustainability it is exceptionally inspiring to see brands like Econyl that value circularity doing so well in the fashion and textile industry," said Parasrampuria. "My biggest takeaway from this experience is to keep working towards designing circular systems that will help make the textile industry close looped."
An innovative curriculum that blends craft and technology is at the heart of the MFA Textiles program, which allowed Parasrampuria and Bondar-Gibbs to pursue their unique ideas throughout their time at Parsons, and develop their creative and technical skill sets.
"We were encouraged to explore philosophy, politics, history, and anthropology, understanding the way they can relate to our work, and deeply understanding our values as makers," explains Bondar-Gibbs.
"The MFA in Textiles at Parsons encourages experimentation with hybridity. It is rooted in craft, and I think that aspect of the program is unique," noted Parasrampuria.
Since graduation, both designers are continuing to develop their own projects, and consult with brands on sustainability issues.