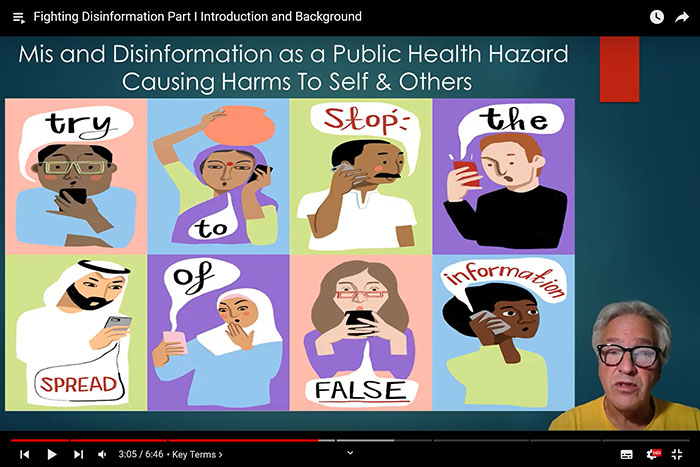 School of Media Studies Professor Robert Berkman's Fighting Disinformation Video Series Helps Students Sort Fact from Fiction Online
The maxim "A lie can travel halfway around the world while the truth is putting on its shoes" could apply to the Internet and social media, where "fake news," "alternative facts," and clickbait headlines make it difficult to find dependable sources and experts. Robert Berkman, assistant professor in the School of Media Studies at the Schools of Public Engagement, created Fighting Disinformation: A News Media Literacy Video Series to teach methods to help New School students, particularly undergraduates, learn to sort through online content and become more critical users of online information sources.
In his seminars and workshops, Berkman discovered that many students are grappling with the challenge of figuring out what is true and deciding who and what to believe. "I have had a particular interest in helping students make sense of and understand the news, especially what came to be called 'fake news,' starting around the 2016 U.S. presidential election," says Berkman. With more than 25 years of experience as an editor, author, librarian, and media and information studies professor, he is well equipped "to help students understand the complex and treacherous information ecosystem we currently live in."
Using an Innovation in Education grant from The New School's Provost's Office, Berkman drew on what he had learned in his classes, seminars, and workshops to create a series of six short instructional videos designed to expand New School students' media literacy, particularly news media literacy. "When I saw an opportunity to suggest a research project with The New School, I thought it would be great to create something that would be of help to all New School students. I want the videos to provide students with skills and strategies that would, in a sense, inoculate them from being fooled or misled by disinformation."
While the issue of disinformation is being addressed today from a number of angles— government regulation, new laws, and social media platform rules and regulations—Berkman is attacking the problem from the ground up by helping individuals develop their own skills. In addition to teaching students how to apply practical evaluation skills to sort through sources and facts, the series also includes a section on techniques for avoiding emotional manipulation online. "Online we can all be very easily triggered to do things by posts that are either promoted by algorithms or certain actors that want to get our attention through images or content that serve to create an immediate visceral reaction like fear or anger. Part of the video series is about how to develop mindfulness techniques and meta-awareness to know when you're being triggered and how to avoid being triggered. A big part of this is learning to slow down, take pauses, and be more mindful and aware of your own reactions as you're reading things, and be aware that sometimes you're being manipulated into believing or even acting on things that may not be in your own interest."
Before developing the videos, Berkman needed to find out exactly how New School students navigated their research and how they decided which sources to read and trust. "With assistance from the Provost's Office, I conducted a survey of the university's undergraduates to discover the sources they use most often, what they trust, and what they do if they're uncertain about a source. I wanted the videos to be not generic but geared to New School students and specifically address the gaps and problems that can emerge from the specific sources they use."
The videos have been promoted to faculty as a resource for students who need to learn how to assess their news environment. "Often faculty don't have the time to cover this topic in class, so if they have students conducting research projects, these videos are designed to cover that area. Faculty can assign one video or all six of them, which are available on YouTube." Berkman has also been working closely with the New School Libraries on a new Libguide (research guide) on Disinformation, and together may host a library Town Hall in the future.
While the video series is aimed at undergraduate students, Berkman is also helping graduate students in the School of Media Studies develop their own skills and learn strategies for teaching others media literacy skills and habits of mind. "Over the years, a lot of students in my classes have been interested in learning how to teach media and news literacy. I created the course Digital Deception, which provides them with not only the ability to develop their own strategies but also the skill to teach news media literacy." 
Berkman is now thinking about ways to share the project beyond the university. In March, he will present the project at the Global Media Education Summit at Simon Fraser University in Vancouver. "Over the past few years, it has become apparent that disinformation has become more of a public crisis. Addressing this ongoing problem fits with The New School's overall mission of exploring the intersection of technology and ethics, and I'd love to see our department and school continue to be a leader in this sphere."