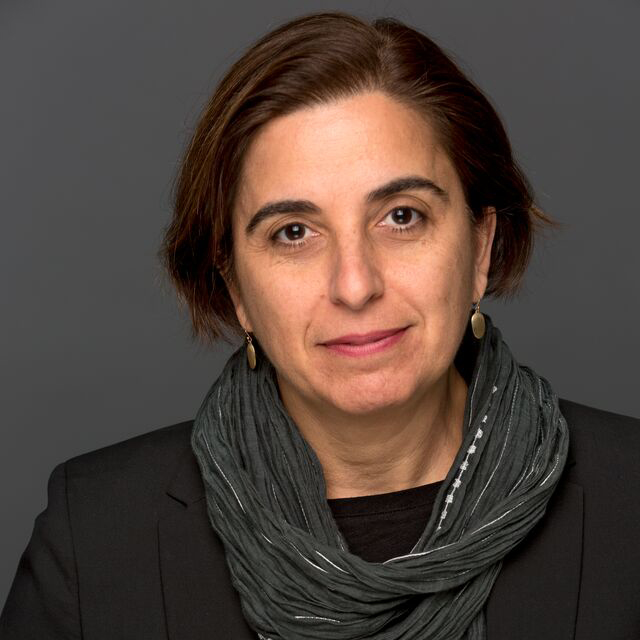 Sarah A. Lichtman, Dean of the School of Art and Design History and Theory, Explores Art and Design Exhibitions with New Book
Sarah A. Lichtman is a design historian, researcher, and author who became the Dean of the School of Art and Design History and Theory at Parsons in July, 2022. Her work at ADHT is focused on pushing the boundaries of design history to include voices and topics often overlooked within the field.
Recently, she served as co-editor for the new book "Exhibitions Beyond Boundaries: Transnational Exchanges Through Art, Architecture, and Design 1945-1985 " which looks at the time period when "museum and gallery exhibitions, industrial and trade fairs, biennials, triennials, festivals and world's fairs increasingly came to be used as locations for the exercise of 'soft power,' for displays of cultural diplomacy between nations and as spaces for addressing areas of social and political contestation."
The development of "Exhibitions Beyond Boundaries" came about through a co-convened panel at the College Art Association (CAA) conference in New York, where Lichtman and her co-editors were interested in developing a theme that would unite their discipline with that of the dominant art history focus of CAA.
"Exhibitions proved a fruitful starting point for conversations across these disciplinary boundaries," explains Lichtman. "They presented a chance to consider our differing approaches to these complex events, including their wider networks, the interconnections and exchanges that are engendered by and through exhibitions, and how they become the focus for diplomatic exchanges and for addressing social or political contestation. The enthusiastic response to our call for papers confirmed that others were also keen to explore these issues."
In the book, Lichtman was interested in considering what happens when the concern is not solely with how exhibitions operate as sites of exchange in the political economy of art or design, but also with the ways in which they provide a focus for other sorts of exchange. The book brings together ideas of nationalism, postcolonialism, materiality, technology, and professionalization; all within the framework of transnational exchange, which they hoped would enliven and expand readers' sense of the multiple ways of thinking about such complex and fascinating cultural objects.
"Together we agreed that it was imperative to look through or beyond exhibitions' content to highlight their role as heavily freighted objects of diplomacy, as networks, and as articulators of national values and principles. With our methods and points of views aligned, we worked collaboratively to put together a volume with broad-based geographical representation. Editing and talking together about the issues raised by this book was a genuine pleasure."
One of the driving intentions of the book was to expand the geographies of exhibition histories. "Over the last fifteen years a number of scholars have developed decolonial approaches to begin to address the urgent need to reconfigure the geographies of art and design histories beyond the Euro-American hegemony" Lichtman notes, and the collection reconfigures the geographies for exhibition studies by including case studies from the Global North and South including Asia, Africa, Australasia, the Middle East, Europe (East and West), and the United States. Lichtman and her co-editors wanted to reveal the complex processes that continue to forge an ever-expanding global network.
Lichtman's work as an author and researcher impacts her role at Parsons by going beyond traditional disciplinary borders to consider wider questions about how and why exhibitions enact exchanges and what is left in their wake.
"Pushing boundaries—and looking for the how and the why—is something Parsons' faculty do every day in our research and practice. Discovering new voices and perspectives and bringing them into the classroom where I can think through and expand on ideas with my students helps me better formulate the questions I ask and the answers I seek."
The issues raised in Lichtman's book—nation building, curatorial perspectives, identity formation, cultural movements—are relevant to the interests of so many students and their perspectives are invaluable in shaping Lichtman's ways of thinking.
"The book was also tremendously enhanced by the work of two Parsons graduate research assistants – Rachel H.R. Hunnicutt and Elizabeth Sanders – and also made better by the award of School-based funding which allowed for a plethora of high-quality illustrations.
Lichtman is currently working on a new book titled Design, Displacement, Migration: Spatial and Material Histories with her ADHT colleague Jilly Traganou. The book grew out of the Design History Society annual conference––convened by Lichtman at Parsons––and examines the "intersections of design and displacement (two capacious terms that evoke disperate notions of materiality and mobility)." The book encompasses scholarly and creative voices, Lichtman explains, "and foregrounds objects, spaces, visual and material practices in their evocations of displacement as an historical condition, force, practice, and method." It considers a "polyphonic perspective" and the role of design in "various colonizing regimes in controlling the mass movement of people, things, and ideas across borders." The book "expands the definition of design beyond professional expertise to encompass the agentic and emergent actions of displaced people and solidarity movements, and to the work of practitioners and scholars committed to political change."