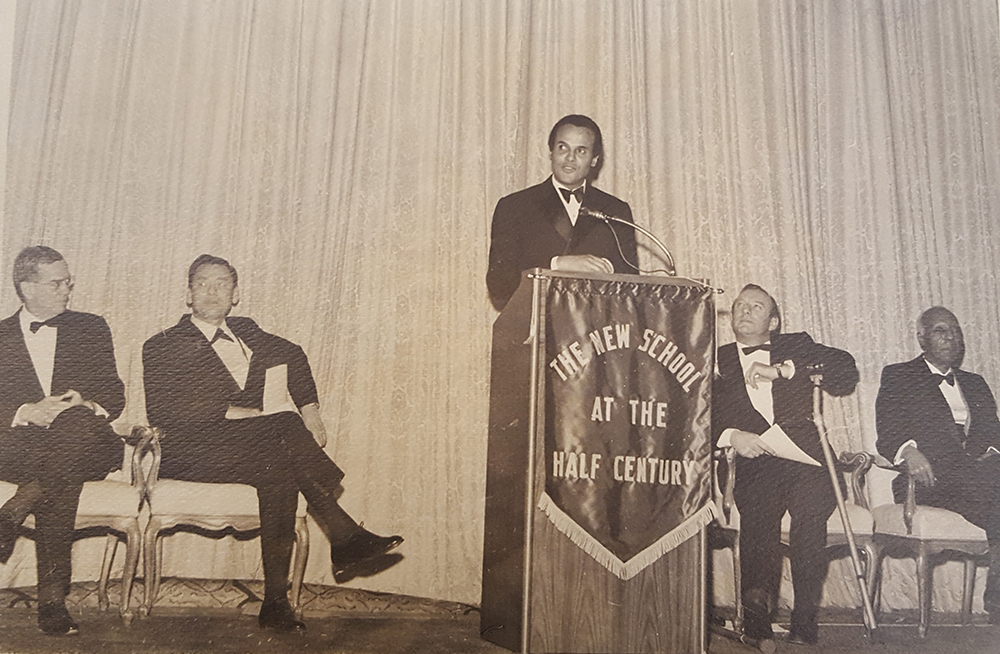 In Memoriam: Harry Belafonte, Groundbreaking Singer, Actor, and Activist, and School of Drama Alum
Harry Belafonte, a singer and actor who broke through the color barrier of the 1950's, and who went on to become a major figure of the civil rights movement of the 1960's, has passed away. Belafonte, who attended the Dramatic Workshop before it became the School of Drama, received an honorary degree from The New School at the university's 50th anniversary celebration in 1968.
According to an obituary in The New York Times, "Mr. Belafonte's ascent to the upper echelon of show business was historic. He was not the first Black entertainer to transcend racial boundaries; Louis Armstrong, Ella Fitzgerald and others had achieved stardom before him. But none had made as much of a splash as he did, and for a few years no one in music, Black or white, was bigger."
Belafonte initially achieved success as a singer, which included his album "Calypso" that stayed atop the Billboard charts for 31 weeks after its release in 1956. He then went on to have success in movies, although he lost interest in singing and acting as he became more involved in the civil rights movement of the 1960's.
According to the Times, "Early in his career, he befriended the Rev. Dr. Martin Luther King Jr. and became not just a lifelong friend but also an ardent supporter of Dr. King and the quest for racial equality he personified. He put up much of the seed money to help start the Student Nonviolent Coordinating Committee and was one of the principal fund-raisers for that organization and Dr. King's Southern Christian Leadership Conference."
Throughout his storied career, Belafonte earned a variety of honors and recognitions, including a Kennedy Center Honor in 1989, the National Medal of Arts in 1994 and a Grammy lifetime achievement award in 2000. He also received the Jean Hersholt Humanitarian Award from the Academy of Motion Picture Arts and Sciences in recognition of his lifelong fight for civil rights and other causes.
The Times obituary notes that "Looking back on his life and career, Mr. Belafonte was proud but far from complacent."
"About my own life, I have no complaints," he wrote in his autobiography. "Yet the problems faced by most Americans of color seem as dire and entrenched as they were half a century ago."