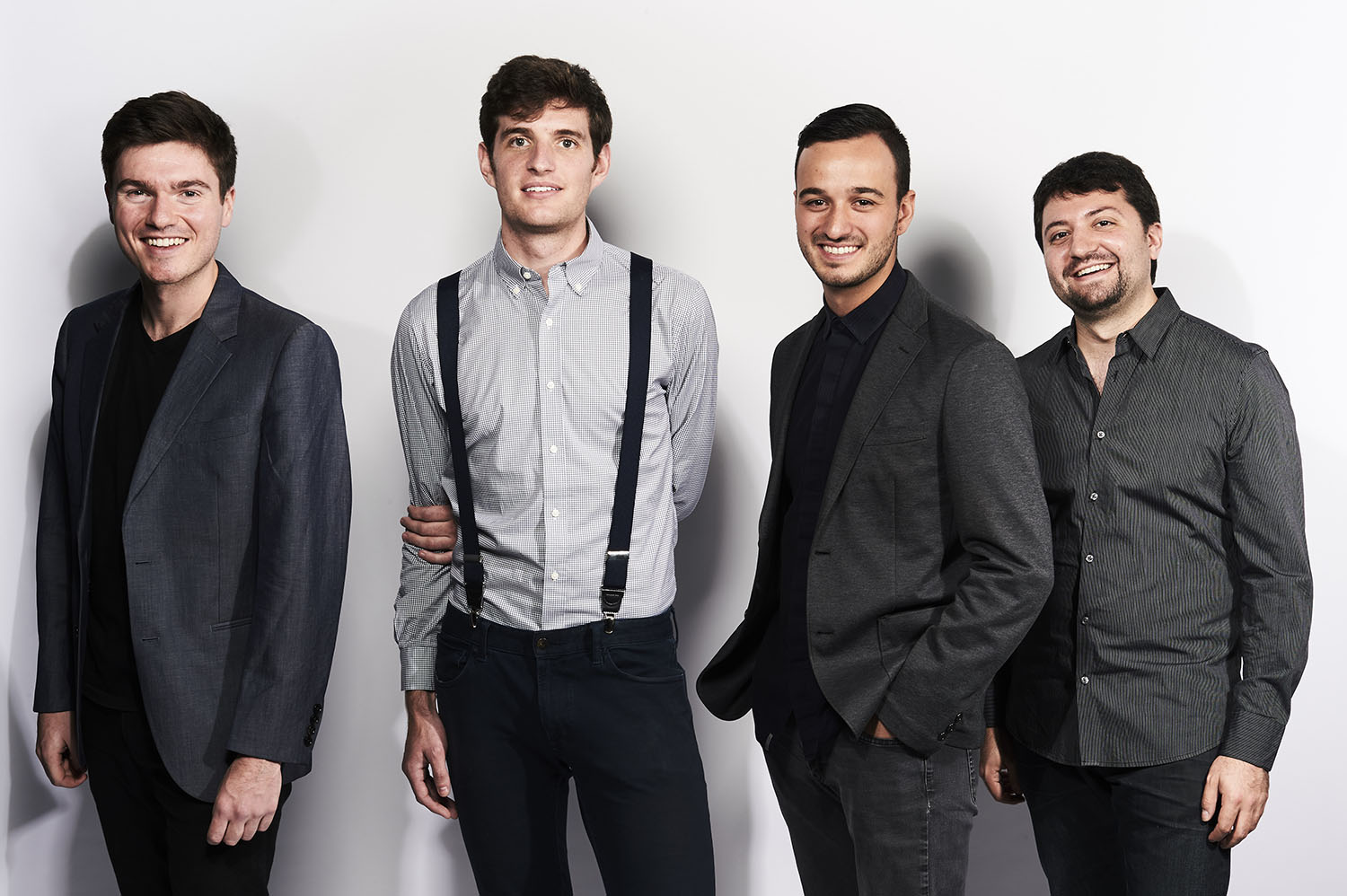 Sandbox Percussion Joins the College of Performing Arts as Ensemble-in-Residence
Many of the music industry's most acclaimed ensembles are currently in residence at The New School's College of Performing Arts, including The JACK Quartet, The Westerlies, and The Vanguard Orchestra. Recently, the College of Performing Arts welcomed Sandbox Percussion as its newest Ensemble-in-Residence, which includes Ian Rosenbaum, Jonny Allen, Terry Sweeney, and Victor Caccese, who will also join the faculty of the college.
"We are honored to join The New School's College of Performing Arts as Ensemble-in-Residence and very excited to bring our annual Summer Seminar to Mannes School of Music," said the Sandbox Percussion members. "It is a great privilege to work with such talented students as part of The New School's prestigious faculty at our home base – New York City."
As an Ensemble-in-Residence, Sandbox Percussion launched their teaching, learning, and performing initiatives in January 2023. During this period, they are teaching workshops, hosting forums and guest lectures, and performing both as a singular ensemble and in collaborative settings with students across the College of Performing Arts. They will also make Mannes School of Music home to their annual Summer Seminar – welcoming students from across the globe to study, rehearse, and perform some of today's leading percussion chamber music.
"Sandbox Percussion is an extraordinary ensemble. Gifted, searching, humble, and fresh, are only some of the characteristics that make them the perfect addition to our faculty of superb ensembles-in-residence. I know that our students and greater community will only be enriched and have their creative voices powered through the influence that Sandbox Percussion will have across Mannes, Jazz, and Drama," said Richard Kessler, Executive Dean of the College of Performing Arts.
Described as "exhilarating" (The New York Times) and "utterly mesmerizing" (The Guardian), GRAMMY®-nominated ensemble Sandbox Percussion brings out the best in composers through their unwavering dedication to artistry in contemporary chamber music. Sandbox Percussion captivates audiences with performances that are both visually and aurally stunning, solidifying them as leaders in the fields of contemporary music and percussion. Brought together by their love of chamber music and the simple joy of playing together, Jonathan Allen, VIctor Caccese, Ian Rosenbaum, and Terry Sweeney engage a wider audience for classical music through multidisciplinary collaborations with today's leading artists.