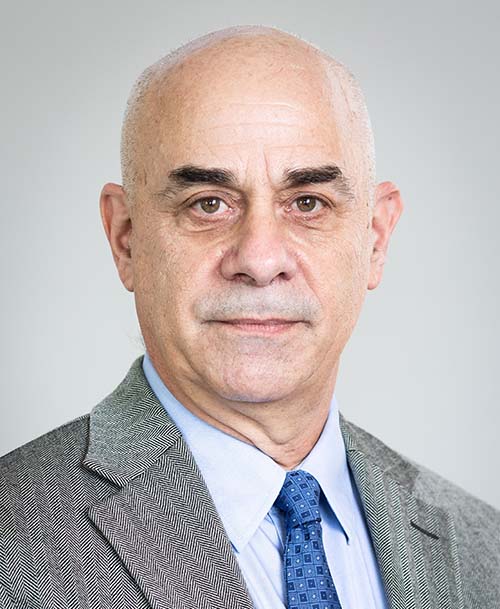 An Interview with William Milberg, Dean of The New School for Social Research
On June 30th, William Milberg will step down from his nearly decade-long tenure as Dean of The New School for Social Research (NSSR). During his time as dean, he has prioritized interdisciplinary collaboration and student and faculty support, and overseen the creation of several institutions, including the Zolberg Institute on Migration and Mobility; the Graduate Institute for Design, Ethnography and Social Thought; the Heilbroner Center for Capitalism Studies; the Henry H. Arnhold Forum on Global Challenges; and Public Seminar.
 New School News recently spoke with Dean Milberg about his time as dean, the importance of social science research and education, and what he has planned for the future.
NEW SCHOOL NEWS: What makes The New School for Social Research such a unique place?
DEAN MILBERG: The New School for Social Research is unique because of a scholarly tradition that insists on rooting knowledge in social theory and philosophy rather than strictly in empiricism, and that at the same time is focused on large social questions around democracy, inequality, ethics, justice, citizenship and collective memory. This scholarship has deep foundations in our history; today's NSSR began as a community of scholars in exile from Nazi Europe. Their experience escaping fascism brought a sense of urgency to their work, and an insistence on asking big questions that are crucial to understanding the world. Their legacy, which we carry forward, is scholarship that emphasizes historical explanation rather than the methodological individualism that increasingly characterizes many social sciences. It is a dynamic intellectual profile that continues to distinguish us in academia and attract graduate students from around the world.
Today, what also makes us unique at The New School is our array of PhD programs. Doctoral student training is among the highest academic ambitions a university can have. The New School for Social Research has an international reputation for scholarship and creation of knowledge, for critical approaches to the social sciences and philosophy, and for pushing out new ideas while resisting intellectual fads. Our faculty and students contribute in important ways to the gravitas of The New School's academic profile, and we attract important speakers and visitors from universities around the world and place alumni in prestigious academic and non-academic positions. NSSR punches above its weight; we have only approximately 65 faculty members, we offer MA and PhD degrees in nine areas, and our graduate students are Teaching Fellows and Teaching Assistants for many courses across the university. Every NSSR professor also teaches undergraduate courses at Eugene Lang College, an element that differentiates Lang from many standalone liberal arts colleges. And our centers and institutes attract participation from around the university, including our Graduate Institute of Design, Ethnography and Social Thought (GIDEST); the Zolberg Institute on Migration and Mobility; the Robert Heilbroner Center for Capitalism Studies, and even Public Seminar, our online forum that has featured work from faculty, students and staff from across the university.
Why is an education in social sciences valuable in today's world?
Social problems persist despite long periods of economic growth and rapid technological advance. One reaction to the economic insecurity, inequity, and unsustainability of late capitalism has been a turn away from liberal and democratic values. Social justice remains elusive and requires careful analysis and understanding of society and its dynamics. Facts don't just assemble themselves coherently in front of us. We organize how we understand society by theorizing social dynamics and observing the world. The need for clear-minded social science is as pressing as ever. It's important that we continue to produce engineers and astronomers, computer scientists and mathematicians. It's also important that we continue to pursue an understanding of the social condition — of politics, of culture and the arts, and of the relationship between humans and their environments.
We face enormous challenges as a society — to democracy, climate change, racial injustice, international migration, mental health, to name a few. These issues are as pressing today as they have been in many decades, and social sciences, philosophy, and history play an important role in understanding these and working toward solutions. I would compare this moment to the 1940s, when war had divided the world and social scientists were challenged by major dilemmas: democracy or fascism, capitalism or socialism, international cooperation or international war. The early 1940s saw the publication of works that addressed that crossroads: Joseph Schumpeter's Capitalism, Socialism, and Democracy (1942), Karl Polanyi's The Great Transformation (1944), and Friedrich Hayek's The Road to Serfdom (1944). In this comparable moment, the world is calling for similarly powerful analysis of our current crossroads.
What are some of the biggest challenges for social science research and education?
Social sciences suffer from the same ills as society in general, especially in ideological polarization and data overload. We are in danger of speaking only to people who agree with us, of asking the kinds of questions that we already know the answers to. If we want questions to which we already know the answers, we can turn to cable news. The Cambridge economist Joan Robinson wrote a book called What Are the Questions?, in which she argued that how we formulate our research question defines the scope of our analysis and ultimately the shape of the entire discipline. This consideration is crucial for the future of social sciences and its credibility in the eyes of the public.
What do you consider as the seminal events and major accomplishments of your time as dean?
My goal as Dean was to strengthen our core social sciences by recruiting and retaining excellent faculty. We have made terrific faculty hires over the past ten years and now have a superb group of younger scholars who I expect will thrive here for many years. At the same time, we created a set of centers and institutes that have generated new interdisciplinary dialogues, and that have provided financial support for student and faculty research across the university. I am thinking not just of the Zolberg Institute on Migration and Mobility, the Heilbroner Center for Capitalism Studies, and GIDEST, but also of the Institute for Critical Social Inquiry, the Democracy Seminar, and, our most recent addition, the Henry Arnhold Forum on Global Challenges. This has been further aided by a successful push for grant and gift funding, which has brought in millions of dollars of fellowship support, especially in Economics, Psychology, and Philosophy.
We have also created interdisciplinary graduate minors in Capitalism Studies, Anthropology and Design, Migration Studies, Global Mental Health, Methods and Concepts of Political Economy, and Critical Perspectives on Democratic Anti-Colonialism, all of which connect NSSR with the rest of The New School in new and exciting ways.
How has NSSR evolved to prepare its students for roles inside and outside of academia?
We are a relatively small school but we have a big impact, and our departments have a good record of academic and non-academic job placement. Two in particular stand out to me. Our Clinical Psychology PhD program has an impeccable record placing graduates in positions, especially in New York City mental health facilities. My own department, Economics, also has a remarkable placement record within and outside academe, and our graduates hold important policy making roles in governments and in NGOs in the U.S. and in Latin America, as well as within the UN system.
We recognize, however, that good tenure-track faculty jobs are increasingly rare, and we have responded in a few ways. We have reduced the number of PhD students that we admit to our programs, as a matter of responsibility given the difficult job market. We have made great efforts to help our students develop skills that are useful outside the academy in fields such as writing, design, policy making, and program evaluation. The Mellon Foundation has awarded us multiple grants for fellowships to help enhance this training. This year, we created the NSSR Social Change Fellowship, which provided MA and PhD students with paid internships at nonprofits and NGOs. The fellowship generated great interest from both students and sponsor organizations. We have also strengthened our career services, including "professionalization" seminars in some departments and one-on-one support from Jennifer MacDonald, our excellent Director of the Center for Graduate Career and Professional Development.
What do you have planned next after you step down as dean?
I am very excited to be returning to full-time research and teaching as a faculty member in the Department of Economics, one of the top non-orthodox economics departments in the world. I love the classroom and I am looking forward to returning to teaching my doctoral course in international economics – the global economy has changed a lot since I last taught it ten years ago! I am also very excited about a new minor I have proposed at Lang College called "Business, Innovation, and Social Justice," which will provide a critical perspective on the role of business in society. On the research front, I have many projects to restart, including an international trade project on the economic consequences of global supply chains and an intellectual history book on the role of ethnicity in modern American economic theory. My ongoing work as co-director of the Heilbroner Center for Capitalism Studies will focus on the relationship between economy and democracy, with support from a grant from the Open Society Foundations and the Hewlett Foundations on "Beyond Neoliberalism and Neo-illiberalism." I will be busy!
There is one final thing I want to mention here: I am very proud of the staff in the NSSR Dean's Office, who are so effective in supporting students and faculty. The staff are smart and dedicated, and I feel blessed to have had such a strong group working in that office over the past ten years.