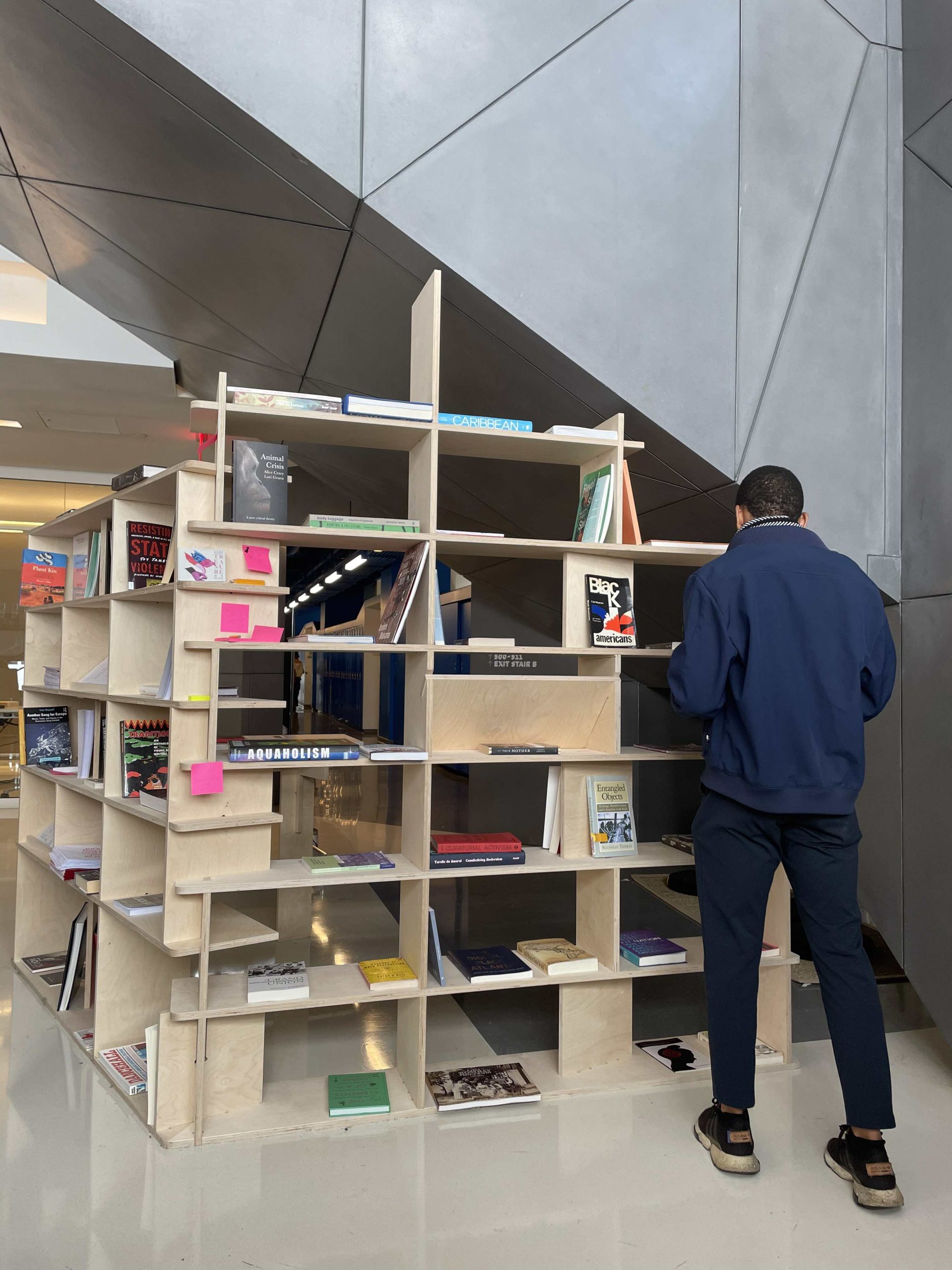 The Vera List Center for Art and Politics Hosts Reading Room Featuring Faculty Books
Every year, faculty from throughout The New School publish books on an enormous range of topics. New School New Books: A Reading Series, a recent event hosted by the Vera List Center for Art and Politics, celebrated and recognized faculty books in the fields of film studies, fashion, musicology, design, environmentalism, philosophy, and more as part of a roving exhibition and decolonial reading room presented in collaboration with C& Center of Unfinished Business,". Authors read from their new publications, divided into three sections over the course of the day: Material Identities, Sounding Democracy, and Public(s) and Common(s).
The C& Center for Unfinished Business is a project  by Contemporary And (C&), an educational, artist-driven platform in Berlin. It docks at different institutions, presenting them with a selection of approximately 25 books with a focus on decolonial strategies, that are then complemented by the host institution's own selection of 25 additional books. This past spring, the project was hosted by the VLC in The New School's Social Justice Hub, April 1 through May 26.. This iteration—co-curated by VLC's Eriola Pira, Curator and Director of Programs, and C&'s Julia Grosse, Yvette Mutumba, and Mearg Negusse—introduced selections by New School faculty, alumni, and the VLC Fellows Library. The exhibition was presented in the context of the VLC's 2022–2024 Focus Theme Correction*: the reading room offered an opportunity to explore political, social, and metaphorical implications of "correction" within decolonial frameworks.
"Such a carefully curated selection speaks of correction of historical narratives," shares VLC Senior Director/Chief Curator Carin Kuoni. "But with the books selected from two very different sources–Berlin and New York–the installation also recognizes distinct cultural contexts for knowledge production that don't necessarily align completely."
Accompanying the exhibition, the VLC hosted a series of programs—Libraries as Correctives with C& Center of Unfinished Business, Keleketla! Library, and Sister Library with Asia Art Archive, and Libraries in Practice: Tending Toward Liberation with BlackMass Publishing and the Pilipinx American Library, in addition to the New School New Books event—that looked at libraries and reading spaces as crucial sites of accessibility, liberation, and corrective repair. Curated by the VLC's  Assistant Director of Editorial Initiatives Re'al Christian along with Kuoni and Pira, the reading room, public programs, and accompanying publication galvanized intergenerational conversations, while also serving as a space to share socially and politically engaged ideas through a wide range of perspectives and publishing practices. 
"With our expanded publishing initiative, we are increasingly immersed and connected with a network of book spaces in all five boroughs. In collaboration with some of them, we wanted to acknowledge  that books are more than information on a shelf," explains Kuoni. "We are lucky that the Social Justice Hub offered such an opportunity for communality and care inside The New School."
Although The New School doesn't have a university press, there is a high volume of critically acclaimed and important work being written by faculty members every year. The VLC hopes to make their  work more visible and tangible outside the classroom, and to foster opportunities for cross-college exchanges and public interactions more frequently. In this inaugural edition, it was exciting to welcome faculty from all five colleges: The readers from NSSR were Simon Critchley, Gwenda-lin Grewal, Nicolas Langlitz, Ann Stoler, and Terry Williams; from Parsons Radhika Subramaniam and Jilly Traganou; from CoPA Pablo Helguera; from Lang Amanda Bellows, Julie Beth Napolin, Evan Rapport, Ricky Tucker, and Genevieve Yue; and from SPE Ricardo Montez and Brittnay Proctor.
"With the reading room, we are hoping to create a crossing point for faculty, staff, and students, a porous, inviting, social meeting space driven by current concerns and scholarship," explains Kuoni. "We would like for it to be as open as possible to different kinds of knowledge and signal that every element of a space contributes to its meaning and impact: the books, the activities, the setting, the location, the architecture, and the programs."
In true New School fashion, the development of the new space was a deeply collaborative effort. Furniture and shelving were designed by Parsons Architecture students Maya McGlynn and Ross Myren, while the broadsheet publication accompanying the exhibition was designed by NSSR student Bella De Angelis. The winning entry for the VLC New School Art Collection Writing Award, which is featured in the broadsheet, is an essay by Parsons Photography student Ashley Zhang on Alfredo Jaar's Searching for Africa in LIFE, a permanent installation in the New School Library on the 6th floor of the University Center.
"The TNS community seems to have taken to the space quite passionately," shares Kuoni. "It was usually crowded, often used for other programs' events, and the broadsheet in particular, with its map of over 60 local libraries—some of them itinerant—is used as a welcome resource."