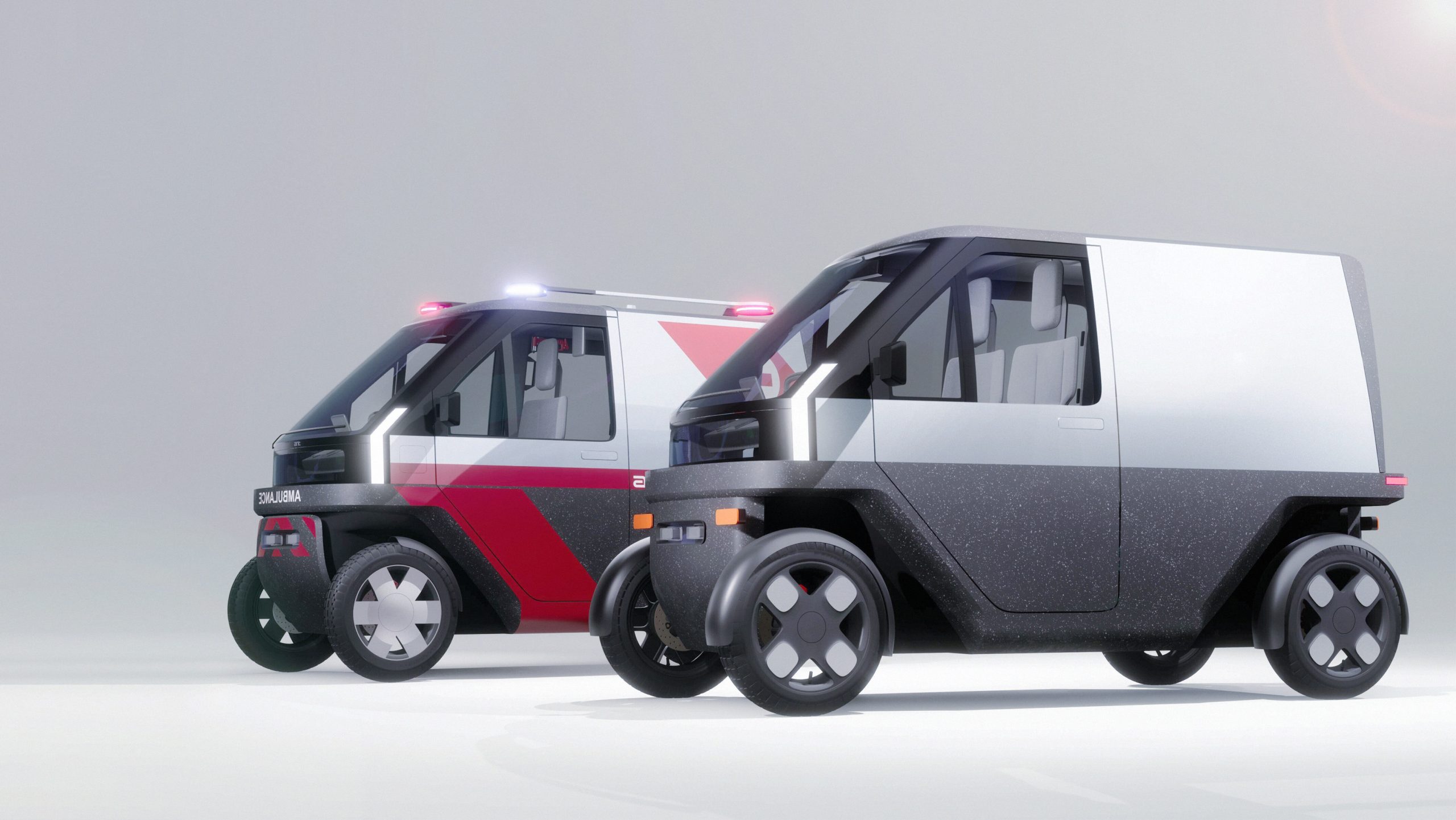 Mercedes-Benz Invests in New Ambulance Company Founded by Adrian Schmidt, MS Strategic Design and Management '24
Since he was a little boy growing up in Germany, Adrian Schmidt, MS Strategic Design and Management '24, has been passionate about cars. With an undergraduate degree in transportation design from Pforzheim University, he went to work for some of the world's leading automotive companies after graduation, including Mercedes-Benz, Nio, and Volkswagen, where he helped design new cars like the VW ID Buzz, the ID 3, and the Mercedes-Benz A Class.
Now, Schmidt is a graduate student in the MS Strategic Design and Management program in the School of Design Strategies at Parsons, where in addition to his studies, he is continuing to develop his start-up, Ant-Mobility. This past Spring, Schmidt, along with his former co-workers Rakesh Gaonkar and Rubesh Dhananjayan, formally founded Ant-Mobility, where he now serves as CEO. Additionally, Ant-Mobility has been able to form a development partnership with Daimler and IIT, bringing their innovative ideas to life and selling an undisclosed share of the start-up to Mercedes-Benz.
Ant-Mobility's first product is a small electric ambulance to be used in India, with the goal of significantly reducing response times and saving tens of thousands of lives a year. The world's first purpose-built ambulance has been specifically designed to navigate dense urban traffic quickly, which will allow it to reach patients faster than any other ambulance on the market.
"What sets us apart from the rest is that we've created an ambulance that's 75% more efficient in price and size than traditional models, which means it can navigate through traffic with lightning speed," explains Schmidt. "We estimate that our ambulance can reduce TAT (Turn-Around-Times) by 35-65%. That's potentially hundreds of lives saved every single day across India. Imagine that – an ambulance that's not only faster, but also more affordable and capable of getting to those in need with lightning speed. We're proud to be leading the charge in revolutionizing ambulance technology, and we can't wait to see the positive impact our vehicles will have on people's lives."
"We are proud of Adrian's company and its remarkable success," says Koray Caliskan, Associate Professor of Strategic Design and Management at Parsons. "Convincing a global giant like Daimler for investment partnership, thanks to a strategy design that one develops in his New Economies class deserves an A+! Adrian is a pioneer who figured out the centrality of strategy design and applied it to co-design a new global automobile company even before graduating. This is super, making visible not only his brilliance, but also the strength of our program, world-class faculty, and bright, fearless graduate students who bring the power of design and science together."
In addition to his work designing traditional cars before he came to Parsons, Schmidt also spent time at Lilium, a start-up working on developing the world's first "flying taxi" or eVTOL. The experience left its mark on Schmidt, whose own company promises to be just as innovative, sustainable, and forward-thinking.
"We're a design-driven company that's focused on meeting the needs of our users," he shares. "By working closely with them, we're able to identify the challenges they face and co-develop solutions that truly make a difference. In the highly competitive landscape of Indian EVs, affordability is a key factor. To address this, we've partnered with Daimler to develop a rugged platform that's built to withstand the tough road conditions in India while also enabling us to offer our EVs at scale, reducing unit costs."
True to the mission and vision of Parsons, Schmidt's company is committed to sustainable design that has the power to create positive social change while also improving the quality of life for thousands of people around the world. The start-up is aligned with the United Nations' Sustainable Development Goals, and aims to change the future of urban transportation globally.
"Electric vehicles are more than just a trend, they are the future of mobility. The Indian government has taken notice and is encouraging new car owners to switch to EVs with generous incentives, creating a prime opportunity for companies to enter the market. Globally, EVs are gaining market share, but high prices remain a barrier for many. That's where our company comes in. We've designed an affordable, customer-focused business model that offers EVs perfectly tailored to the needs of our customers."
Schmidt is currently in the process of hiring new people for his company, and is hopeful that he'll be able to work with Parsons students and graduates, who will help advance his goals of developing interdisciplinary and diverse teams.