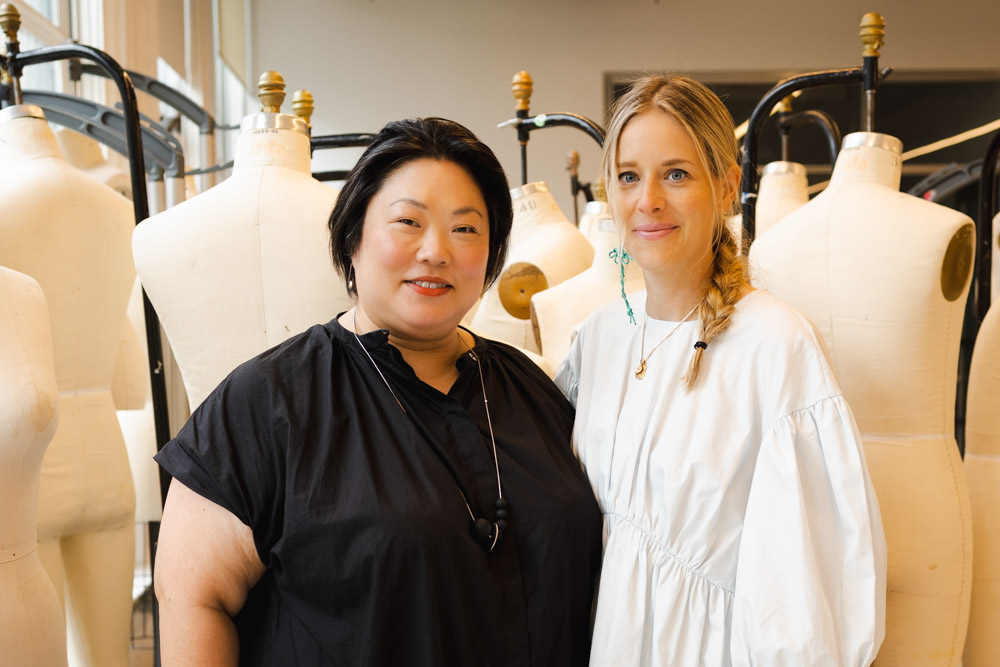 Parsons School of Design Launches Size Inclusion in Fashion Lab
Parsons School of Design has recently launched a first of its kind research and practice lab that will promote size inclusive practices through education, scholarly and applied research and innovation, collaborations, and community building.
The Size Inclusion in Fashion Lab, which is housed in the School of Fashion at Parsons, is led by Dr. Leila Kelleher, Assistant Professor of Fashion Design and Social Justice and Emily Huggard, Assistant Professor of Fashion Communication, who will serve as Co-Directors. In their role as Co-Directors, Kelleher and Huggard will oversee all of the SIF Lab's activities, partnerships, and initiatives, as well as student and faculty research, social engagement, and public programming.
"At the SIF Lab in the School of Fashion at Parsons, we will support knowledge creation and sharing opportunities that will invest in the future of the plus-size sector within the fashion industry. As the first lab to focus on plus sizes, we are excited to become the global hub to cultivate practical collaborations between research, business, education, and consumers." – Leila Kelleher and Emily Huggard, SIF Lab Co-Directors
The SIF Lab aims to challenge conventional limited-sizing practices by removing the barriers for industry, destigmatizing plus and Fat bodies in fashion, and developing and testing best practice solutions for resources. Additionally, the Lab will advocate for body neutral fashion education with the goal of normalizing size inclusivity throughout university curriculums, including fashion design and technical classes and courses in marketing, communications, and management.
Starting this Fall, the SIF Lab will engage in a number of activities that are aligned with The New School's educational mission and vision, in addition to their external work and partnerships with industry professionals.
"Parsons Fashion has embarked on a deep transformation where radical inclusion and justice are the standard in fashion education," says Dr. Ben Barry, Dean of Fashion and Associate Professor of Equity and Inclusion at Parsons School of Design. "SIF Lab is an essential part of this vision – its cutting-edge projects will develop the necessary strategic and practice-based knowledge to ensure fashion values and desires large bodies. The work coming out of SIF will usher in new perspectives and approaches for plus-size fashion through meaningful engagement with students, faculty, community and industry." 
The Fat Fashion elective course, launched in Spring 2023, and taught in the School of Fashion, gives students the opportunity to critically explore how current 'plus-size' clothing design, marketing, and retail reinforces fat stigma and fatphobia, and examine how fashion design can reframe cultural attitudes about fat and everyday lived experiences of Fat and plus size people. Through an iterative and experimental process, students design garments that not only comfortably fit the body but also address a wearer's intersectional identities. Other associated curricular offerings will include collaborative industry partnered design courses.
One of the SIF lab's current research projects is Fat/Sew: Making, Identity, and Fatness, a collaborative and long-term research project that explores the relationship between making and wearing by Fat sewers/wearers as they engage with fashion, dress, and identity.
In September, the SIF lab will present their initiatives at the De-fashioning Education conference in Berlin, Germany with a presentation focusing on how to reframe designing for plus-size bodies from a form of activism or solving 'fit problems' to a desire to create beautiful clothing for larger bodies.

Next Fall, the Lab will support the launch of Apparel Patternmaking for Plus Sizes: Principles and Practices for Large Bodies, the only specialized textbook that focuses on production and custom apparel pattern development, co-authored by Kelleher and Gabby Brown. The textbook is designed for upper-year fashion students with an existing skillset of apparel patternmaking, is a complement to existing patternmaking textbooks, and uses gender and body neutral language and includes material on accessible design.