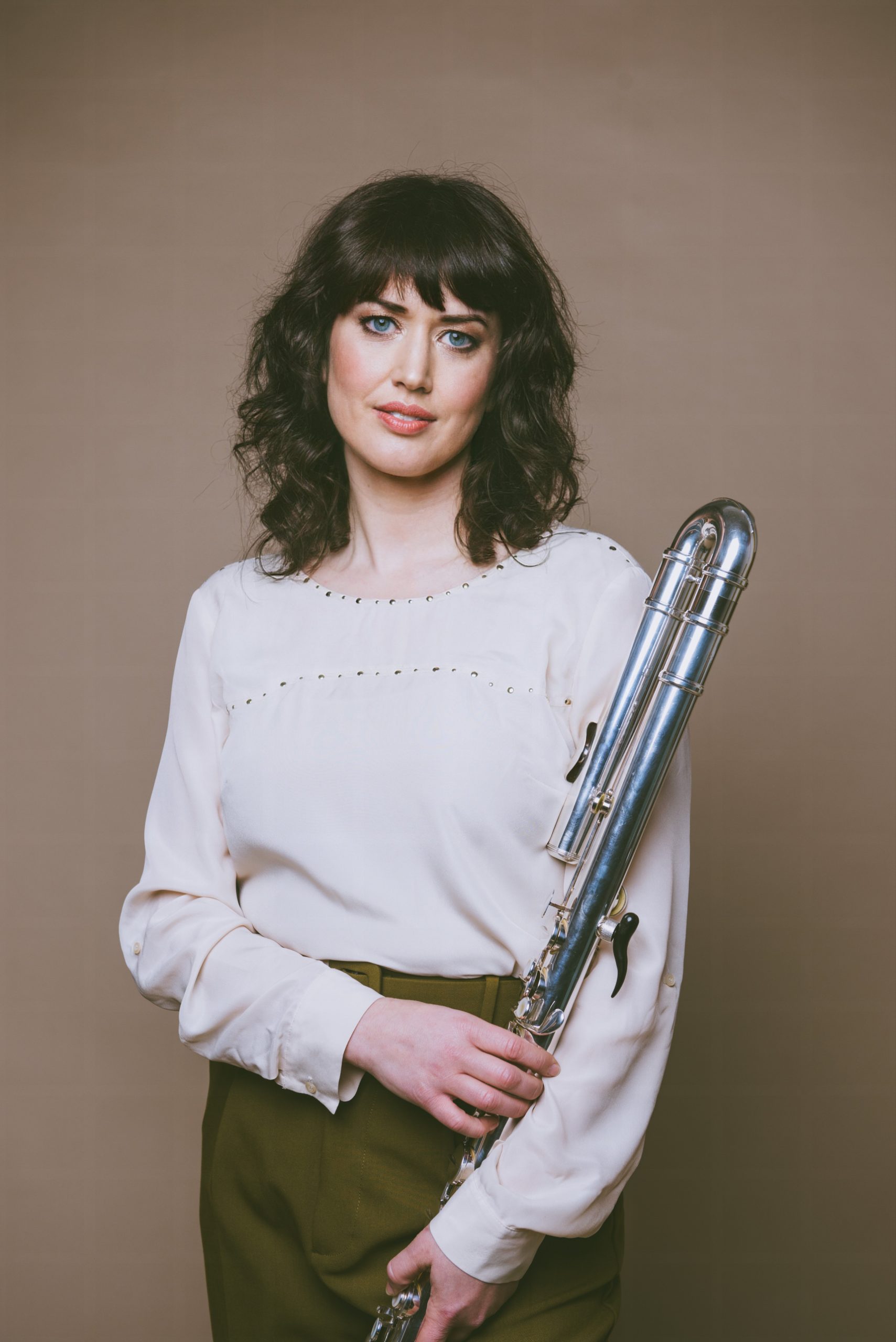 Elsa Nilsson, School of Jazz and Contemporary Music Faculty Member, Wins Chamber Music America's New Jazz Works Grant
Like most contemporary artists, Elsa Nilsson is many things. She is a celebrated musician and flutist, regularly performing throughout the United States and Europe, as well as a composer and educator.
Currently, she teaches in the School of Jazz and Contemporary Music at the College of Performing Arts, and was recently awarded a New Jazz Works Grant from Chamber Music America for her piece "Pulses", a suite inspired by the Maya Angelou poem "On the Pulse of Morning." It will be released on October 6, 2023, with a concert at National Sawdust that same evening.
"This is the first grant I have gotten for my work, and it is both validating and humbling," shares Nilsson. "Creating is an instinct for me, something I can't not do. I create what I do to the fullest extent of my abilities at the time, knowing that I will always be growing and pushing myself to go deeper. Releasing the records is a marker, a record of where I am at the time. Getting this grant to create this project feels like an affirmation that I'm onto something."
Angelou's poem inspired Nilsson in a myriad of ways, including the balance in her work between momentum and restraint, as well as patience and urgency. The way Angelou deploys pitches and rhythms in her work also correspond to patterns in jazz, and helped Nilsson create connections between the writer's work and the work of musicians she admires, including John Coltrane, Coleman Hawkins, Lester Young, and Ornette Coleman.
"Flute has not been a go-to instrument in jazz, and I believe a lot of it is because this kind of momentum doesn't come naturally on the instrument due to its lack of resistance in the creation of the sound," explains Nilsson. "It is much more of a vocal process, and so exploring how Dr. Angelou was creating that effect with her voice was exciting to me. The deeper I got into this exploration, the more layers I found and the music grew organically from that."
"There is also something deeply present and unapologetic in her voice. The power of her belonging in that historical moment is present in the sound. This stance, this "I belong", drew me to the recording of her voice as well."
Nilsson is inspired by artists in a variety of mediums, and is often drawn to their process, and the journeys they go through to create their work. Rumi, Hieu Minh Nguyen, Victoria Chang, Andrew Cyrille, Nicole Mitchell, Sun Ra, Patricia Brennan, and more, have all been instrumental to the development of her most recent pieces.
"I like to explore things I have not heard yet and am always in search of perspectives and ideas I haven't considered," says Nilsson. "I also love exploring what people in my community are up to, and one of my favorite things about teaching at The New School is the incredible faculty that I get to be around and be inspired by."
For Nilsson, her work as an artist and educator are deeply intertwined, and allow her to explore and research topics for her students that she might not have been exposed to otherwise. She also learns from her students, who give her a fresh perspective on the lessons she is teaching, as well as introduce her to new ideas around music, creativity, and more.
"My work as an artist impacts what I teach every single week, and my work as an educator impacts how I view my work as an artist in profound ways."
Currently, Nilsson is writing the second installment of her "Atlas of Sound" project, which is based on improvisations in Iceland. She is also part of a collaborative band called Esthesis Quartet, which released their third album back in January, and which received a Performance Plus grant from Chamber Music America.