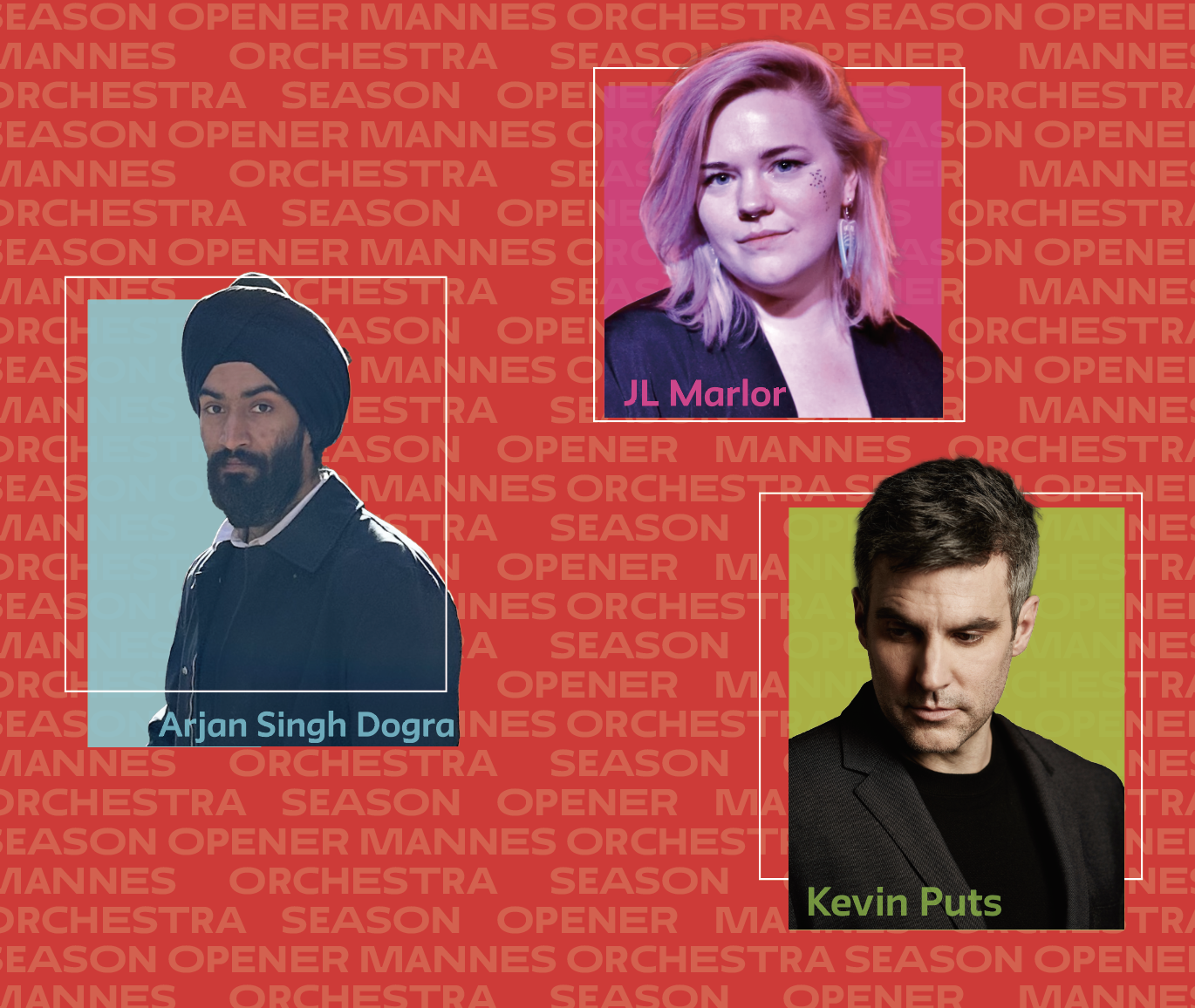 Mannes Orchestra Presents Two World Premieres by Arjan Singh Dogra, Mannes '24, and JL Marlor, Mannes '23
Saltwater Lung, the new piece that will have its world premiere from the Mannes Orchestra during their season opening concert, was written by JL Marlor, Mannes '23, and inspired by the alum's time growing up on the rocky coast of Massachusetts. And although current Mannes student Arjan Singh Dogra's piece, Live Salmon, is more abstract in nature, it's easy to see an immediate connection between the two original pieces, which will both have their world premieres on September 29 at 7:30pm at The New School's John L. Tishman Auditorium. Admission is free with registration and open to the public.
"I grew up on the harsh rocky coast of Massachusetts, watching glorious tranquil summers turn into immense violence during hurricane season, and was inspired to create something that mirrored the cyclical relationship of beauty and violence, the ebb and flow of the tide, and the natural push and pull of seasons," explains Marlor. "Growing up so connected to the ocean, I naturally gravitated toward the siren myth as a metaphor for the harsh beauty of the open sea."
"Usually I begin writing my pieces because I hear a sound world in my head, replay it several times until it becomes more focused, and then write it onto the paper," shares Singh. "I named this piece, as I do with most of my music, after I finished writing it. I showed the piece to a friend of mine who said that it reminded him of salmon swimming upstream, and so he suggested the title Live Salmon."
For Singh, there are consistent themes that show up in his work, specifically around time and nature. He grew up studying Indian Classical music, a style that involves lots of improvisation, which has influenced his organic writing style. Singh writes music like he improvises, writing straight through from start to finish, always trusting his instinct.
"My music is an amalgamation of my past experiences, and many of my fondest memories have come when I'm surrounded by nature," says Singh. "I grew up hiking with my dad, listening to the birds talk in parks, and hearing stories from my mom about the scenery in my family's native homeland of Panjab. These memories along with my improvisatory style of writing come together to form the most important aspect of all my music, organic timing."
Marlor is generally inspired by mythology, lore, history, and the intersections between those topics and feminine rage, retaliation, and redemption. She spent the early part of her time in New York City performing in punk and rock bands, which has helped shape her current sound, as well as the stories she feels compelled to tell.
"A big part of this piece and truly the inspiration for it was a lot in part due to my studies at Mannes — specifically theory," says Marlor. "So much of our attention in music analysis goes into the build up, climax, and release— a mountain-like shape, with a peak and a subsequent valley. Throughout my studies, I felt this was inherently a patriarchal idea, that I didn't wholly buy into— sure it sounds perhaps inflated, but I felt as a queer woman that I wanted to at least try to create something that did not follow this pattern— something analytically in opposition to the paradigm. I wanted to see if I could create a piece that served as a vast chasm rather than a peak and valley. Ultimately the idea of this was what drew me to the siren myth, and to the great chasm that is the open ocean."
Both composers are honored to have their new work performed by the Mannes Orchestra, and are grateful for the opportunity to have their music heard by an audience. The composers each note what a learning process the experience has been, and how collaboration played an integral role in making each piece as successful as it can be.
The concert will also include a performance of Pulitzer Prize and Grammy®-winning composer Kevin Puts' Marimba Concerto, featuring percussion soloist Katherine Fortunato, Mannes '24. 
"It is an honor to perform Kevin Puts' Marimba Concerto with the Mannes Orchestra on their season opener," says Fortunato. "This is a piece I hold close to my heart, and I hope you enjoy listening to Puts' spellbinding music as much as I enjoy playing it. I am grateful for this opportunity and I look forward to sharing the evening with JL Marlor, Arjan Singh Dogra, and the rest of the Mannes community."
Throughout his time at Mannes, Singh has worked with Chris Cerrone, a Mannes faculty member who has helped Singh grow as an artist, even though their musical styles are very different.
"He encourages me to write the music that I want to write, and his suggestions help me express my own ideas more clearly. I also am grateful to be surrounded by the other composition students in the department. The community is very welcoming and supportive, and everyone is incredibly talented, so I always feel like I have something new to learn from my peers."
Marlor echoes those same sentiments, as her Mannes education has inspired her to dig deeper, ask more questions, and pursue her best creative self.
Next up for both composers are new projects, which in Singh's case means building instruments that use plants to create music, as well as continuing to write music for film, video games, and the concert hall. Marlor will be splitting her time throughout the next year as a Fellow with American Opera Project's Composers and Voice program, as well as producing an album for her band Tenderheart Bitches, which will explore rage, generational trauma, and learning to let go.