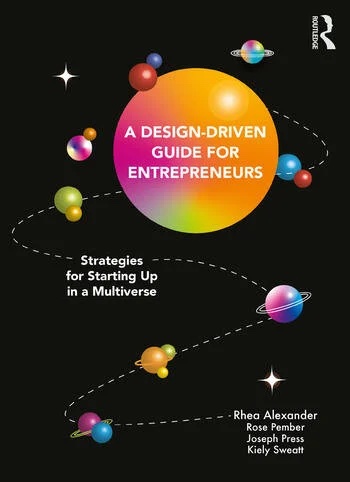 Rhea Alexander, Assistant Professor of Strategic Design and Management, Publishes New Book on Design and Entrepreneurship
What does it mean for an entrepreneur to apply design methods to their business idea? That's the driving question behind Rhea Alexander's new book, "A Design Driven Guide for Entrepreneurs," which she co-authored with Rose Pember, Joseph Press, and Kiely Sweatt.
As the founder of Parsons ELAB, a professor of strategic design and management in the School of Design Strategies at Parsons, and decades of experience as a design-led impact entrepreneur, Alexander's work and research has been focused on the intersection of design and entrepreneurship, which inspired her to assemble a team of authors to develop and write this new book.
"The book is a radical positivist approach to reimagining a more just and verdant economy through entrepreneurship," says Alexander. "It's a practical guide developed for young founders, Gen Z, and people who might not attend college, where they can learn practical tools and behaviors. It's also written to help change-makers within organizations learn new approaches to innovation and culture building."
Thanks to Alexander and her co-authors, readers will learn practical approaches, methods, and tools to build new types of businesses, along with a new set of values that can both grow within existing systems, and create new ones. The book also includes case studies developed from interviews with a variety of Parsons community members, including alumni Jeff Lindor, Shawn Nelson, Yijia Wang, and Sarah Jones.
"There are so many lessons because it's a guide book that takes you through how to develop the mindset of a designer and lifelong learner, then how to imbue your personal values with your business mission to gain self actualization. We also teach you how to help build a culture that centers these core values and attracts and builds community inside and out your organization."
In true Parsons fashion, the book was a collaborative effort between Alexander and her co-authors, all of whom she's worked with in different capacities throughout her career. They all have a specific expertise, but more importantly, a shared set of values that allowed them to create the new book together.
"I always try to build teams made up of mentors and peers to learn from in different capacities and to always offer opportunities to younger gifted professionals, especially women, since statistically, opportunities, especially in and around the startup community, are still limited for women."
Alexander's work as an author, entrepreneur, and researcher naturally influences her role as an educator at Parsons, where she is consistently growing and challenging herself. As an alumni twice over, she is eager to mentor the next generation, and provide them with the framework to succeed in the world the same way she has.
"I set out to create a practical guidebook that could help creatives learn business skills and teach non-creatives creative skills and mindsets that can benefit them like empathy, an understanding of our biases, self-reflection around worldviews, visualizing data, and the design process. I want to help potential founders work on themselves, improve their capacities to create positive impact while becoming financially self-supported through entrepreneurship, and on their own terms. I had the good fortune to do this myself with my own creative businesses and I am dedicated to supporting others to do the same."
Alexander is busy with the start of the semester, but is currently focusing her work on individuals and organizations that are interested in creating more pathways for people from marginalized communities, especially women, gain more access to funding and other resources. She's also advising startups, and continuing to work with the Parsons ELAB to support budding entrepreneurs across the New School community and beyond.