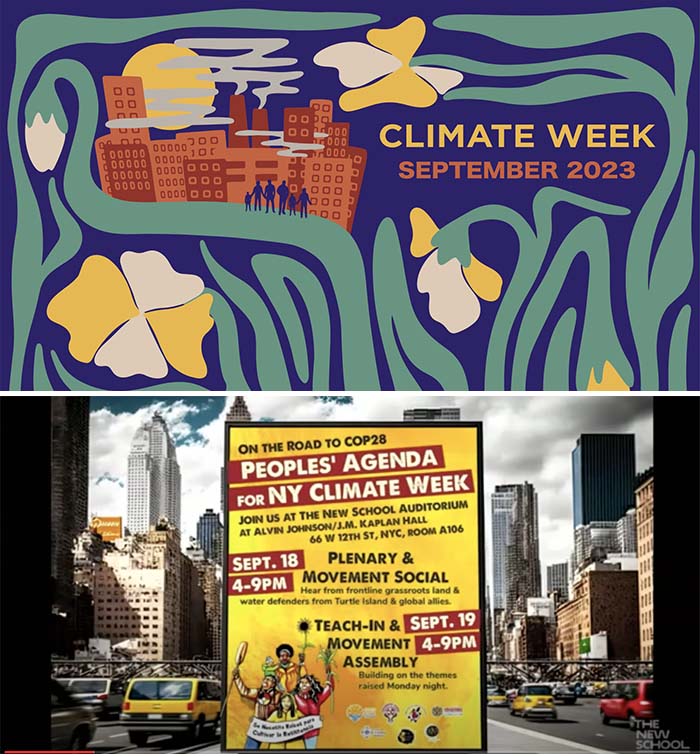 The New School Celebrates Climate Week NYC and Peoples' Climate Week
Climate Week NYC is an annual event that brings together businesses, nonprofits, and local community members for hundreds of programs and activities across New York City. The New School, led by the Tishman Environment and Design Center, participated, offering a series of events that explored the climate implications of building materials and health, mandatory emissions reductions, and federal funding for environmental justice work. The university also took part in Peoples' Climate Week, which offered an alternative to Climate Week NYC's more mainstream events.
Harnessing the Positive Potential of AI for Urban Climate Action
Can artificial intelligence be used to help organizations, communities, and governments understand climate resiliency and address the ongoing climate crisis? As communities and cities experience the impacts of climate change with increasing frequency, the need for solutions and scalable actions has never been more urgent. This is especially true in large cities like New York, which are wrestling with effects ranging from extreme heat and rainfall to sea-level rise and coastal flooding.The New School's Urban Systems Lab and the World Resources Institute (WRI) demonstrated two innovative solutions in Harnessing the Positive Potential of AI for Urban Climate Action, an event organized by The New School, Google.org, the Centre for Public Impact, and WRI.
Ensuring That Federal Funding Goes to Environmental Justice Communities
The Tishman Environment and Design Center hosted an event exploring ways to ensure that federal funding, now at historic levels, is used to finance frontline solutions for the climate crisis and environmental justice. The event was moderated by Tishman Center senior fellow Danielle Deane-Ryan and featured panelists Harold Mitchell, Regenesis Institute; Trenton Allen, Sustainable Capital Advisors; Maria Lopez-Nunez, Ironbound Community Corporation; Joe Evans, Kresge Foundation; and Helen Chin, Communities First Fund, who discussed the opportunities for and challenges of using federal funding for environmental justice.
Mandatory Emissions Reductions: Centering Environmental Justice in Climate Policy
Across the United States, fossil fuel infrastructure emits toxic air pollutants and planet-warming greenhouse gases that drive climate change. Low-income communities and communities of color bear the brunt of both, living on the front lines of climate change impacts and suffering the harm from the pollutants released by nearby facilities. A new joint report, Mandatory Emissions Reductions for Climate Mitigation in the Power Sector, by Dr. Nicky Sheats of the John S. Watson Institute for Urban Policy and Research (Kean University) and members of the Tishman Environment and Design Center, lays out a framework for a policy to require mandatory emissions reductions of power-sector pollution and applies it in three state case studies: New Jersey, Minnesota, and Delaware.
Peoples' Climate Week
The Environmental Policy and Sustainability Management Program (EPSM), the Tishman Environment and Design Center, and the Schools of Public Engagement at The New School hosted the launch of Peoples' Climate Week. Organized and led by It Takes Roots and grassroots frontline, Indigenous, Black, Latinx, Asian, Pacific Islander, Arab, and South Asian groups, these events offered an alternative to the more mainstream Climate Week NYC events.
Peoples' Climate Week Launch: Plenary and Movement Social
Frontline leaders from Nigeria, Brazil, and Turtle Island spoke in a plenary on Just Transition solutions grounded in decolonization, grassroots feminism, Indigenous sovereignty, the defense of human rights, and climate reparations. During the event, Nnimmo Bassey, a Nigerian architect, environmentalist, and writer, said, "The key thing is that we have a duty to stand together, to fight together against the expansion of sacrifice zones. We have to defend our land—defend our lives."
Peoples' Climate Week: Teach-In and Peoples' Assembly
BIPOC and environmental justice organizers led a teach-in on the inadequacy of the greenwashing policies now being put forward by governments and corporations in response to the climate crisis. Julia Bernal, executive director of Pueblo Action Alliance, stated, "We cannot solve the climate crisis the same way that caused it, and that is exactly what they are continuing to do."