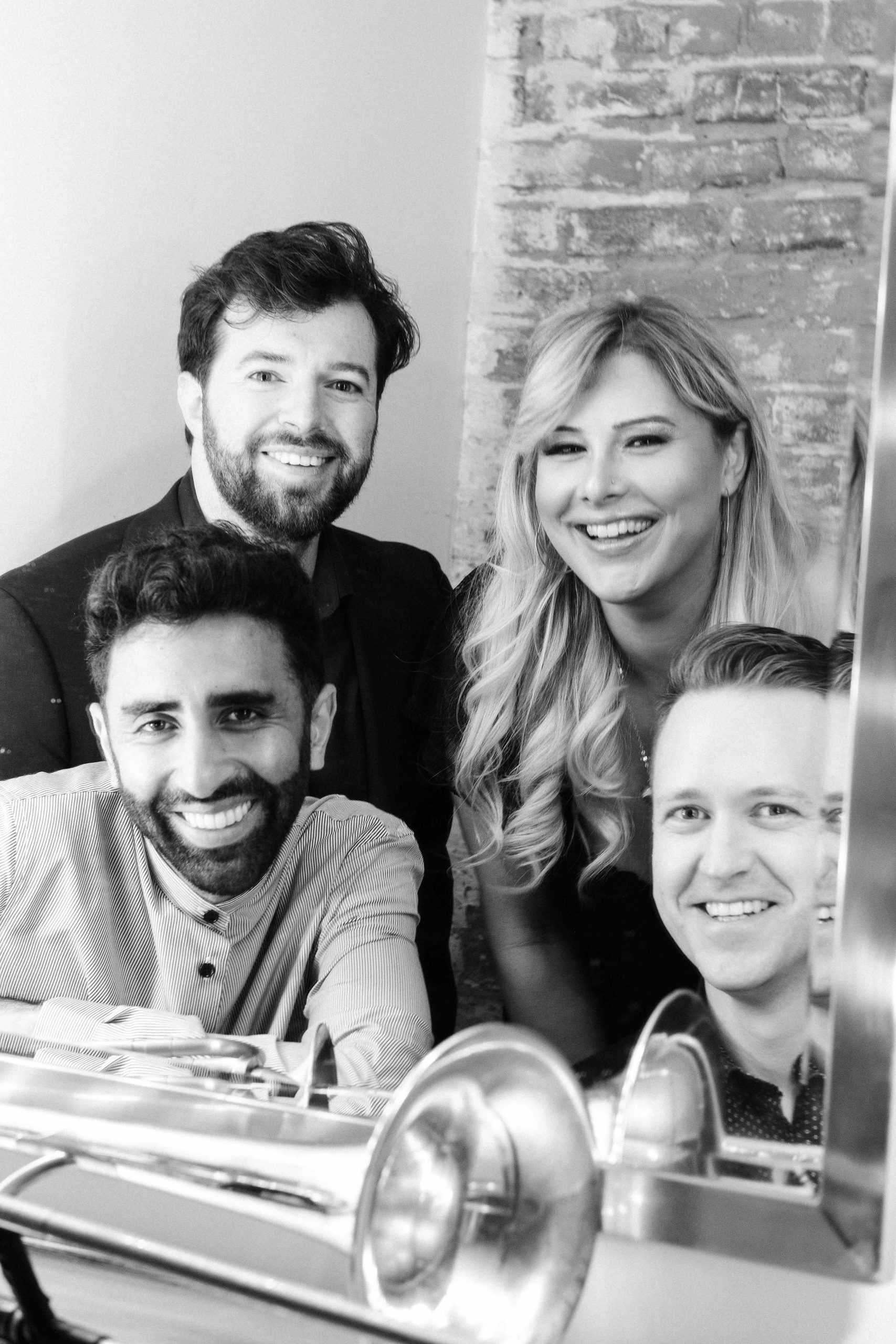 The Westerlies, Ensemble in Residence at the School of Jazz and Contemporary Music, Develop Community at The New School
The New School's College of Performing Arts – Mannes, Jazz, Drama, has worked with some of the world's leading musicians and ensembles, including the JACK Quartet, the Philip Glass Ensemble, Sandbox Percussion, and more.
In 2021, The Westerlies, a celebrated a cappella brass quartet, joined the School of Jazz and Contemporary Music as Ensemble-in-Residence, and are gearing up for their first concert at the school, Taking Shape, which takes place on November 9th at 7:30pm at Ernst C. Stiefel Hall.
As an Ensemble in Residence, the group has a variety of responsibilities, including teaching private and curricular lessons, leading ensembles, and giving guest masterclasses. They also have a home base in the School of Jazz, where they are able to meet, rehearse, and work.
"We have long dreamt of finding an institution that aligns with our values of genre-bending, interdisciplinary collaboration, and progressive thinking," says Riley Mulherkar. "The New School embodies all of these things, and we are so inspired by the way they are taking that mission and building a curriculum around it. It's also a bonus that our trumpeter Chloe Rowlands is a New School alum!"
"The Westerlies are doing such incredible work here at the school, and everywhere they find themselves performing," says Keller Coker, Dean of the School of Jazz. "The group is groundbreaking in their commissioning of new works, and in their collaborations with an array of amazing artists. They model the kind of excellence in musical artistry and entrepreneurial thinking that our students aspire to, and do so with a sense of joy and chance taking that inspires everyone who has the opportunity to interact with them."
Creating a home in the School of Jazz has already made a positive impact on the group, as they now have a permanent space to rehearse, plan, host meetings, and develop collaborations. They are also inspired by their community in New York, and find inspiration in the shows that happen around town.
"The roots of our band go back to our days growing up in Seattle, under the mentorship of folks like Wayne Horvitz, Robin Holcomb, and Bill Frisell," explains Mulherkar. "I think so much of our inspiration to this day comes from the way they are able to always push the limits of what is familiar to discover new sounds and ways of playing, while staying true to themselves."
For their upcoming concert, the ensemble will present traditional shape-note hymns alongside original compositions inspired by the musical properties of shape-note singing. With concert hall precision and folklike approachability, The Westerlies invite the listener into their musical world, cutting new trails across the vast expanse of the American musical landscape.
"We're so excited to present our first recital as ensemble-in-residence at The New School, and we're sharing a program that we call "Taking Shape," which draws inspiration from Shape Note traditions and melodies. We fell in love with Shape Note music years ago and have adapted a couple of Shape Note songs on recent releases of ours — "Weeping Mary" and "Louisiana," to name a couple. Last year, the Baryshnikov Arts Center commissioned us to compose new works inspired by those pieces, so in this concert we'll be putting it all together — songs that are nearly 200 years old and songs that are just a year old! This concert will also be the first recital concert with our newest member, Addison Maye-Saxon — we can't wait to introduce him to our New School family!"
Education, collaboration, and community engagement are core to The Westerlies' mission, and in addition to their work at The New School, they produce an annual music festival in Seattle called Westerlies Fest. The event combines evening performances featuring numerous guest artists, an all-day open-to-the-public creative music jamboree, and workshops in local public schools.
Recently, the ensemble premiered a new work with a full orchestra, "Concerto for Westerlies" by Conrad Tao, in Florida with the Orlando Philharmonic. The group hopes to bring it to New York with the Mannes Orchestra, in addition to new initiatives they're currently working on.