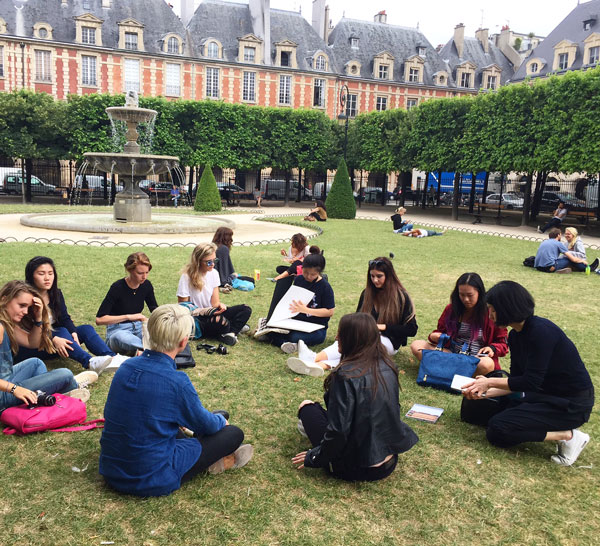 Every summer Parsons Paris offers two three-week sessions of summer intensive course offerings for pre-collge [high school] as well as college [university] and adult students in a range of fields from fashion to trend spotting, explorations in drawing, design management, food design and curatorial practice. The courses typically meet every day and often involve field trips around Paris in order to find inspiration for final projects. On the last day of the second session there was Open Studios to share work and see what other classes had created. Friends and family were of course welcome too.

Fashion Design studio courses involved a lot of feedback from professors.

Inspiration and exploration become part of final garments.

The Paris Trend Spotting class spent the first few days of class exploring Paris and looking for inspiration and collecting ideas for their final trend report.

A visit to Fondation Louis Vuitton with the Summer 2016 Daniel Buren installation.

Intro to Strategic Design & Management students learned how to create design briefs and business plans.

The Explorations in Drawing class spent some classes sketching in Paris, and others experimenting with various drawing techniques and tools.

For one of their projects the graphic design course students designed their own monograms which they laser cut into rubber to make their own custom stamps!

Graphic design students also designed their own posters and created a limited edition book.

The Food Design class spent the first half of the class in Paris (visiting the largest vineyard in Ile-de-France in the photo—can you spot the Eiffel Tower?) before heading to Elisava in Barcelona for the second part.

For Masters students there was The Period Room as Curatorial Practice which involved many visits to museums and historic places throughout the city. Photography wasn't always allowed inside, but check out the @parsonsparisMA Instagram account for a taste.
Parsons Paris summer program registration is managed by third party host API Study Abroad, who manage cultural activities and weekend trips in France throughout the summer session. In addition to learning something new, students make some great friends too!
Check out #ParsonsParisSummer and follow @ParsonsParis on Instagram for more!
Learn more about Parsons Paris summer programs on our website.