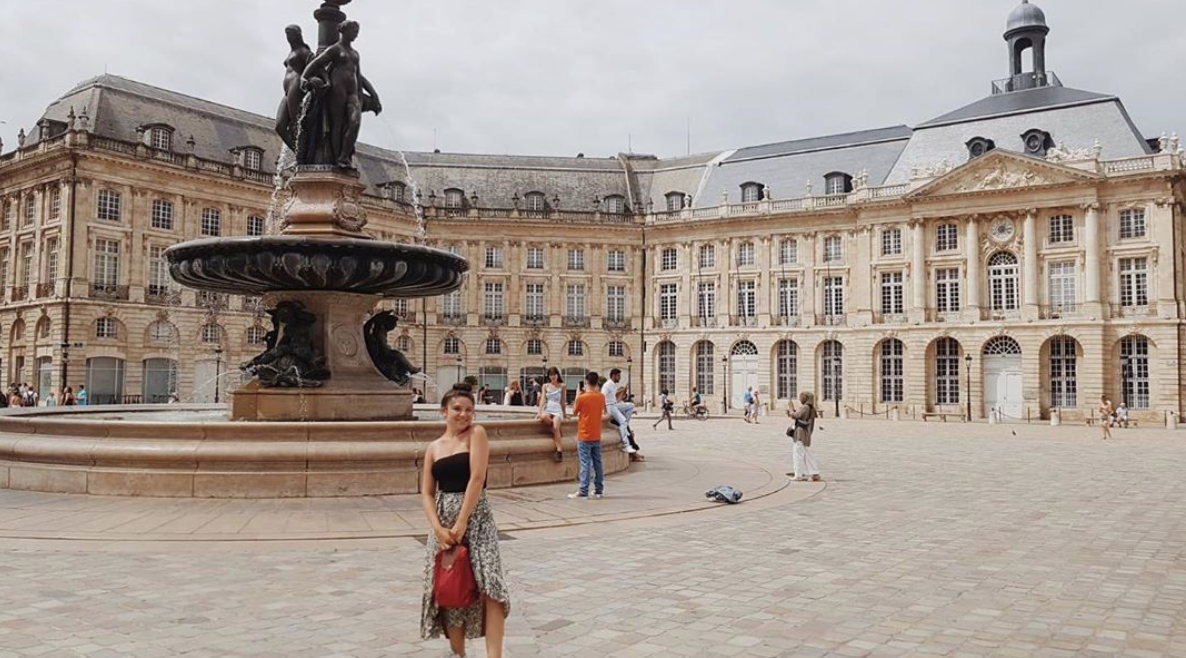 A French Road Trip
When I was a kid, my mom and dad would take my brother, sister and I on yearly road trips. We would drive the coast of Canada stopping in little towns to eat or explore, or drive down to Florida to hang out at Disney. So a road trip in France seemed to be in the books before I even moved. My boyfriend and I discussed how fun it would be to head out across France by car together.. and over the summer, it really happened! Our plan was to hit 4 different cities/towns in 10 days starting at La Rochelle and ending in St. Emillion.
I took the train to meet my boyfriend in his hometown, Chartres, known for its iconic cathedral. He met me with the car which was all packed and ready for our first destination – La Rochelle. We cruised the entire 3 hours there and made it in time to check in to our cute Air B&B and then head out for some cheap beers and crepes for dinner. We even had time to check out the aquarium! It was so beautiful and a great start to our trip. To be fair though… the crepes were not my favourite.. BUT, nothing could have ruined the first day of our travels! We roamed the streets, watching the buskers perform and the tide pull the boats up higher and higher into the port.
On day two, we left early and grabbed some croissants for breakfast. We bought.. or should I say I bought, because my boyfriend gets everything free by being French.. tickets to walk up all three of the port's towers. We checked out the views and then bought some baguette and cheese for lunch. We came home soon after to take a nap and shower for a marvellous dinner we had planned, enjoying sole meunière and moules frites with one of the beautiful port towers as our view. We decided to head home early that night and prepare for our short drive the following day to location two of the road trip: Ile De Re.
The drive was only about 1 hour… maybe even less… through fields of sadly dead sunflowers and small side streets. In Ile De Re… we didn't have a hotel… we didn't have an air B&B… but a campsite! We borrowed a tent, small mattress and sleeping bag from a friend of mine and although it was quite the experience of sleeping in a text with one of us on a mattress and the other on the ground.. we saved TONS of money.
Most nights we instantly fell asleep after many long and tiring days biking all across the island. We biked through salt marches, small towns, cobble stone streets and basically took every bike route possible. We ate extremely well, stopping for pizzas at beach bars, grabbing more pizzas by the ports and traveling everywhere with a 1L water bottle we filled everyday from a 5L wine bag we bought the first day. Nights in the tent were hilarious, both my boyfriend and I struggling to get comfortable, waking up to the sounds of our neighbouring camping locations yelling, or hoping our tent would hold up to the rainstorms that evening. We made the best of it though. We would go to the beach beside our camp grounds and watch the sunset, practicing my french, and playing card games… still with our wine.
I was so happy when we made it to Bordeaux. We stopped on the way in Cognac but nothing beats finally making it back to a real bed and having a real shower! Our Air B&B was beautiful, and we had a massive window overlooking an old church. We didn't do much in Bordeaux the first day.. just went to drink a bit and had some Italian for dinner. We bar hopped that night and slept in the following morning. We explored Bordeaux by foot, walking the entire city, stopping for a big brunch and coffees along the day. I think the best meal of the trip was when G found a restaurant where you choose the cut of meat you want first, and they make it for you right away, fresh from the butcher. It was super rustic and we had a great bottle of wine. It was the best way to wrap up walking all day, and we used it to celebrate my official 1 year in Paris! Best dinner.
The following day we drove to St. Emillion, driving through chateaus for wine tastings. We ended up having lunch at a beautiful restaurant called Le Terrace Rouge. What a dreamy spot. We bought some wine from our first tasting, then drove into the city centre of St. Emillion and walked the streets. Soon after however, we both decided we were exhausted and we drove to the final Air B&B for the trip. This Air B&B was a cute but massive home we shared with a lovely older couple and a few other guests. We had an entire floor, a big bathroom, televisions, and a pool at our disposal right in front of our room. We decided to swim a bit but the overcast weather and eventual rain caused that to be short. We spent our last evening in bed, watching movies and eating a pizza we ordered. It was truly the best way to salute a great trip.
The next day, we woke up early and head to one last wine tasting at Chateau du Pressac before G drove the 6 hours home. We played podcasts, listened to music and just enjoyed the company of one another after a tiring 10 days of exploring France.
Can't wait for another road trip!