Paris Fashion Week as a Backstage Dresser for Atlein!
This Paris Fashion Week (Fall 2022), Gaurav Dey (MA) Fashion Studies 2024, had the opportunity to intern as a Backstage Dresser for Atlein. This is how it went…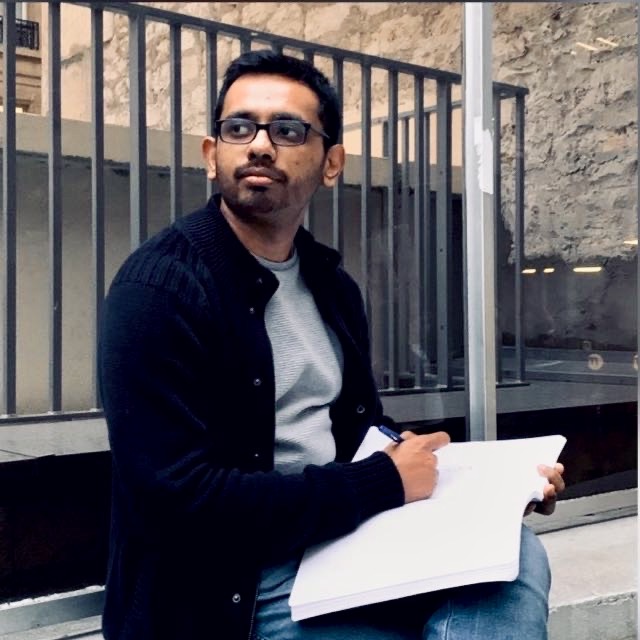 Where and when did you intern?
Atlein SS 2023 Women's Ready-to-Wear Collection by Antonin Tron ~ Toguna (Level 3)
Palais de Tokyo – 2nd October 2022
What was your role?
Backstage Dresser
How did you find out about this opportunity?
I found the offer for the show on Parsons Paris' Job Teaser board, the day before the deadline of the application on 12th September 2022 and submitted the day after on 13th September 2022. The submission process was very efficient as I submitted my French CV, provided a 10 line description of the brand inside the textbox which specified this particular detail, and said a little prayer before confirming my application.
What was the interview process like?
Since it was a one-day affair on Sunday, 2nd October 2022, I didn't undergo any cycles of interview. However, I was surprised to receive a confirmation the afternoon of the day I posted my application, from Atlein's communication department run by Yvonne Wojtas, who's currently in the 2nd Year at Parsons Paris' (MA) Fashion Studies program. I was really elated to see the email and confirmed my full-day attendance for the show.
What was the hiring process for your role?
As I've had prior experience in backstage dressing (precisely 37 short internships of a similar nature done over the course of 5 and a half years), I was really glad to have gotten an affirmative response from Atlein, as I had confirmed my attendance for the full day. I had known about the brand for quite some time, as I had written an article about its creator, Antonin Tron as part of an individual magazine project during the second year of the BA (HONS) Fashion Styling & Creative Direction program at my previous alma mater, Istituto Marangoni Paris. What really captivated me during the discovery process was Tron's affinity towards the revered Tunisian couturier, Azzedine Alaïa's (1935 – 2017) working philosophy and how he was able to execute his vision in an ethical manner by relying on sustainably sourced textiles and deadstock fabrics, without compromising on the necessary aesthetic effect. So, I was really looking forward to work with and discover the soon-to-be unveiled creations of Atlein on the occasion of the premiere of their SS 2023 Women's Ready-to-Wear Collection during the recently concluded Paris Fashion Week.
Tell us about your first few days. What did you do? Was there training? Were you busy with work straight away?
On the day of the show, I was delayed in my arrival to the Palais de Tokyo due to metro issues. However, I managed to reach just in time to be allocated the specific look and associated model I had to dress.
I was responsible for dressing the Nigerian model, Divine Nwaokogba (@divinechristain) in Look N°17. My look was very simple as it contained a pair of ruched leggings in an all-over reptilian skin print, and a single-breasted black blazer with ruched sleeves cut-off at the elbows, and finished off by a pair of black stilettos secured by a simple strap at the ankle.
As the brand and its creator upheld a longstanding responsibility towards sustainability since its inception, almost all of the textiles in this collection were all either recycled, upcycled or coming from deadstock inventory, that the brand had been able to procure thanks to its partnerships with a myriad of suppliers, fabric mills and factories purveying to some of the world's acclaimed luxury brands.
Following these designations, we were all provided the necessary protocol in dressing and were apprised of the attention and care towards the pieces that was needed to be taken into consideration, so that we didn't end up damaging any of them during rush hour. Majority of the dressers were responsible for two looks whereas the others including myself got only one look.
Since the collection's theme was based on Ellen Ripley (played by actress, Sigourney Weaver) in the movie, Alien (1979) by Ridley Scott, a major share of the outfits (including the one I was provided) were complemented by ruching details integrated with drawstring ends. In order to manœuvre these fragile additions, the brand's studio showed us the precise way to bunch them up and create an accessible opening so that the model's legs or hands could be easily passed through.
Prior to the final run-through and check-up by the studio members, I made sure to pay attention to the minute details in my look so that I could replicate the dressing process exactly as presented in the fittings polaroid, taken a day before at the brand's studio.
Who did you work with? What was the team environment like? Did you get to share your opinions and ideas? Etc…
All of Atlein's studio members were our supervisors during the entirety of the duration, as they were the ones who knew the ins and the outs, since they were involved with the making of the collection. One member in particular was Julia, who made sure to do a run-through with us dressers during rehearsals and to ensure that we didn't end up losing any time during the actual process, pointed out any necessary loopholes that we had to overcome, such as the fumbling with the shoe straps.
The atmosphere was very calm and everyone was professional and cordial to the T. During the lull, I was able to speak to the model, Hanne Gaby Odiele who was walking the show, as she was someone whom I had seen a lot on runways and editorials during my teens. So, that was proved to be of pleasant yet speedy encounter.
As the navigation across the space was quite seamless, I was also able to get a good look at the entire line-up of the collection. I was chuffed with the coherence and consistency of the pieces as they really highlighted the models' features and gave them a statuesque and fluidly sculpted form that was complemented by their glossy locks and dewy skin, as if they had just stepped out of a dip in the ocean.
Also, I was very pleased to meet Lucien Pagès, the press representative for Atlein as he's an industry professional whom I really admire for his calm exterior and drolly humour. Of course, the icing on the cake was meeting the designer, Antonin Tron, who thanked all of us for our assistance and efforts, and I was able to convey him my gratitude in getting to be a part of this high-octane atmosphere and having a hands-on preview of his offerings for the upcoming season.
What sort of tasks were you responsible for during your internship?
Aside from dressing my specifically allocated model, I helped a fellow student to dress her model as she had two changes during the show, like many other models. Prior to the show, all the models had to undergo the obligatory rehearsal with their designated size heels.
To help my colleague, I even practiced unclasping and clasping the straps of her model as a sort of simulation for the the outfit changes that she'll be undergoing during the course of the event. At first the straps did prove to be a difficult task since the metallic clasps were of a miniscule size and passing the leather bands through them was another nightmare, that I had similarly experienced a couple of times before while dressing for other brands.
Yet, I managed to overcome this difficulty during the actual show, as my colleague swiftly changed the model's outfit and I un-clasped and clasped the model's footwear that I could perform easily. Both the models whom I dressed were very good sports as they managed to put up a cheery and positive face, despite the shoe troubles.
While dressing my model, I made sure that I followed the precise protocol and paid attention to the smallest details such as the gathering around the leggings and the placement of the ruched-sleeve blazer, so that it corresponded exactly to the fittings picture pasted on the look card for reference.
Following the show, I hung the clothes according to how they were provided and placed them all inside the plastic garment bag so that they could be transported back to the studio.
What advice do you have for current and prospective students who have not had an internship yet?
Being here in Paris as a fashion student, I would wholeheartedly recommend all students to be a part of such short-term internships, especially during a platform as prestigious as Paris Fashion Week.
As someone who's been here for a considerable amount of time, I've really had the pleasure to be initiated and accepted into such privy atmospheres, something that I lived and experienced through digital media during my high school years.
Following the fulfilment of the necessary administrative procedure in France, it's an absolute must that you get in touch with either Virginie or Anthea for your CV review and start browsing through job offers on the Parsons Paris Jobteaser board.
It's also a plus if you start acclimating yourself with French culture, by learning few words and phrases that would enable you to communicate with the brand's studio members and make connections with industry professionals.
Furthermore, I suggest you to do some prior research of the brand/label that you've been selected to work with. Aside from browsing their Instagram, official website and YouTube channel (if any), it's a welcome gesture to research and read some articles on the founder, philosophy and legacy prior to commencing with your internship, as that'll surely give you a leg up on understanding what you would sort of tasks you would be given to do on the actual day.
Other than that, make sure to have an enjoyable experience and also don't hesitate to ask questions to any of the brand's staff members during the show/internship, as that'll avoid any sort of unnecessary hiccups during the event's run.