Selika Cerofolini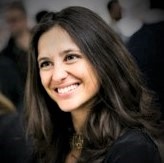 Selika is a Certified Professional Coach through the training program Coaching for Transformation (Leadership that Works, New York).
In her coaching practice, Selika's focus is on personal freedom. With her natural intuition, creativity and humor, Selika guides an exploration of the self through the integration of one's identity, toward a life of aligned and conscious choices.
Her clients have remarked on their ability to overcome blockages, which has opened new possibilities toward expanding their views and reaching their goals. They observe feelings of greatly increased comfort with themselves, clearer minds, and purer connections with their hearts.
Originally from Tuscany, Selika moved to the United States in September 2010. She graduated with honors in International Communications at the University for Foreigners in Perugia and holds an MA in International Relations and Diplomatic Studies. Since her arrival in New York, Selika has been working on the promotion of Italian art and culture as Director of Communications in various environment and institutions – from Art Foundations to Contemporary Art Galleries to Private Art Collections – while also pursuing her deep interest in psychology and spirituality.
In 2018 Selika decided to shift her career entirely to coaching, and since then she has been working both with individual clients as a Personal coach and at the Executive level in collaboration with Share Coaching. She is taking her first steps in Future Mentoring and Family Systems with Maya Sigala and Human Design.
Selika expresses herself creatively through writing and art since she can remember. She lives in New York, but travels around the world every chance she gets. She speaks fluent Italian, English and Spanish.