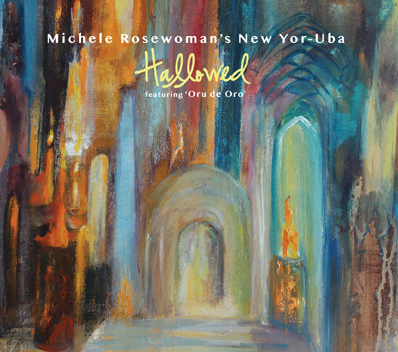 Invitation to Michele Rosewoman's New Yor-Uba "HALLOWED", Co-presented by Professor Neyda Martinez
Invitation to 
Michele Rosewoman's New Yor-Uba "HALLOWED", Co-presented by Professor Neyda Martinez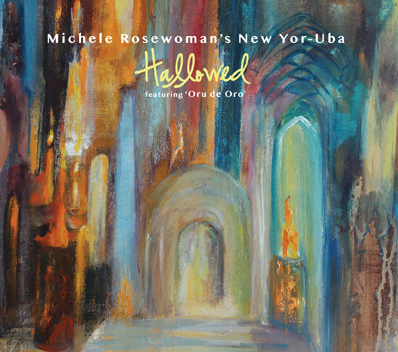 CELEBRATING 35 YEARS OF EVOLUTION, LATIN GRAMMY® RECIPIENT MICHELE ROSEWOMAN RELEASES
"HALLOWED" THE ANTICIPATED NEXT CHAPTER FROM THE GROUNDBREAKING ENSEMBLE NEW YOR-UBA
ON NOVEMBER 1ST ON HER OWN ADVANCE DANCE DISQUES RECORDING LABEL
PRODUCED BY MICHELE ROSEWOMAN & LIBERTY ELLMAN THE ALBUM MELDS HER LONGSTANDING ASSEMBLAGE OF MASTER MUSICIANS
FROM BOTH WORLDS OF SPIRITUALLY BASED CUBAN FOLKLORIC MUSIC & CONTEMPORARY JAZZ
 featuring "ORU DE ORO" AN EXTENDED WORK COMMISSIONED BY CHAMBER MUSIC AMERICA 
ORIGINAL COVER ART BY ROSEWOMAN'S LATE MOTHER, THE ARTIST ESTERA
NYC New Yor-Uba Celebrations include:
NOVEMBER "HALLOWED" ZINC RESIDENCY
Saturday, November 2 & Friday, November 8
82 West 3rd Street, NYC, 212-477-9462
Sets at 7:30pm & 9:30pm
featuring
Alejandro Berti – trumpet, flugel horn (11.2)
Alex Norris – trumpet, flugel horn (11.8)
Román Filiú – alto & soprano saxophones, flute
Stacy Dillard – tenor saxophone
Chris Washburne – trombone, bass trombone, tuba
Andrew Gutauskas – baritone saxophone
Michele Rosewoman – piano, vocals
Yunior Terry – bass (11.2)
Gregg August – bass (11.8)
Robby Ameen – drums
Román Diaz – batá, congas, vocals
Mauricio Herrera – batá, congas, vocals
Rafael Monteagudo – batá, congas
Abraham Rodriguez – lead vocals
+
PHILADELPHIA New Yor-Uba celebrations include @ THE PHILADELPHIA CLEF CLUB OF JAZZ on Saturday, December 21
The anticipated next chapter of Michele Rosewoman's New Yor-Uba marks its debut on November 1, 2019 with the release of "HALLOWED," on the artists' own label, Advance Dance Disques. CD release events, will kick off with a residency at New York City's ZINC, 82 West 3rd Street, 212.477.9462, on November 2 & 8, 2019 at 7:30pm & 9:30pm, presented in association with Habana/Harlem®  Neyda Martínez & Onel Mulet, and a performance at The Philadelphia Clef Club of Jazz on December 21.
Following up on their 2013 double disc release, which celebrated 30 years and garnered NPR'S #1 Latin Jazz Recording of the Year Award, Rosewoman continues her artistic exploration along with her cast of master musicians and folklorists. With an evolution in personnel, New Yor-Uba returned to the studio to record and present its next groundbreaking offering, "HALLOWED".  Recorded in 2017-2018 at Systems Two Studios, the return of the ensemble represents the next body of work in its 35-year musical evolution. Her current and long-standing ensemble members are some of the brightest and most sought out voices from both the spiritually based Cuban folkloric tradition and contemporary jazz worlds. To conceive a thoroughly uncompromised synthesis of both, Ms. Rosewoman has spent a lifetime immersed in the essence of these two profound musical traditions.