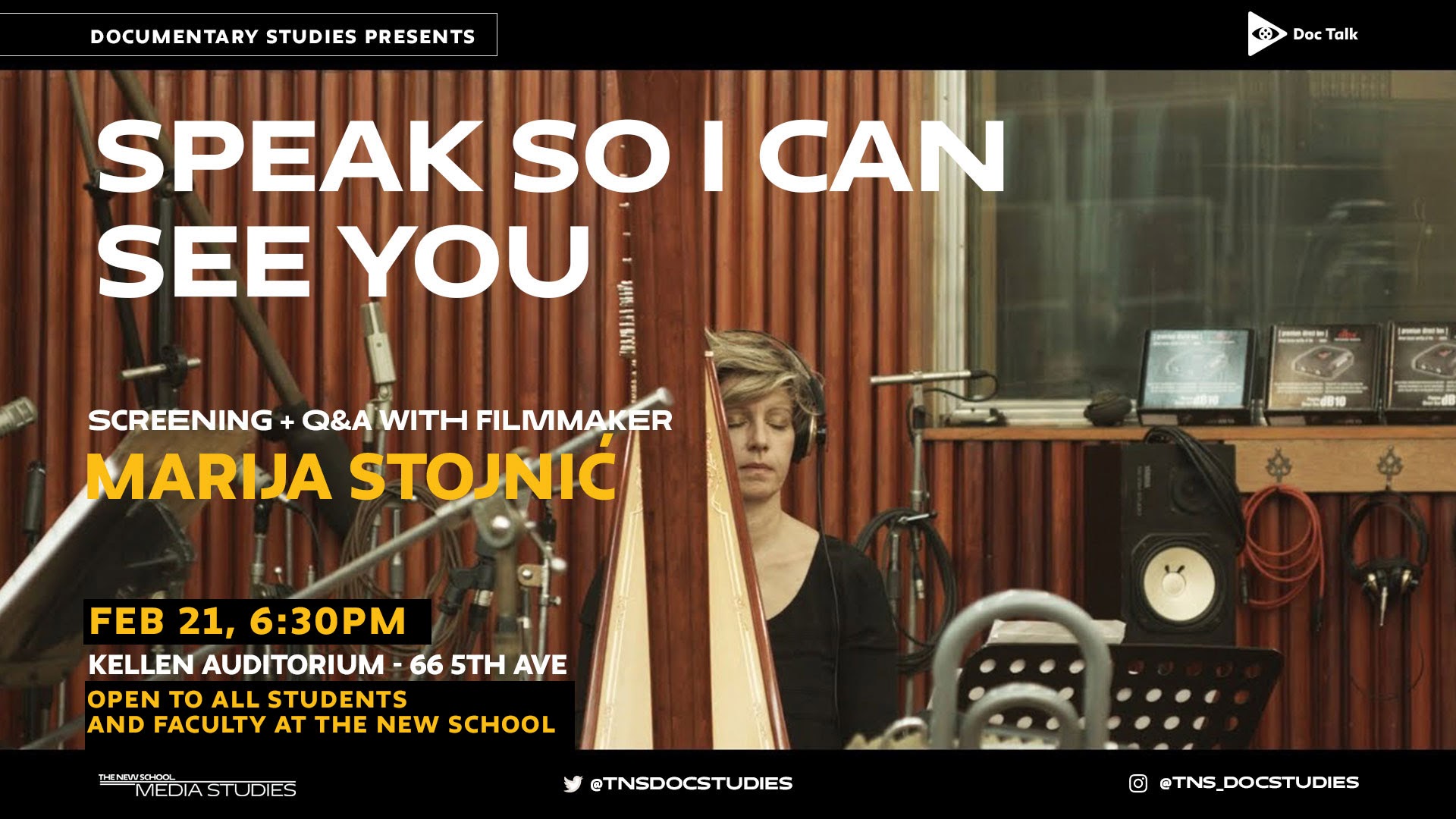 DOC TALK, Friday Feb 21: "SPEAK SO I CAN SEE YOU" + Q&A with filmmaker MARIJA STOJNIC
DOC STUDIES PRESENTS
Friday, Feb 21 at 6:30 PM
Kellen Auditorium, 66 Fifth Ave
SPEAK SO I CAN SEE YOU (74 min)
Screening and Q&A with filmmaker and Media Studies alumna MARIJA STOJNIĆ
"The film that took the top of my head off was Speak So I Can See You….It's on another planet from character-driven narrative, in a good way…. Art museums should embrace it. Radio aficionados will fall in love with it, and historians will treasure it." – Pat Auderheide, IDA journal
"Rich in…brilliant moments…. immersing the viewer in quite a unique cinematic experience. And, commendably, it also leaves some room for irony." – David Abbatesciani, Cineuropa
Serbian filmmaker and Media Studies alumna Marija Stojnić will screen Speak So I Can See You, her new documentary feature on Friday, February 21st at 6:30pm in Kellen Auditorium.  The film premiered at International Documenary Film Festival in Amesterdam last fall, and it is featured at MoMA's DocFortnight this month.  Stojnić, who brings her background in music and keen understanding of the art of documentary, has crafted an original work—a "cinematic soundscape" that captures the wonders of Radio Belgrade, Serbia's long-lived radio station, which has kept history, culture and critical thinking alive in the former Yugoslavia.  Borrowing upon the cumulative effect of slow tracking shots and close-ups of cryptic technological grids and patient performers testing microphones, Stojnić portrays the station in the throes of change as it abandons the dilapidated equipment of its Tito-era studios for the bright newness of the now while clinging to all it holds dear.  Her observational visuals illuminate the sounds of the radio past and present, including moments from beloved shows like "The Invisible People" and "Journey through Words," jazz tributes on "Needle on Vinyl" and live performances of opera, and dramatic readings of writers like Dostoyevsky and Carl Sagan. Stojnić's underlying focus is on the people who keep Radio Belgrade going—audio engineers, actors, announcers, directors, moving men, and cleaning ladies—while inviting viewers into the haunting space, time, and sounds of  Radio Belgrade. Even if you never lived through '68 or wondered about the future of the former USSR or listened through the night and in your dreams to the rambling thoughts of Radio Belgrade's philosophical radio hosts, Stojnić's film conjures a collective memory of the past through audio echoes personal and public.
  The film is a love letter to radiophonic art, subtly and playfully demonstrating how radio can make us remember, understand, think, and feel.
Stojnić will join Media Studies faculty member Deirdre Boyle for a Q&A after the screening.  This program is open to all students and faculty of The New School.
Presented by the Graduate Certificate in Documentary Media Studies:
School of Media Studies
The New School
https://newschooldocstudies.wordpress.com/
http://www.newschool.edu/public-engagement/documentary-media-graduate-certificate/
http://www.newschool.edu/public-engagement/media-studies/