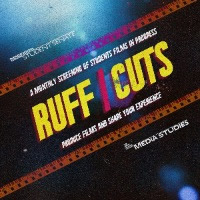 Submit Your Work to Ruff Cuts!
CALLING ALL FILMMAKERS, CONTENT CREATORS, AND VISIONARIES!
It's that time of year again to submit your visual projects to Ruff Cuts! If you are new to the scene, Ruff Cuts is a monthly event where we screen student films. A screening for students by students.
To have your project screened at Ruff Cuts, send what you have to Rafael Parra, ParraR@newschool.edu no later than Thursday, November 19, 2020.
Submissions can be anything: a short film, a music video, an abstract visual piece that makes you cry; as long as it's appropriate to screen we'll screen it!
Submissions can be as short as 1min but no longer than 15 mins (if your piece is longer than that, we will only show the first 15 mins).
One submission per person (if you want to screen another, you'll have to wait until the next event Ruff Cuts. However, if you have contributed to another submission, that is fine; just be sure that the lead creative on that project does the submitting).
Ruff Cuts will take place online Friday, November 20, 2020.