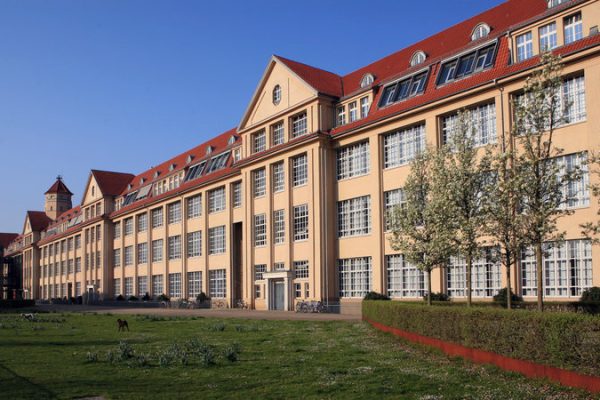 STUDY SUMMER 2022 IN KARLSRUHE CALL FOR APPLICANTS
STUDY SUMMER 2022 IN KARLSRUHE CALL FOR APPLICANTS
The New School – University of Arts and Design, Karlsruhe Germany
Application Deadline: December 13, 2021
The School of Media Studies offers a student exchange program with the University of Arts and Design (HfG / Hochschule für Gestaltung) Karlsruhe, Germany. The selected Media Studies student will spend the summer semester 2022—mid-April to mid-July—in Karlsruhe.* Funding of Euro 4,500 for travel and accommodation will be provided as a scholarship. The courses taken at the University of Arts and Design will count towards the MA in Media Studies but tuition (per credit) will be paid to The New School. For application guidelines, see below.
* Students will be able to make special arrangements in order to also take courses during the Spring 2022 semester at The New School.
About University of Arts and Design, Karlsruhe:
The Karlsruhe University of Arts and Design (HfG / Hochschule für Gestaltung) was founded in 1992 along with the Center for Culture and Media (ZKM –http://zkm.de/eng/), which has gained the reputation of being the leading EuropeanMedia Arts Museum. HfG and ZKM are located within the same building and have collaborated on programs for many years. The interdisciplinary, theory-practice based approach of the HFG makes it an ideal partner for the School of Media Studies. The HfG curriculum both overlaps with and offers different specializations than the Media Studies curriculum, which makes a student exchange a constructive educational experience. HfG employes a roster of internationally established media artists, theorists, and practitioners. (Most classes are conducted in English and some faculty members are native English speakers).
For more information on HfG and its curriculum, please visit:
https://hfg-karlsruhe.de/en/studium/
https://hfg-karlsruhe.de/en/hochschule/publikationen/informationsbroschueren/
For detailed information on HfG research and faculty, see annual report at
https://www.hfg-karlsruhe.de/en/studierenden-projekte/
APPLICATION GUIDELINES
Please submit your application by December 13 by choosing APPLY NOW on this page.
Once you successfully submitted, you will receive instructions for supplying further material (CV and academic plan) by email.
To apply for the exchange program at HfG, you should meet the following criteria:
• A matriculated student in good academic and disciplinary standing
• At least one year of studies in the Media Studies program completed by the time your exchange program begins
• Be a self-directed learner who is proactive in pursuing educational goals (the German higher education system generally is less guided than the US one).
Note: Some knowledge of German is a plus but not a requirement for a successful
application. If you have any questions, please e-mail Christiane Paul (paulc@newschool.edu).