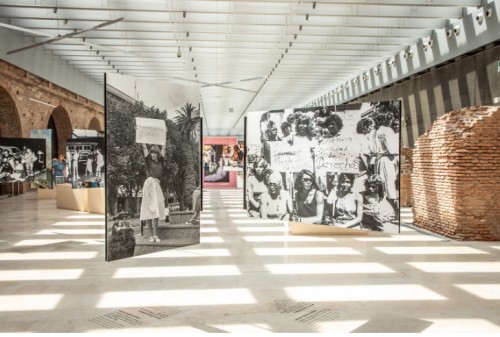 QUEER ECHOES: Looking for Students & Faculty for Podcast Production and Editing, Website Building
QUEER ECHOES is a project backed by NSSR Academic Affairs office and they are looking to onboard students and faculty with experience in podcast production, editing and website building.
Read more about the project below:
QUEER ECHOES
I have recently visited the Argentine trans archive exhibition at the Bicentenario Museum, right under 'Casa Rosada', where the current and past governments, including the military dictatorship ones commanded the country and controlled the bodies and thoughts of their citizens.
The symbolic gesture of having series of photographs, newspapers artifacts and most importantly the names and surnames of trans women who struggled throughout the years in that country displayed in such a pivotal space for the Argentinian democracy was a breath of fresh air in the anti-lgbtq climate South America has been submerged into after a few years of progress.
The Archivo Trans in Argentina is not the only one working hard to gather artifacts and crumbles of a secret, or not, history that intertwines it's whispers in any society's memory. The NYC LGBT historic sites project has for years been naming and upholding the physical locations where different groups within the queer community gathered and claimed for their rights, more recently the incredible Librada Gonzalez – a Cuban American trans activist and historian – began building Cubanecuir, an archive on queer or cuir memory and history in the Caribbean Island.
Differently from the many events wide-known in history, the once demanded secrecy of queer existence brings up the question of what is an archival artifact and how personal or trivial pieces of history can become part of an archival library/database. One of the highest reaching mediums at this day are podcasts, and this is where the idea for Queer Echoes came from, formerly Mapping Queer Memory: Excavating (In)Visible Pasts to Understand Present (In)Justices.
The idea of the project is to treat LGBTQ+ memory through the archival and preservation work that has been carried out by several academic and non-academic institutions around the world, with a special focus on the global south and the production that takes place in these countries.
The initiative is divided into two main axes:
A website that has a database in the form of a map of existing archive and memory preservation initiatives, and a space that allows visitors to interactivity in sharing their queer memories and experiences via text and video.
Podcast with episodes focused on the source of memory. So far: Correspondences/Personal writings, Press, Screen(audiovisual), Places of Remembrance. But there are many other themes that I would like to explore if there is more support, such as: Nightlife, Health, Jurisprudence, Street Art, etc.
Get in touch with pecaj987@newschool.edu for more info!
CURRENT PARTICIPANT BIOS
Chiara Bottici PhD: For me, history of philosophy and a critical theory of society are two sides of the same coin: our interest for the past always reflects the standpoint of the present, but one cannot understand the present without navigating our past. I see philosophy as a critical tool in a constant dialogue with other disciplines, as well as an endeavour entangled with other practices for sense making such as literature, art and psycoanalysis. I have written on the history of European philosophy (particularly early modern), critical theory, feminism, post- and decolonial studies.

João Eduardo Freitas: Law graduate from São Paulo – Brazil, and is currently pursuing a MA in Liberal Studies at The New School for Social Research. During his years as a legal student he focused his studies and work on human rights, especially immigration, refugee and indigenous matters. For the past three years João has also dedicated himself to filmmaking, being the director and producer of two short films 'Heterotopia' and 'Stage,' both screened and awarded in a number of festivals in Brazil and other countries. As a NSSR student João focuses his research in the areas of gender, sexuality, media and memory – He was recently awarded a project grant by The New School for his project "Mapping Queer Memory: Excavating (In)Visible Pasts to Understand Present (In)Justices" in order to explore and understand the transmission and preservation of LGBTQ+ community memory across the globe, but mainly in the global south.

Radhika Rajkumar: NYC-based journalist and designer interested in music journalism, data journalism, digital product design and civic tech. With experience in nonprofit/impact media and journalism, I focus on how new and digital media can influence, challenge, and repair structures of power. At NYU Gallatin, I earned a BA in a self-designed concentration titled "Media as Global Intersectional Justice." I'm interested in improving journalism, information sharing and digital space by making ethically informed design choices. By gaining a deeper understanding of how algorithmic bias affects marginalized communities, misinformation and social justice movements, I hope to bridge crucial gaps in communication and knowledge. I have written within a wide variety of subjects, including cultural criticism, sexuality and sexual health, environmental design, music, art, and policy.
Akansha Jha: A gender researcher form India. I am currently a student in the Politics Program at The New School for Social Research. I completed my education from the department of gender studies at LSE, after which I worked in the non-profit space in New Delhi as well as an independent researcher. My current project is focused on populism in India with a focus on gender and sexual politics.