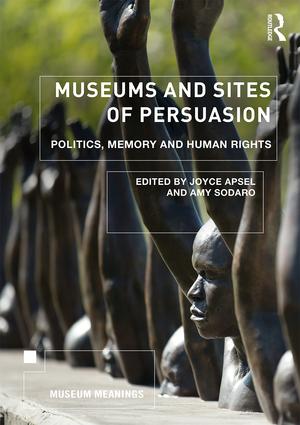 Book Launch – Museums and Sites of Persuasion
On March 4, 2020, The Memory Studies Group at the New School organized a conversation with the editors and authors of the volume, Museums and Sites of Persuasion: Politics, Memory and Human Rights Edited by Joyce Apsel & Amy Sodaro (Routledge, 2019)
The participants were:
Joyce Apsel, Clinical Professor in Liberal Studies in the College of Arts & Sciences at New York University and President of the Institute for Study of Genocide.
Amy Sodaro, Associate Professor of Sociology at Borough of Manhattan Community, College/City University of New York.
Alexandra Délano Alonso, Associate Professor and Chair of Global Studies at The New School and the current holder of the Eugene M. Lang Professorship for Excellence in Teaching and Mentoring.
Benjamin Nienass, Assistant Professor at the Department of Political Science and Law at Montclair State University.
Malkhaz Toria, a current student of the graduate program in sociology at NSSR. Coordinator of the Memory Studies Group at The New School. Associate Professor of History and Head of the Memory Study Center in the Caucasus at Ilia State University (Tbilisi, Georgia).
The book examines the concept of museums and memory sites as locations that attempt to promote human rights, democracy, and peace. Demonstrating that such sites have the potential to act as powerful spaces of persuasion or contestation, the book also shows that there are perils in the selective memory and history that they present.
Panelists discussed how a range of museums, memorials, and exhibits in places as varied as Burundi, Denmark, Georgia, Kosovo, Mexico, Peru, Vietnam, and the US. represent and try to come to terms with difficult histories. As sites of persuasion,  their public goal is to use memory and education about the past to provide moral lessons to visitors that will encourage a more democratic and peaceful future. However, the case studies also demonstrate how political, economic, and social realities often undermine this lofty goal, raising questions about how these sites of persuasion actually function on a daily basis.
Location: Wolff Conference Room
Albert and Vera List Academic Center, Room D1103
6 East 16th Street, New York, NY 10003
Date and Time: Wednesday, March 4th, 2020
6:00 – 8:00 pm