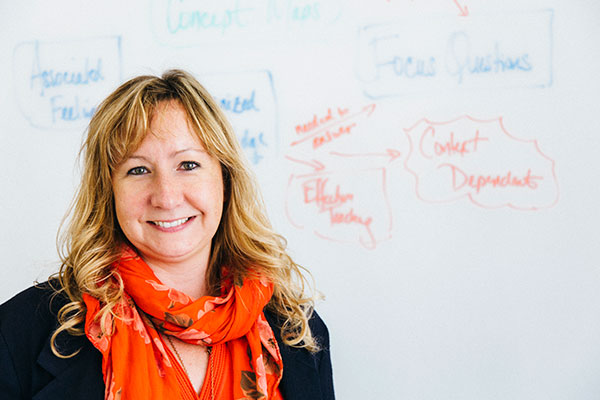 Parsons Paris Welcomes Seasoned Academic Director to Global Executive Program
What does an industrial-engineer-turned-entrepreneur do after founding a successful international nonprofit and lecturing on multiple continents? She brings her expertise to Parsons, of course.
Parsons Paris is pleased to welcome Melissa Rancourt as the new academic director of the Global Executive Master of Science in Strategic Design and Management program.
Modeled after Parsons New York's strategic design and management program, the Paris-based program is designed to meet the demanding schedules and diverse needs of working professionals and includes an international component. Students will be able to complete the program in about 18 months through a dynamic mix of short weekend intensives in Paris, online learning modules, and weeklong integrative studio sessions in New York and Shanghai. The new program's inaugural cohort will begin their journey in Paris in July 2016.
As academic director, Rancourt brings great energy and expertise in creating, designing, and developing international businesses to the area of professional master's programs. Under her leadership, the new program promises to offer emerging leaders of the 21st-century global economy an opportunity to gain essential, actionable insights to the rapidly evolving business landscape.
Rancourt has a wealth of experience imparting her knowledge to future international business leaders. She has taught courses in master's, MBA, and executive education programs in topics ranging from global business strategies, project management, international marketing and branding, to e-commerce and data-driven decision making.
A philanthropic entrepreneur, Rancourt founded the international nonprofit, Greenlight for Girls, which encourages girls to study math and science and provides university scholarships to children in need. To date, the organization has 1,300 volunteers operating on five continents and has reached more than 10,000 children.
Over the past several years, she has addressed professional audiences as a keynote speaker, conference moderator, and presenter in the United States, Europe, Brazil, India, and the United Arab Emirates. She is a two-time TEDx speaker and a United Nations human rights spokeswoman. Her educational background includes a Bachelor of Science in industrial engineering from Rochester Institute of Technology in New York and an MBA in entrepreneurship from Babson College.
With this résumé, the Parsons Paris' Global Executive MS-SDM program is in good hands.
For more information, visit Rancourt's faculty profile, check out a recording on the latest trends in global creativity and innovation from the Cannes Lions International Festival of Creativity, part of the Parsons Perspectives webinar series, or watch her 2013 TEDx Talk below.
A version of this post appeared on the Parsons Paris blog.