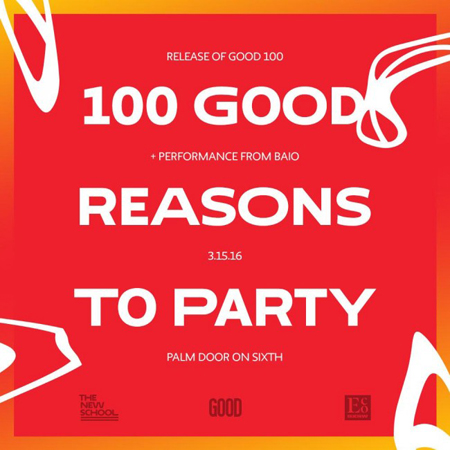 The New School + SXSW: 100 Good Reasons To Party
Virtual reality experiments that immerse users in the experience of:
-Being confronted with catcalls with on the streets of New York

-Hostile traffic conditions on a bustling urban thoroughfare

-Dealing with and resolving a debilitating bout of sleep paralysis
These are a few of the innovative student-designed VR projects that will be presented by The New School's Parsons School of Design at 100 Good Reasons to Party on Tuesday, March 15, 7-10 p.m. at the SXgood Hub (Palm Door on Sixth, 508 E 6th St, Austin).
Hosted by The New School, GOOD magazine and SXSW Eco, the party is a celebration of people using creativity, technology, and entrepreneurship to positively impact the world.
In addition to the VR experiments, The New School will showcase:
-A student-designed wearable technology prototype that monitors the physical well-being of a woman by lighting up if she is touched inappropriately (modeled by The New School's own Director of Brand Strategy, Ashley Bruni)

–Student-designed data visualizations for the United Nations Development Program on Africa Human Development that reveal how gender inequality impacts economics
What's more, GOOD will drop 2016's GOOD 100 list, displaying it via a RTO+P-designed interactive map projected onto the walls. Drinks and locally source apps included.
Come party for a cause with us!