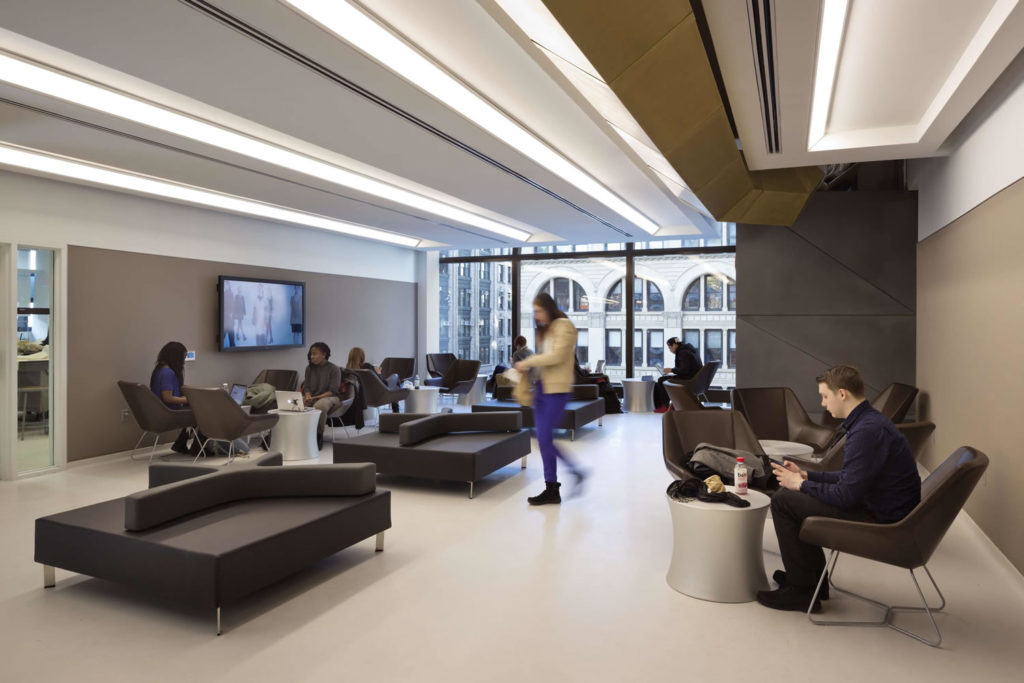 Want to Make the Most of Your First Year? Student Success Can Help
At The New School, there are a variety of services and programs to make you feel at home as well as help you have a successful college career. Whether you need more information about health services, tips for getting along with your roommate, or finding ways to stay active on campus, this quick guide is an overview of the resources you can access as a student.
Student Development and Activities
If you want to get involved on campus, the Office of Student Development and Activities is here to help. You can join more than 50 university-recognized student organizations, which focus on pre-professional and academic interests, intercultural and international themes, political action and advocacy, student programming, social networking, and many other topics that will help you up your leadership skills. For information about starting a recognized student organization, or for a listing of current organizations, email studentorgs@newschool.edu.
Make sure to mark Thursday, September 1, the date of the 20th annual Welcome Block Party, on your calendar. The Block Party is the university's annual celebration featuring tables with information about student organizations, live performances, and free food.
Student Housing is dedicated to building residential communities that support your academic and personal growth and that help you transition to your new life in the city and in your residence hall. The active residence life staff provides community programming—both on- and off-campus—and close personal attention in all university residence halls.
Making time to exercise during your first year at college can be tough. Thankfully, the Athletics and Recreation department is here to keep you physically active and socially engaged. The department offers a variety of programs and events, including sports teams, group fitness classes, intramurals, outdoor and indoor adventures, and special events. Go Narwhals!
University Learning Center (ULC)
Need a little extra help in class? The University Learning Center (ULC) is here to help. At the ULC, students receive support in myriad academic areas including writing, math, ESL, graduate writing, time management, and using Adobe Creative Suite. Individual sessions support student development through constructive feedback and technical guidance.
Computing Facilities

The university's many computer labs and workspaces feature the latest technology as well as areas for both quiet study and group work. For services, locations of facilities, and hours of operation, visit Information Technology's webpages. Features and services include:
Mac and Windows open labs with printers
Computer-equipped presentation classrooms
Advanced video, audio, Web, fashion and print design, 2D and 3D modeling, and animation programs
Research, statistics, and Microsoft Office software
Private editing suites, an AV recording studio, and a voice-over studio
Black-and-white, color, and large-format printing, including wireless printing, standard and photographic quality
Specialty scanners (over-sized, slide, film, and drum)
International Student and Scholar Services
Are you coming to The New School from another country? You're definitely not alone: nearly 30 percent of the university's student body is comprised of international students. Committed to helping international students thrive and promoting an international campus, International Student and Scholar Services provides immigration advice and cultural support in a welcoming and friendly environment.
Student Health and Support Services
Free condoms are great, but Student Health and Support Services provides so much more, including counseling and medical services and advice on wellness and healthy living. New School counselors engage with students in a supportive and non-judgmental manner, helping them explore feelings and discuss problem-solving strategies. The Wellness and Health Promotion program provides a variety of health-related workshops, trainings, classroom presentations, and one-on-one sessions for students.
On-Campus Job Fair + Career Expo
Hoping to land a job near school? Like the idea and convenience of an on-campus job, but not sure where to start? The first-ever On-Campus Job Fair on August 31 from 1:00 to 4:00 p.m. will bring together a variety of campus employers looking for students to fill paid positions so you can find the job that fits you best! You can also view the employment openings on the Student Jobs section of the New School website. Departments will be posting positions on a regular basis throughout the summer and fall, so check back often.
Are you also looking for your dream job? With three specialized job fairs, the Career Expo transcends the scope of a traditional career fair. Students will have the ability to connect with employers on a variety of levels at the Internships and Job Fair (September 20), Fashion Career Fair (September 27), and the Design Career Fair (September 27).
Hardware + Software Deals and Student Discounts
Regardless of whether you want a Dell or Apple computer, various educational discounts are available to all students for a number of technological products and services. Additionally, stay up to date on cultural happenings with free admission to the Museum of Modern Art, while also saving money on a New York Times subscription.
Ways to Stay Connected
Check out the Student Success blog, which features the inside scoop on events, announcements, special offers, free tickets, and more from the offices within Student Success and beyond. (These includes Athletics and Recreation, Student Development and Activities, Student Housing and Residence Life, Student Health Services, Student Disability Services, and more.)