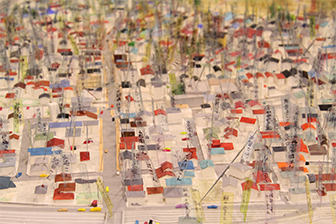 Parsons Tackles Disaster Preparedness Through Design
Four months after Hurricane Maria made landfall in Puerto Rico, an interdisciplinary team of graduate students from Parsons School of Design at The New School traveled to the U.S. territory to survey the destruction of the island's lighting system by one of the worst natural disasters in modern history.
Power in Puerto Rico had been knocked out for weeks, and students wanted to hear from local residents, nonprofit organizations, and community leaders about the impact the lack of light was having on their everyday lives. They also planned to research, create, and implement design solutions to mitigate the crisis.
The students launched Lighting in Action, an organization that works with communities in Puerto Rico to install solar lighting solutions.
"Our study of lighting conditions is an effort to fully involve ourselves in real-world challenges — in this case, the urgent problem of natural and man-made disasters," according to the students, who come from the MFA Lighting Design, MArch, and MFA Design and Technology programs. "The relationships and networks we develop while in Puerto Rico we hope to continue to build into a mutually beneficial exchange of ideas."
The project is one of the many ways Parsons is dealing with disaster preparedness through design — a three-year endeavor that culminates in a pair of exhibitions at the Sheila C. Johnson Design Center and an upcoming design intensive that kick off in September.
Disaster Preparedness in the Constructed Environment is an exhibition featuring student projects that arose from a 2017 design intensive, along with a series of videos documenting the observations of students from Lighting in Action, a Facebook Live interview with Kirkbride and students involved in the exhibition, and a slides from the 2017 design intensive. It coincides with Earth Manual Project – This Could Save Your Life, an exhibition co-hosted by the Japan Foundation that showcases creative ideas for dealing with disasters at different stages — from preparedness education to response and relief efforts — from leading designers from Japan, Indonesia, Thailand, and other countries where such cataclysmic events are frequent.
"Confronting the very real threat of natural and man-made disasters, this school-wide initiative reflects Parsons' and the Japan Foundation's commitment to working collaboratively and across disciplines to confront one of the most pressing issues of our time," says Robert Kirkbride, dean of Parsons' School of Constructed Environments. "With the effects of climate change becoming increasingly apparent in the form of extreme weather conditions and rising sea levels, the need for such action is becoming more and more urgent."
Parsons has a major-league partner in designer Hirokazu Nagata, one of Japan's most active and respected leaders on disaster preparedness and the curator of Earth Manual Project. After living through Kobe's Great Hanshin-Awaji Earthquake, Nagata went on to dedicate his career to preparing communities for earthquakes, tsunami, typhoons, volcanic eruptions, and floods.
"I can't say enough good things about the quality of these ideas and projects," Nagata said of the student projects featured in Disaster Preparedness. "When one comes up with ideas addressing social issues such as disaster preparedness, he or she must keep in mind the process of discovery and innovation. Watching Parsons students create these projects, I truly felt that they have a strong grasp of these two concepts."
The students, who work in a variety of design fields — architecture, interior design, lighting design, product design, and industrial design — based their projects on case studies provided by the Zolberg Institute on Migration and Mobility at The New School for Social Research on Hurricane Sandy, the 1977 and 2003 blackouts in New York, and the September 11 terrorist attacks. Juliette Stephanie Van Haren and Xiaoge Ge, MFA Industrial Design '19, focused on the issue of blackouts, designing a time-telling device that allows people "to stay independent during a mass power outage."
"The industrial design world is filled with solutions to frivolous  First World problems," says Van Haren, who is one of dozens of students who will participate in a second design intensive, Disaster Preparedness 2.0, on September 24–28. "For a design student in a developed country like the United States, learning how to solve pressing and perhaps universal and fundamental problems is very important."
That sentiment is echoed in the projects of designers featured in Earth Manual Project. They include Emergency! Kaeru Caravan!, an emergency drill program for families, which has become extremely popular in Japan because of its engaging educational programming and gamelike activities; How to Craft Safety, a series of brief video clips produced by NHK World-Japan that show how to quickly create items that may be needed after a disaster, such as origami plates made of newspaper and beds made of cardboard boxes; and HANDs! Project, an annual initiative in which students and young professionals from nine Asian countries learn about and produce innovative disaster prevention programs. The initiative has had 100 participants and resulted in 27 projects since 2014, reaching more than 90,000 people on the ground.