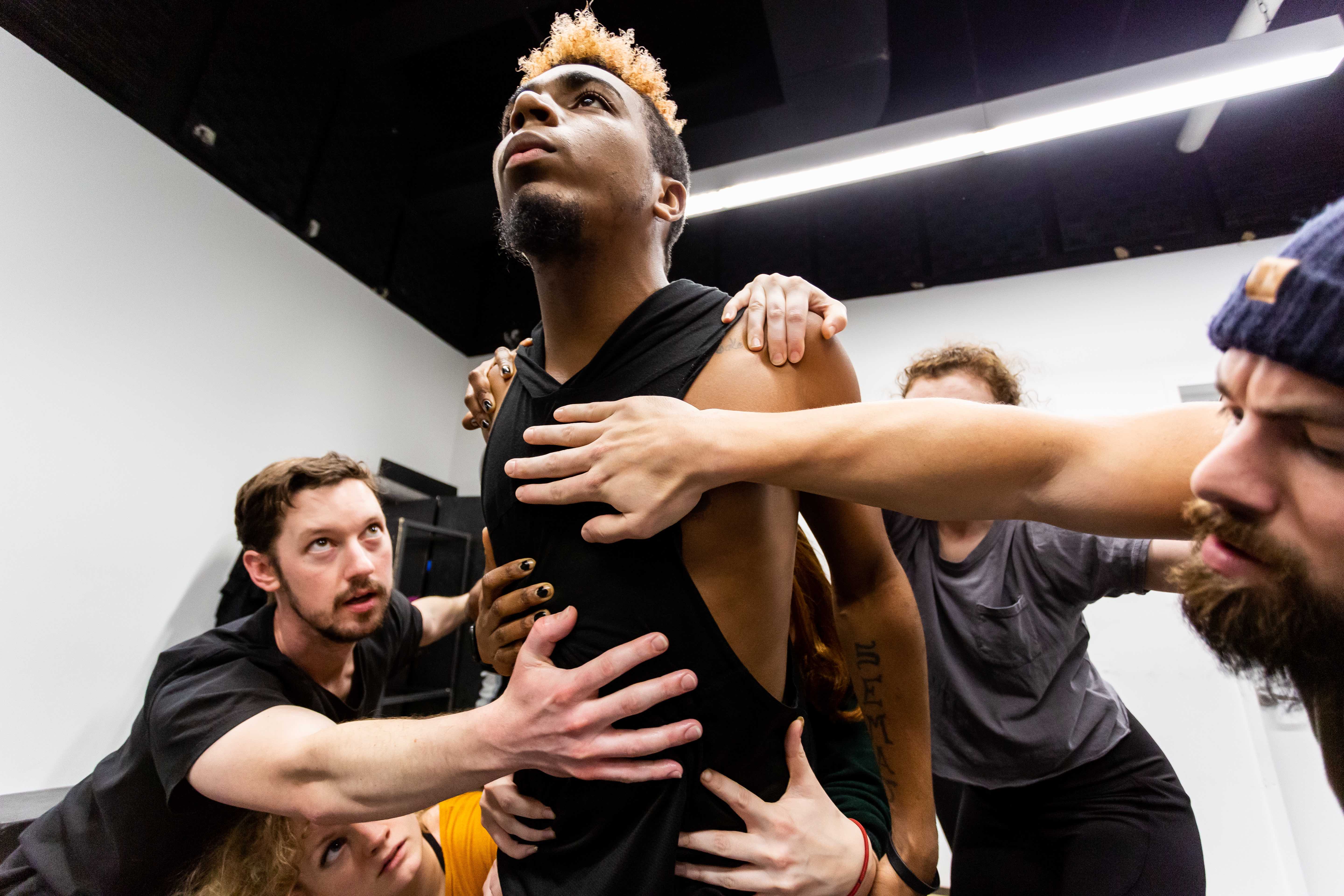 Acclaimed Theater Group Frantic Assembly Collaborates with School of Drama
Chances are good that you've seen work created by Frantic Assembly, one of the UK's preeminent touring theater companies. The group champion new writing, have staged modern adaptations of Othello, and created the movement choreography for shows including The Curious Incident of the Dog in the Nighttime.
Recently, the group engaged with the School of Drama, sending practitioners from their Learn and Train team to work with the MFA actors and directors. The collaboration culminated in a workshop performance.
"Our practitioners choreograph and direct theater, and we explore story, meaning, and character development through movement," says Sophie Shaw, a Learn and Train practitioner. "Our collaboration with the students is far more about the process than the result."
The leadership team at the School of Drama was eager to work with the group, as Frantic Assembly's approach to teaching and creating theater is informed by an ethos and vision similar to that behind Drama's methodology and curriculum.
"I have long been passionate about Frantic Assembly's work, as their fearless physical approach to telling stories and their ability to collaborate across media make them a perfect choice for our collaborative, project-based approach to training in the MFA," said Jennifer Holmes, associate dean of Drama. "A central element of our MFA is the cultivating of new work onstage and in film, and Frantic Assembly has lent their creative talents in movement and choreography to theater, dance, television, and film. I was determined to forge a partnership with them and knew that our students would deeply benefit from that process and engage with it in the creation of their own work."
During their residency at Drama, Frantic Assembly explored physical movement with the MFA students in order to identify the best way to tell a story that often has hundreds of options. The practitioners also created a questionnaire for the students and asked them to write questions they wanted to explore through movement, such as "What holds us back from being our private self in public?"
"It feels like we're bringing something very different into the room, but the MFA students are very open to exploring and learning something completely new," said Simon Pittman, a Learn and Train practitioner and the associate director of Frantic Assembly. "A lot of it is exciting and challenging to them, so we're learning about how they look at theater, and it's different from us, and that's good for us. We're not coming in to teach; we're coming in to collaborate with them."
Drama's collaboration with Frantic Assembly is one of many innovative partnerships at the College of Performing Arts that give students the opportunity to learn from industry leaders. The Philip Glass Institute was recently created, with the Philip Glass Ensemble joining the school as ensemble-in-residence. And Drama students are also working with acclaimed Russian director and actor Dmitry Krymov, who is exposing them to new ways of creating.
Kyle Ryan, Drama '20, said that working with Frantic Assembly has given him a new perspective that will prepare him for a successful career in the arts.
"My biggest takeaway from Frantic Assembly is rooted in their philosophy of working," he said. "I think it's incredibly important for students to be exposed to the different ways and processes of creating art, so they can figure out what works best for them. At the end of the day, collaboration is at the heart of what we do."