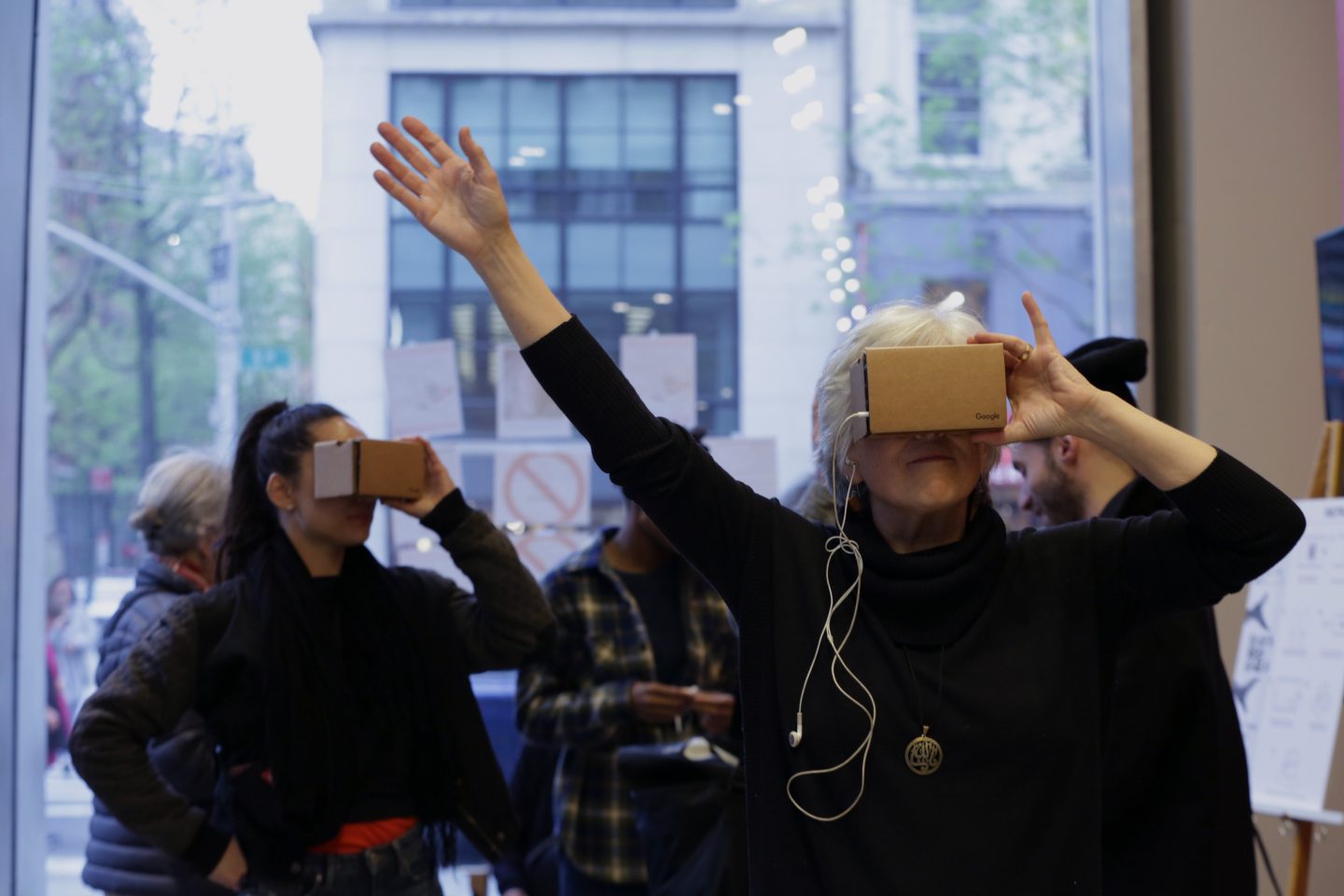 CoPA Graduates First Cohort of MA in Arts Management and Entrepreneurship Program
People typically experience art through observation. They go to museums and stand in front of paintings, sit in movie theaters, and watch live performances on a stage. A video installation recently presented at The New School invited viewers to engage with art in a new way, allowing them to become active participants in an immersive 360-degree dance experience.
The installation, titled While You Wait…1.1, was created by composer and media artist Carlos Johns-Dávila and dancer-choreographer Navarra Novy-Williams for their MA in Arts Management and Entrepreneurship capstone project. The first cohort of the multidisciplinary program, which launched in fall 2017 at the College of Performing Arts (CoPA), graduates this May.
Novy-Williams and Johns-Dávila see their project as a way to bring the experience of art to people who either don't have access or wouldn't normally seek it out. Participants place their phones into VR devices at one of three locations on campus, causing a pre-recorded video of dancers performing in the same space to begin playing. The videos captured the dancers' movements from all directions, offering viewers a full 360-degree view and enabling them to see new images through the VR headsets every time they move their own bodies.
"I believe that all people have the capacity to appreciate and experience all types of art, but it takes a certain amount of generosity and reimagining to make people feel they are welcome to experience it," said Novy-Williams. "I was hoping that by putting dance in spaces where people already gather and by employing personal smartphones as the device for viewing, we might begin to bridge some gaps."
The process of working in 360 degrees was both challenging and fascinating for the collaborators. By stripping away the directorial bias inherent in filming a traditional video, VR allowed Novy-Williams and Johns-Dávila to experiment with narrative.
"The audience is free to look wherever they want, so I embraced that and tried to create a choreographic experience that truly put the choice in the viewers' hands," said Novy-Williams. "As participatory and experiential cultural events become more popular, I believe traditional proscenium stage art forms must be open to evolving forms of presentation to continue reaching people. People want to feel involved, to feel as if they play a part in the process."
The MA in Arts Management and Entrepreneurship was created with the intention of giving practicing artists the skills they need to succeed in the 21st-century creative landscape. All the students in the program are required to maintain their artistic practice while taking classes, in areas including creative producing, community development and engagement, leadership, entrepreneurship, finance, fundraising, marketing, strategy, and governance.
"This master's degree is designed for artists who are talented, are socially engaged, and have an entrepreneurial spirit," said Diane Ragsdale, an assistant professor who is serving as the director of the program. "Its aim is to give them the opportunity to gain skills and knowledge needed to start their own enterprises or transform existing organizations. Our expectation is that by the time they graduate, our students will have an expanded network and resume, a broader range of career options, a greater sense of agency and purpose, and the capacity and ambition to have meaningful influence in their communities."
Members of the first cohort produced a variety of innovative capstone projects that reflect the university's interdisciplinary approach to education.
Linda Briceño, BFA Jazz '18, the first woman to win in the Producer of the Year category at the Latin GRAMMYs, wrote, directed, and produced two short animated films set to songs she had written and recorded. Lucille M. Edlund, BFA Drama '18, who completed minors in Fashion Communications and Photography, launched a new website and platform, The Artist The Human, to provide image and fashion consultancy to artists and help them tell their stories on camera. Actor and teaching artist Tricia Patrick wrote and presented Move Towards the Light, a 40-minute one-woman workshop and performance with projections. The project, geared to students in fourth through eighth grade, highlighted the achievements of lesser-known women of color.
The program showcases CoPA's commitment to collaboration and the unique benefits offered by the university's New York City location.
"The program helped me identify a community of people I want to serve and how I can do so without sacrificing my artistic practice," said Johns-Dávila. "I cultivated strong relationships with my classmates and professionals throughout New York who have supported me in great ways, which I am very grateful for."