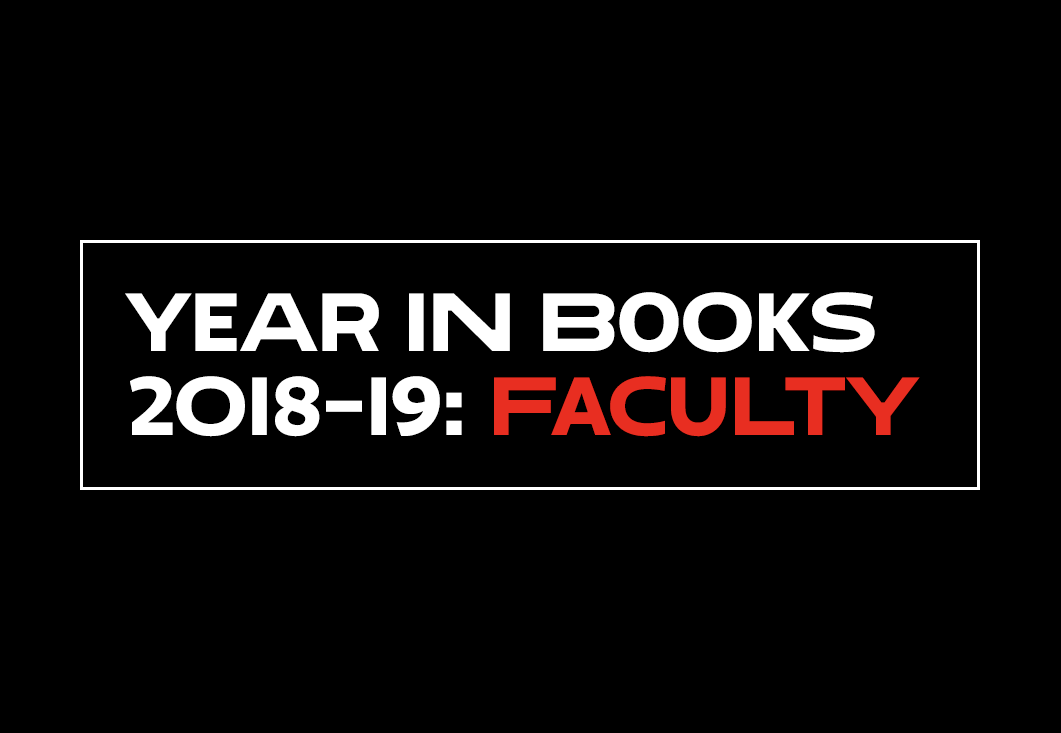 The New School Year in Books 2018-2019: Faculty
The recently completed academic year elicited dozens of compelling and critically acclaimed work by The New School's talented faculty authors.
From The Friend, Sigrid Nunez's 2018 National Book Award winner for fiction, to a riveting post civil war chronicle about the impeachment of President Andrew Johnson, the past year found university authors exploring a variety of important and fascinating subjects.
The year also saw works by university authors about the fragility of liberalism and democracy, American ballparks and their place in the city landscape, and a graphic memoir that confronted the reality behind a family's life in wartime Nazi Germany. It was also a very productive year for New School alumni authors.
The following is a list of books released by faculty members during the 2018-2019 academic year. It will continue to be updated as more titles are submitted for inclusion. (email koeppeld@newschool.edu)
Cinzia Arruzza
Associate Professor of Philosophy
A Wolf in the City: Tyranny and the Tyrant in Plato's Republic
(Oxford University Press)
Cinzia Arruzza and
Nancy Fraser
Henry A and Louise Loeb Professor of Political and Social Science
Feminism for the 99%: A Manifesto
(Verso)
Gabrielle Bendiner-Viani
Faculty, School of Undergraduate Studies
Contested City: Art and Public History as Mediation at New Seward Park Urban Renewal Area
(University of Iowa Press)
Richard J. Bernstein
Vera List Professor of Philosophy
Why Read Hannah Arendt Now?
(Polity)
Benoit Challand (co-editor)
Associate Professor of Sociology
The Struggle for Influence in the Middle East: The Arab Uprisings and Foreign Assistance
(Routledge)
Michael Cohen (co-editor)
Professor of International Affairs
Margarita Gutman (co-editor)
Professor of Urban Studies and International Affairs
Facing Risk: New Practices of Urban Resilience in Latin America, with the Inter-American Development Bank
(Development Bank of Latin America)
Simon Critchley
Hans Jonas Professor of Philosophy
Tragedy, the Greeks, and Us
(Penguin Random House)
Jennifer Firestone
Professor of Literary Studies
Ten
(BlazeVOX)
Duncan Foley
Leo Model Professor of Economics and Director of Graduate Studies
Growth and Distribution: Second Edition
(Harvard University Press)
Mark W. Frazier
Professor of Politics and Academic Director of the India China Institute
The Power of Place: Contentious Politics in Twentieth-Century Shanghai and Bombay
Cambridge University Press)
Luis Galli
Assistant Professor of Spanish
Mujer Desaparecida
(La Travesía Press, Peru)
Paul Goldberger
Joseph Urban Professor of Design
Ballpark: Baseball in the American City
(Alfred A. Knopf)
Mira Jacob
Assistant Professor of Writing
Good Talk: A Memoir in Conversations
One World
Anjali Khosla
Assistant Professor of Journalism & Design
Ghostbot
(Nor By/Wendy's Subway)
Nina Khrushcheva
Professor of International Affairs
In Putin's Footsteps: Searching for the Soul of an Empire Across Russia's Eleven Time Zones
(St. Martin's Press)
Nora Krug
Parsons Faculty
Belonging: A German Reckons with History and Home
(Scribner)
Suzannah Lessard
Faculty, Creative Writing Program
The Absent Hand: Reimagining Our American Landscape
(Counterpoint Press)
Natasha Lennard
Part-Time Faculty Member
Being Numerous: Essays on Nan-Fascist Life
(Verso)
Caron Levis
Faculty, Creative Writing Program
Stop That Yawn!
(Antheum Books for Young Readers)
Inessa Medzhibovskaya (editor)
Associate Professor of Literary Studies
Tolstoy and His Problems: Views from the Twenty-First Century
(Northwestern University Press) and Tolstoy's On Life: A Critical Edition (Northwestern University Press)
Rachel Meltzer
Associate Professor of Urban Policy
Alex Schwartz
Professor of Urban Policy
Policy Analysis as Problem Solving: A Flexible and Evidence-based Framework
(Routledge)
James Miller
Professor of Liberal Studies and Politics, and Faculty Director of Creative Publishing & Critical Journalism
Can Democracy Work? A Short History of a Radical Idea, from Ancient Athens to Our World
(Farrar, Straus and Giroux)
Dmitri Nikulin
Professor and Chair of Philosophy
Neoplatonism in Late Antiquity
(Oxford University Press)
Sigrid Nunez
Faculty, Creative Writing Program
The Friend
(Penguin Random House)
Winner of the 2018 National Book Award for Fiction
Dominic Pettman
Professor of Culture and Media
Metagestures
(Punctum)
Ivan Raykoff
Associate Professor of Music,
Queer Patriotism in the Eurovision Song Contest
(The Oxford Handbook of Music and Queerness)
Jill Santopolo
Faculty, Creative Writing Program
More Than Words
(G.P. Putnam's Sons)
Helen Schulman
Professor of Writing
Come With Me
(HarperCollins)
Susan Shapiro
Faculty, Creative Writing Program
The Byline Bible
(Writer's Digest Books)
John Sharp
Associate Professor of Games and Learning
Fun, Taste, Games: An Aesthetics of the Idle, Unproductive and Otherwise Playful
(MIT Press)
John Sharp and
Colleen Macklin
Associate Professor of Media Design
Ten Lessons on Design and Failure
(MIT Press)
Maya Montañez Smukler
Part-time Associate Professor of Media Studies
Liberating Hollywood: Women Directors & the Feminist Reform of 1970s American Cinema
(Rutgers University Press)
Darcey Steinke
Faculty, Creative Writing Program
Flash Count Diary: Menopause and the Vindication of Natural Life
(Sarah Crichton Books)
Greg Takoudes
Faculty, School of Media Studies
The Collaborative Director: A Department-by-Department Guide to Filmmaking
(Routledge)
Jessica Walker
Assistant Professor of Integrated Design
Baby Feminists Too
(Penguin Random House)
Brenda Wineapple
Faculty, Creative Writing Program
The Impeachers: The Trial of Andrew Johnson and the Dream of a New Nation
(Random House)
Susan Yelavich
Associate Professor of Design Studies
Thinking Design Through Literature
(Routledge)