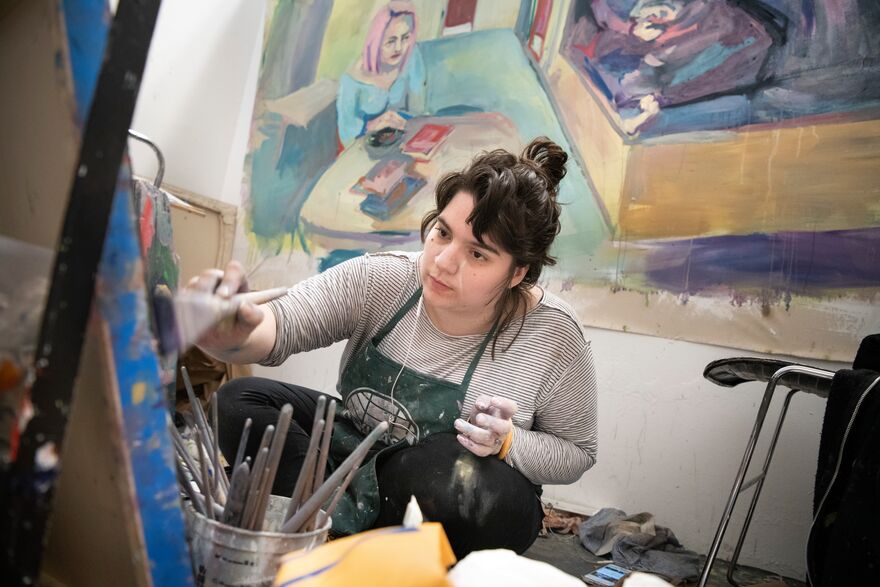 The New School Launches New Degree Programs at the College of Performing Arts and Parsons School of Design
In recent years, The New School has remained at the forefront of higher education thanks to the university's commitment to creating new programs and degrees that give students the skills they need to succeed in the 21st-century marketplace. Eugene Lang College now offers a new minor, Code as a Liberal Art, and the School of Fashion at Parsons School of Design has introduced an MFA Textiles degree and an MPS in Fashion Management in the past two years.
This fall, the College of Performing Arts and Parsons will each launch new unique, interdisciplinary degrees that give students the opportunity to study and explore their respective interests in rigorous and innovative programs.
The School of Art and Design History and Theory (ADHT) at Parsons is launching its first BFA program in Design History and Practice, with Margot Bouman, currently an assistant professor of visual culture, as program director. The program combines pathways in art, design, and theory with practical studio experience to prepare students for careers in design, art and design research, museum education, publishing, and more.
"The BFA in Design History and Practice expands existing definitions of interdisciplinary degree programs in that it encompasses both practice and research in a given field," said Bouman. "The program integrates studio and seminar experiences, challenging students to study both the history of ideas and their application, generating a deep, multidisciplinary engagement with design."
CoPA is continuing to build upon its reputation as both a leading performing arts destination and a cutting-edge educational center. With the new MM Performer-Composer, CoPA has created a program that will enable multidisciplinary composers, performers, and improvisers to pursue their studies without confining them to a specific subject or category.
"Our work on the new MM Performer-Composer began with a question: What does a degree look like that is designed in the mold of creative music pioneers of the past and present like Bach, Bernstein, Coltrane, Ellington, or Meredith Monk?" said Richard Kessler, executive dean of CoPA. "We are making a space that is modeled after these kinds of artists, a space where there are no barriers between disciplines and genres and where experimentation is central to everything. With the new MM Performer-Composer, we are inviting young artists to try new things, create new sounds and forms, and see their own creative potential in broader ways."
ADHT's new degree embraces a new system of learning, Making + Meaning, that allows students to take courses in art history, design studies, fashion studies, and other subjects while gaining critical skills in studio experiences that immerse them in a specific area of design practice, such as photography or data visualization. The combination of studio and seminar learning will help students develop skills in writing, accessory design, printmaking and other areas as they explore theoretical and historical aspects of art and design, such as the history of the prison-industrial complex in relation to the history of photography.
CoPA's new degree, which launches two years after the debut of its MA Arts Management and Entrepreneurship degree, gives students the opportunity to perform in self-organized ensembles, choose private instructors from a list of hundreds of New York–based creative musicians, and work side by side with leading contemporary music ensembles in residence at Mannes School of Music and the School of Jazz and Contemporary Music, including JACK Quartet, the Vanguard Jazz Orchestra, the International Contemporary Ensemble, the Creative Music Studio, and The New School's Philip Glass Institute.
Another central element of the MM Performer-Composer program is the use of emerging technologies to advance the creation of music.
"I look forward to working with students as they explore how they can use specialized tools and innovative approaches to expand their creative practice," said Levy Lorenzo, assistant professor of creative technologies. "What we want to do is to help students see how they can use creative technologies of the past, present, and future to add to the work that they are already doing."