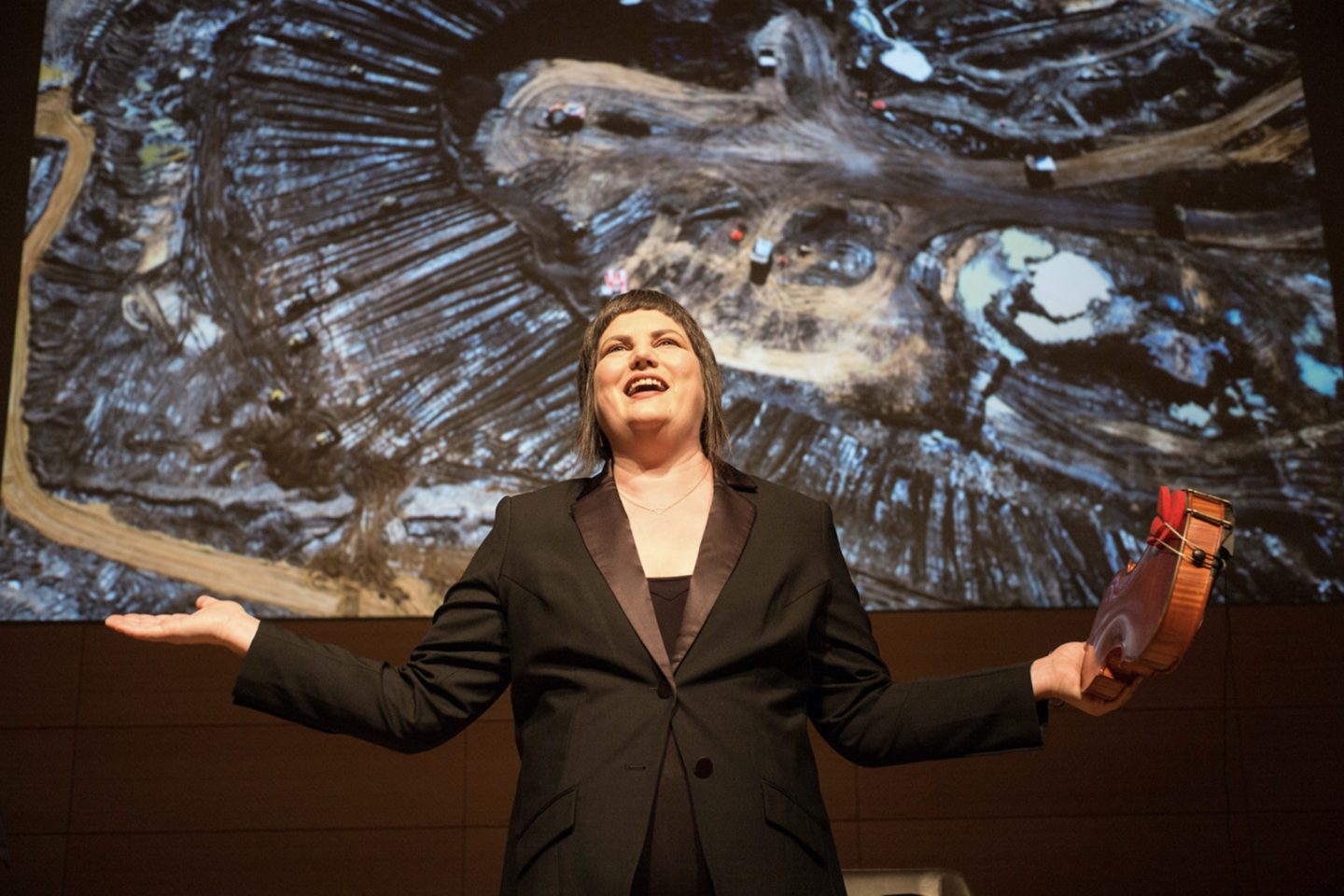 Tanya Kalmanovitch, Associate Professor at Mannes School of Music, Wins New Grants to Support "Tar Sands Songbook" Project
It is the rare artist that can draw inspiration for their work from petroleum plants and oil, but that is exactly what Tanya Kalmanovitch, Associate Professor of Music at Mannes School of Music, has done with her project, Tar Sands Songbook. 
Kalmanovitch is from Fort McMurray, Alberta, Canada, home to the world's largest reserve of "oil sands," which has led to increasing and catastrophic environmental damage. She has been working on Tar Sands Songbook, which she describes as "documentary theater," since 2016, and is the recent recipient of a MAP Fund award and two Canada Council for the Arts grants that will allow her to continue expanding the reach of her musical project.
"These awards are a deep affirmation of the work that I've been carrying out with my collaborators for the past four years," says Kalmanovitch. "The grants will give me the opportunity to write a book manuscript about the Songbook project, pilot the first tour of the piece in communities along the TransMountain pipeline route, and allow me to support community workshops in consultation with Indigenous partners."
Now that she's been working on the project for four years, much of Kalmanovitch's work with climate justice and the environment has been integrated into her classes at Mannes and the College of Performing Arts. She created a CoPA elective that highlighted the importance of featuring environmental themes in one's artistic practice, and spent the past year as an artist-in-residence with the Climate Action Network of Canada. 
Her work, in typical New School fashion, has also reached across departments—she was initially supported by a GIDEST fellowship, a Tishman Center faculty grant, and a Faculty Research Fund grant, while an earlier version of her work was developed in collaboration with Cecilia Rubino from Eugene Lang.
"This semester, the entrepreneurship classes I teach at CoPA are enlarged to include an awareness of social action," shared Kalmanovitch. "Under the mentorship of Judith Marcuse and the Futures/FORWARD program, I developed skills in Arts for Social Change methodologies to use artistic practice to facilitate community conversations across political and social divides. I've integrated these methods into every aspect of my teaching."
Looking ahead, Kalmanovitch plans to continue educating those communities most affected by Alberta oil through performances and workshops. Her 10-year outreach and performance schedule is deliberate, as the United Nations Intergovernmental Panel on Climate Change has stated that the 2020-2030 window is humanity's last chance to radically reduce emissions in order to limit the worst impacts of global warming.
"Each residency consists of a performance of the 75-minute piece, followed the next day by a workshop where I use processes of storytelling and songwriting to generate new songs and stories about our complicated relationships to oil," explains Kalmanovitch. "Covid-19 changed the nature of touring, so starting in March 2020, I worked with Ali Cronin, Drama '20, to digitize the performance for Zoom. Starting this Fall, I'll be offering digital residencies to communities and universities all along the pipeline routes."