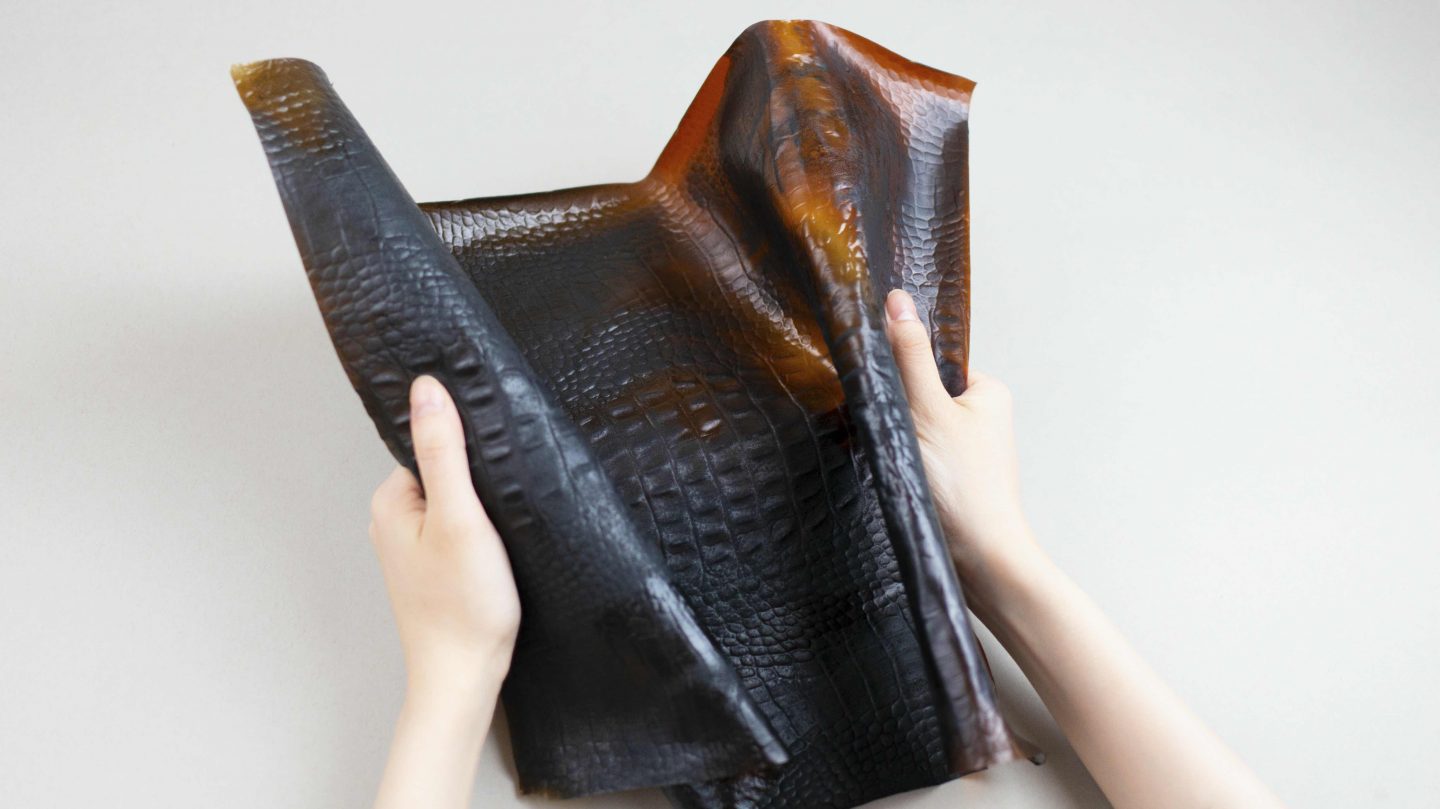 Uyen Tran, MFA Textiles '21, Designs Chic and Sustainable Biomaterials
Waste from shell seafood and coffee grounds might not seem like a winning combination, but for Uyen Tran, MFA Textiles '21, she paired the two disparate materials to create Tômtex, a biomaterial that functions as a sustainable alternative to faux leather. Even though it's fully compostable, Tômtex still provides similar toughness, durability, and water resistance to faux leather. It can be used as a normal textile material, which means it can be hand-stitched or machine-sewed, and customized to be either leather-like, rubber/silicone-like or plastic-like by adjusting the recipe and the method of production.
Tran's innovative project is the recent winner of the CFDA's Design Scholar K11 Innovation award, which comes with a prize of $25,000. She is also the recipient of the Judges Recognition Award from the Biodesign Challenge 2020.
"The project questions my perception of waste and plastic pollution with the aim to start conversations and to raise awareness about how it potentially could be used in the future," she explains. "Tômtex aims to create a more circular economy that takes into consideration the full life cycles of the product and minimizes the impact to the environment. My focus is not only in practicality but also aesthetics and the environment-friendly."
As a second-year student in the MFA Textiles program at Parsons School of Design, Tran cites the multi-disciplinary curriculum with making her more aware of issues related to sustainability and ethical manufacturing. Tômtex underscores her training as a designer, as the material is meant to be used on a daily basis, while still being environmentally conscious.

"The faculty at Parsons push me to think more openly and to see the world from a different point of view," says Tran. "They provide many resources and opportunities, and I'm grateful because they are not only helping me grow as a designer, but helping me become a better person for society."
Tran's project highlights the unique approach to design education that is core to the Parsons mission and vision, where students are regularly challenged to design solutions to some of the world's most pressing problems. That includes a new partnership between the MFA Textiles program and leading design brand Sister Parish Design, where students will collaborate with the brand on a range of innovative and sustainable design concepts for products including wallcoverings and fabrics, and new processes to repurpose and reduce waste.
After graduating from Parsons, Tran hopes to create a platform that provides people with green products, biomaterials and services, or consulting with businesses in Vietnam and in the U.S. to develop sustainability strategies and share sustainability stories. She is also planning on collaborating and offering her biomaterial collection for designers across various design industries.