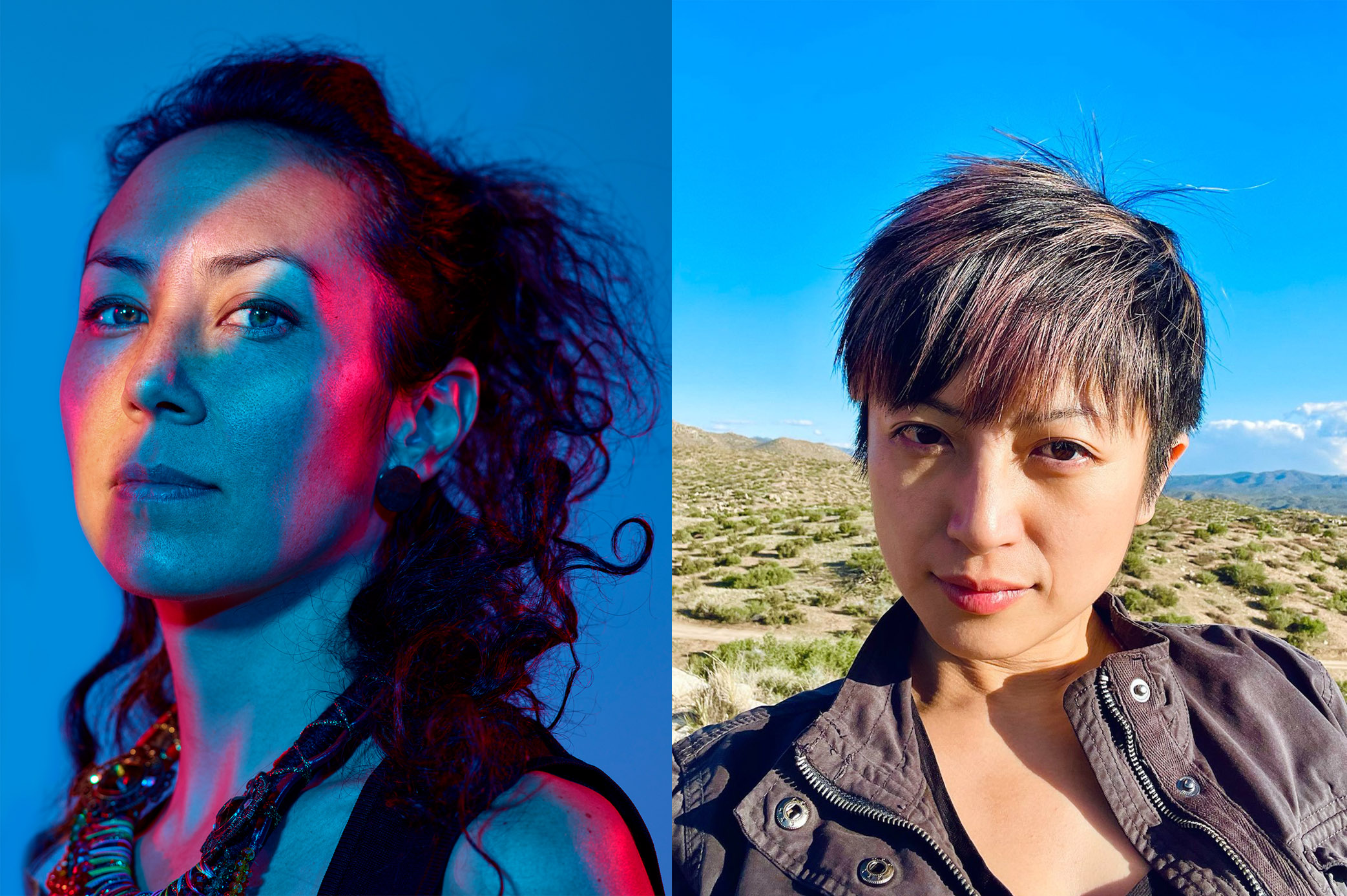 Parsons Professors Selected as Sundance Fellows
The Sundance Institute was founded in 1981 by the actor, director, and activist Robert Redford, and includes the annual Sundance Film Festival, the world's largest independent film festival. Award winning artists and creators have premiered films at the Festival, and taken part in various residencies and support programs meant to empower creatives to develop their work, create connections, and foster relationships.
Recently, two professors from Parsons School of Design were selected to be part of the inaugural cohort for the Art of Practice Fellowship, which is sponsored by the Sundance Institute's Interdisciplinary Program. Xin Xin, Assistant Professor of Interaction and Media Design in the School of Art, Media, and Technology, and Marisa Morán Jahn, Assistant Professor of Design Strategies in the School of Design Strategies, will join other artists with the goals of expanding their own creative practice, engage in mentoring conversations, and more.
"The Art of Practice Fellowship is a unique opportunity to foster cross-pollination between musicians, interdisciplinary artists, and those working in theater and emerging media," shared Xin, who is also one of five Community Leaders in the cohort. "As someone who worked in the film industry and later shifted to work on socially-engaged media art, I'm incredibly excited to reconnect with some of my early interests in narrative art and collaborate with practitioners who have developed radically different frames of reference from mine."
"It's an honor to be included among this particular cohort," shared Jahn. "There are a number of my favorite contemporary artists whose work inspires me. And then there are so many artists I'm excited to meet. In this particular group of awardees, 90% come from historically underserved and/or historically marginalized communities — this is history in the making! This cohort's diversity also means there are new perspectives, stories, and artistic insights that will be refreshing for me and the broader public."
The fellowship will give Xin and Jahn the opportunity to meet and engage with the other artists and creatives in their cohort, where they both hope to discover new ways of making and creating thanks to the interdisciplinary nature of the program.
"Since we've just kicked off the fellowship, at this point, I am just really looking forward to learning about practices and references that are not conventionally considered within my discipline, and I am excited to find out how the collisions of different ideas may help me grow as a creative practitioner," said Xin.
Jahn echoed a similar sentiment, noting that "As an interdisciplinary practitioner who thrives off of collaborations across genres and media, I'm excited to meet new practitioners and discover new ways of making."
Xin's work is typically inspired by their identity as both a non-binary person and as someone born in Taiwan, a nation-state that has been colonized by different empires throughout history.
"The experiences of crossing these boundaries and thresholds require constant questioning, resulting in my research interest in the emancipatory potentials of reshaping language and modes of social interaction," they said. "At the moment, I'm focused on questioning the boundaries and feasibility of fully-given consent and collective decision-making through the creation of an experimental online social space."
Cover of the voidLab archive 2015~2017. Published in 2021, the document records projects, actions, and reflections of the LA-based intersectional feminist collective co-founded by Xin.
Left: A humorous and touching road tale, the CareForce One Travelogues features Marisa Morán Jahn, her son Choco, and their buddy Anjum Asharia as they travel from their homes in NYC to Miami in a fifty-year old station wagon, the CareForce One, exploring solutions to the nation's care crisis as they undergo a car crisis.
Right: Designed by Marisa Morán Jahn, The NannyVan is a mobile studio that accelerates the movement for domestic workers' rights.
Jahn draws on her experience as a second generation immigrant (her mother is from Ecuador, her father from China). In her decade-long and ongoing collaboration with the National Domestic Workers Alliance, Jahn explores domestic labor which is among the first professions most accessible to new immigrants. "Care is key to supporting the health of our families, enabling us to go to work, and have leisure. How can we ensure that we structurally transform society to value not only care, but the careworkers? And how can art, humor, and color help achieve this goal?" Jahn asks.
For both Xin and Jahn, their work at Parsons is integral to their creative practices, as both professors are informed and inspired by their research in the classroom, which often helps them move their own projects forward in new and innovative directions.
"The breadth of departments across Parsons activate different parts of my brain in exciting ways" shared Jahn.
Xin also noted that "The process of creating curricula provides a structure for me to dive into different research topics."
Jahn and Xin are not the only faculty members at Parsons and The New School earning recognition for their work outside the classroom. Petya Andreeva, Assistant Professor of Asian Art and Design History at ADHT, recently won a research grant from UNESCO for her scholarship about the Silk Road, while Koray Caliskan, Professor of Strategic Design and Management, won a Breakthrough Prize in Social Sciences and Humanities from the Falling Walls foundation for his research project focused on cryptocurrency and blockchains.
In addition to their work at Parsons and the upcoming Sundance Fellowship, Xin and Jahn are keeping busy. Xin is hard at work on an open-source software platform called Togethernet, which invites groups of 10 or fewer people to build community archives through practices of consent. They are collaborating on the website with colleagues including MFA Design and Technology student Livia Foldes, and MFA DT faculty and alum Aarati Akkapeddi.
Togethernet v0.1 interface, showing two participants communicating in a shared digital environment
Jahn has also had a busy year, where she collaborated on an installation at the Venice Biennale of Architecture. A closing reception event on Friday, November 19th at 9 am features notable members of The New School — from Koray Caliskan, Associate Professor of Strategic Design and Management, to Arturo Escobar, design anthropologist and author of Designs for the Pluriverse. Escobar has previously given several keynote presentations at The New School.
Additionally, with architect Rafi Segal and developer Ernst Valery, Jahn is also in the midst of co-designing the United States' first care-based co-housing project, Carehaus. The first iteration will open in Baltimore in 2023, and serve 17 elderly and disabled adults, along with four caregivers and their children.
With Segal and a research team at MIT, Jahn has been in conversation with various Congresspeople and lawmakers in the Biden-Harris administration about a paper they published identifying infrastructural policy recommendations to combine care and housing. Entitled "Building America's Care Infrastructure Through Care-Based Co-Housing," Jahn and her team seek to ultimately support the needs of older and disabled adults, caregivers, and working families. Segal and Jahn present this body of work in an exhibition and upcoming event at the Canadian Centre for Architecture on Friday, December 3rd.
Left: "Open Collectives," a station in the Arsenale of the 17th Venice Biennale of Architecture, was created by Rafi Segal, Sarah Williams, Greg Lindsay, and Marisa Morán Jahn. Photo by Marisa Morán Jahn, 2021.
Right: Carehaus poster designed by Marisa Morán Jahn.