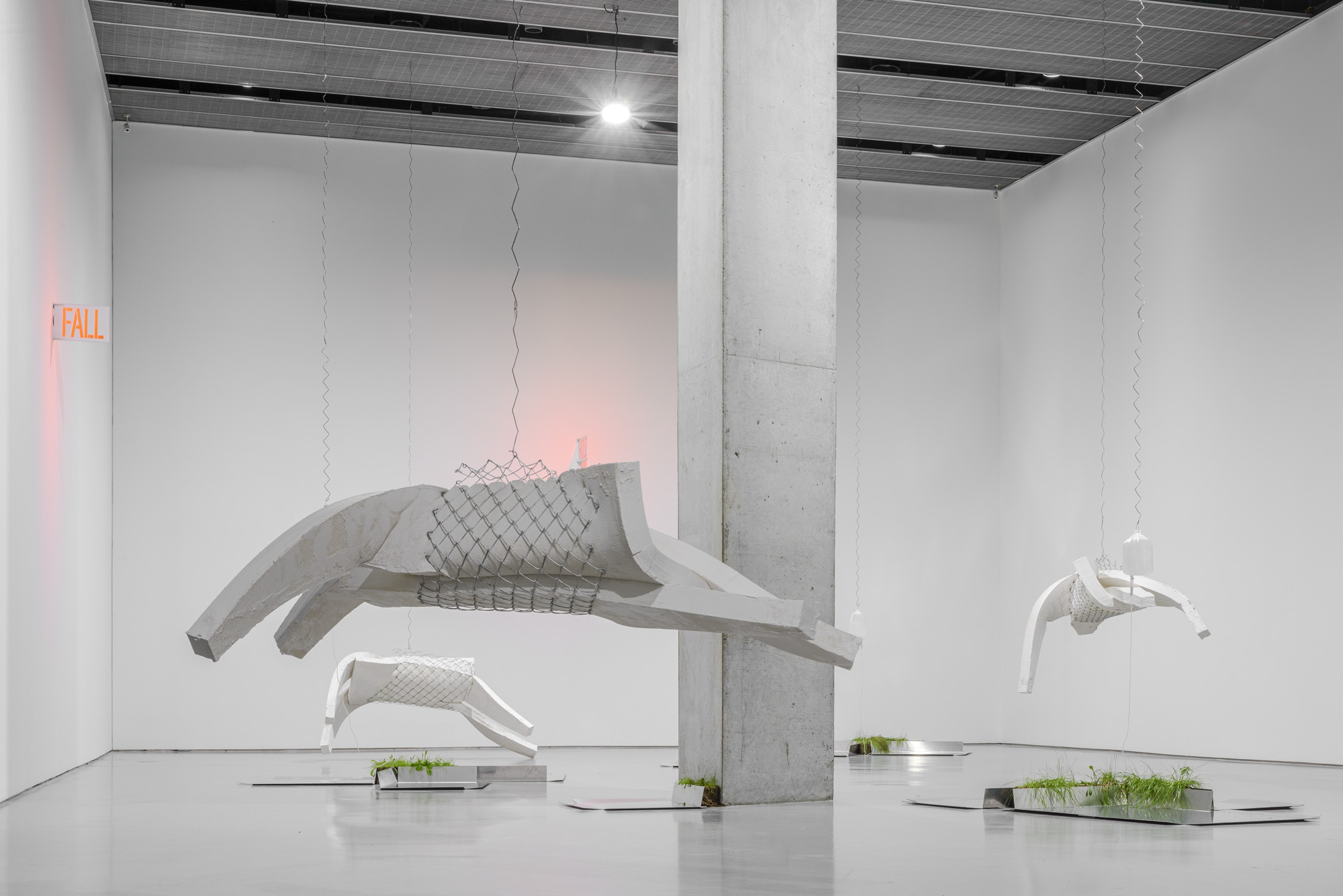 Rit Premnath, Assistant Professor of Fine Arts, Creates Sculptures that Explore Power and Marginalized Communities
Rit Premnath is a multidisciplinary artist in the truest sense of the word. His bold sculptures have been the focus of solo and group shows at galleries around the world, he's curated initiatives that focus on unrealized projects, he serves as the founding editor of Shifter, a "discursive platform and serial publication that illuminates the intersection between contemporary art, politics and philosophy," and is also an educator, which includes his role as an Assistant Professor of Fine Arts in the School of Art, Media, and Technology at Parsons.
Recently, Premnath debuted a new show, "Grave/Grove" at the MIT List Visual Arts Center in Cambridge, Massachusetts. The gallery is filled with Premnath's sculptures which explore the various ways in which state power operates and exerts influence over marginalized people through police control, and the architecture of prisons and detention centers. Figure-like forms sit in relation to "hard, metallic structures that visualize the collision between a vulnerable body and coercive force."
"Last spring I observed the wild urban plants sprouting up through cracks throughout the city," shared Premnath. "These plants that are designated as undesirable and called weeds nevertheless flourish and persist in very hostile environments. They became a metaphor for political marginalization, but also persistence."
In addition to his show at MIT List, Premnath is also exploring similar ideas in an exhibition at the Contemporary Arts Center in Cincinnati. The gallery shows share the same name, and are meant to invoke the tensions between the cold, institutional power of control and the exuberant life that escapes its totalizing force. The exhibitions also include text pieces that resemble exit signs, which include word pairings such as "Insist/Exist," "Wake/Wait," and "Lean/Hold," that provide conceptual anchors for viewers to extend the initial impressions they derive from the sculptures.
"I want viewers to first feel something through my sculptures," says Premnath. "There is a rawness and immediacy to the materials I use—chain link fences, emergency blankets and aluminum forms resembling cardboard boxes, for example. I make my foam and plaster figures on site and their material dependence on the site is very palpable for this reason."
Throughout his time at Parsons, Premnath has taught in both the BFA and MFA Fine Arts programs, and served as the BFA Fine Arts Program Director. As an educator, he doesn't push his own interests on his students, but rather, aims to help them discover what is important to them, and develop a methodology for making art that is both meaningful and generative.
"I encourage students to explore the phenomenological and poetic capacities of materials in a playful—yet sincere and committed way," Premnath explains. "Visual art has the capacity to communicate complexity and often provides more questions than answers. I encourage students to dig deep into the ideas that are important to them and embrace the uncertainty that comes with introspection. These are ethics that guide my own practice, and I bring them to my teaching."
Premnath's artistic practice explores a variety of themes and ideas related to pressing social issues, which aligns with the Parsons mission and vision, and reflects other work from members of the Parsons community. Christopher El Badaoui, BBA Strategic Design and Management '18, recently co-founded LVNDR Health to spur positive change in clinical outcomes and shift perceptions around sexual health, while Petya Andreeva, Parsons ADHT Assistant Professor of Asian Art and Design History, was recently awarded a UNESCO research grant for her work regarding the pastoral nomadic populations of Eurasia during the 1400's.
Premnath spent the last few weeks at the American Academy in Rome as an Affiliated Fellow from Parsons, working on new paintings and writing proposals for future projects, while also preparing to teach a graduate elective, Artist Books and Magazines this semester.