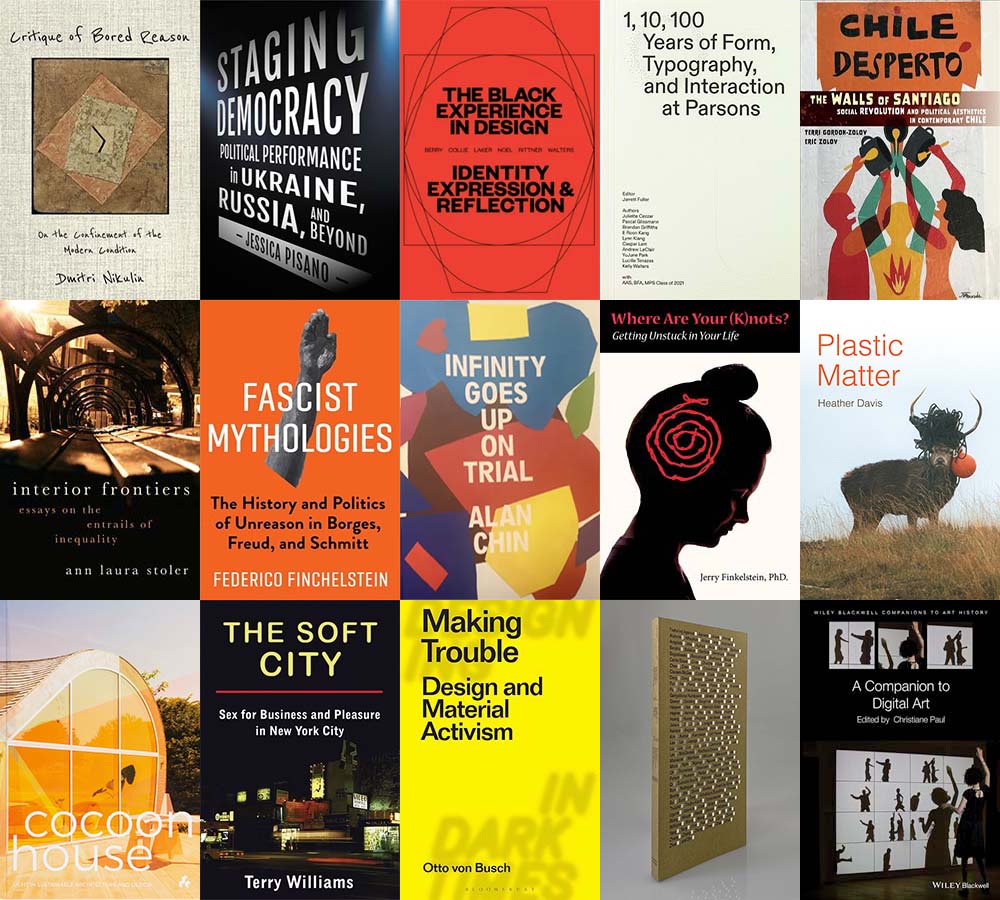 The New School's Spring 2022 Semester in Books
Faculty authors confronted a number of pressing social and cultural issues in several books published this semester—from a critical exploration of fascism as a form of political mythmaking to a philosophical study of the concept of boredom and an anthology that spotlights design teaching practices, research, and stories from a Black/African diasporic lens.
New School faculty members also produced several compelling works during the fall 2021 semester.
Also included in this list is the inaugural edition of Framework, a publication produced by the Communications Design community at Parsons School of Design that highlights the many ways students and faculty build and support one another by translating, creating, and articulating ideas and forms, and creates a valuable capsule for thinking about contemporary communication design practice and pedagogy in the 21st century.
The following is a list of books released over the spring 2022 semester. Discover your next great read below.
Framework 101
AAS, BFA, MPS Communication Design Students
Cocoon: Light in Sustainable Architecture and Design
Nina Edwards Anker
Lecturer, Parsons School of Design
Infinity Goes Up On Trial
Alan Chin
Lecturer, Schools of Public Engagement
Plastic Matter
Heather Davis
Assistant Professor of Culture and Media
Fascist Methodologies
Federico Finchelstein
Professor of History
Where Are Your (K)nots?: Getting Unstuck in Your Life
Jerry Finkelstein
Director of Counseling and Clinical Supervisor
1, 10, 100 Years: Form, Typography
Jarrett Fuller, Lecturer, Parsons School of Design (editor)
Juliette Cezzar, Associate Professor of Communication Design (co-author)
Pascal Glissmann, Associate Professor of Communication Design (co-author)
Brendan Griffiths, Assistant Professor of Interaction Design (co-author)
E Roon Kang, Assistant Professor of Interaction Design (co-author)
Lynn Kiang, Assistant Professor of Communication Design (co-author)
Caspar Lam, Assistant Professor of Communication Design (co-author)
Andrew LeClair, Assistant Professor (co-author)
YuJune Park, Assistant Professor of Communication Design (co-author)
Lucille Tenazas, Henry Wolf Professor of Communication Design (co-author)
Kelly Walters, Assistant Professor of Communication Design (co-author)
The Walls of Santiago: Social Revolution and Political Aesthetics in Contemporary Chile
Terri Gordon (co-author)
Associate Professor of Comparative Literature
Critique of Bored Reason: On the Confinement of the Modern Condition
Dmitri Nikulin
Professor of Philosophy
A Companion to Digital Art
Christiane Paul (editor)
Professor of Media Studies
Staging Democracy: Political Performance in Ukraine, Russia, and Beyond
Jessica Pisano
Associate Professor of Politics

The Black Experience in Design: Identity, Expression & Reflection
Jennifer Rittner, Assistant Professor of Strategic Design and Management (Development Editor)
Kelly Walters, Assistant Professor of Communication Design (Creative Director)
Interior Frontiers: Essays on the Entrails of Inequality
Ann Stoler
Willy Brandt Distinguished Professor of Anthropology and Historical Studies
Making Trouble: Design and Material Activism
Otto von Busch
Associate Professor of Integrated Design
The Soft City
Terry Williams
Professor of Sociology