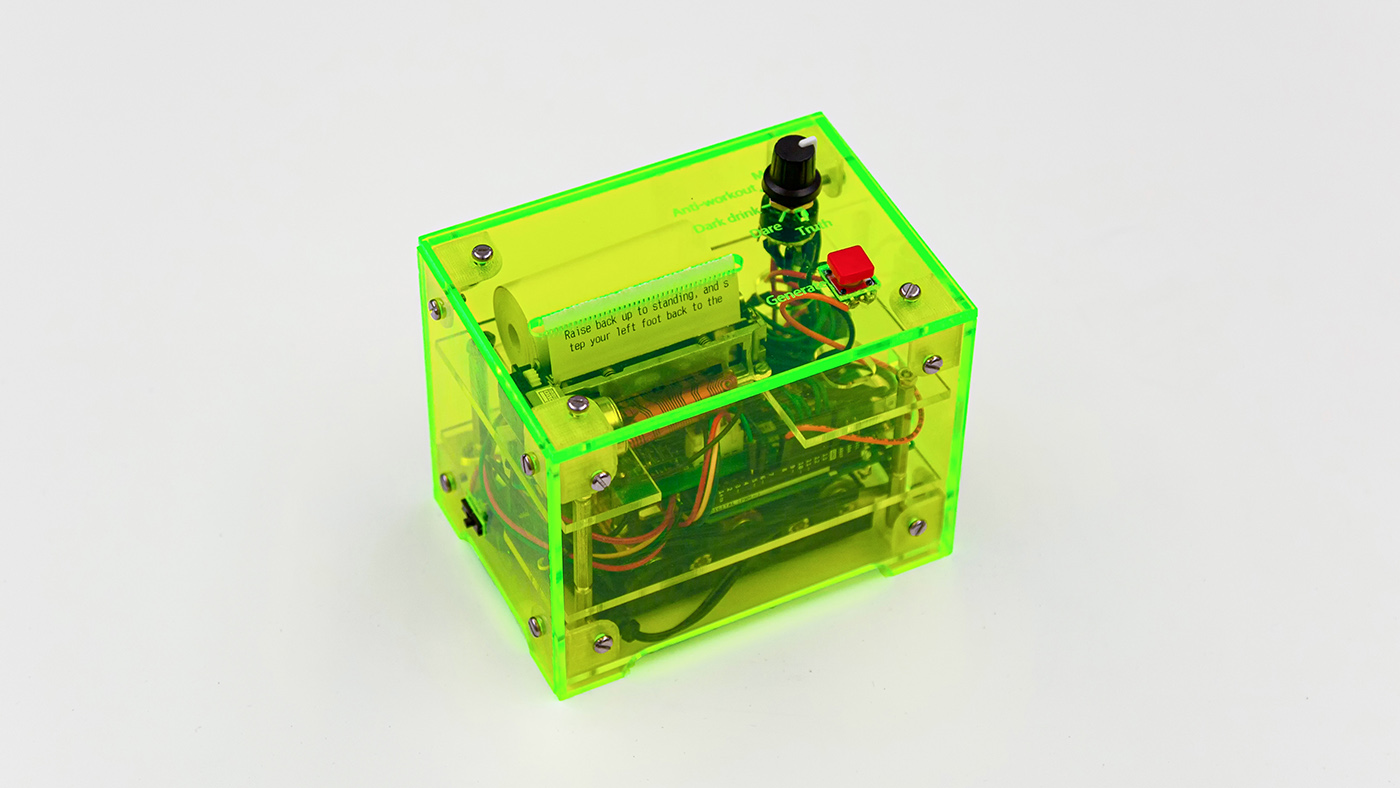 Yuqing Liang and Yibo Fu, Design and Technology '22, Create New Version of Truth or Dare Utilizing Machine Learning
"Truth or Dare" feels as old as time. The prompts might change from person to person, group to group, but the basics of the game stay the same, and typically elicit similar reactions over and over again.
For Yuqing Liang and Yibo Fu, Design and Technology '22, Truth or Dare represented an exciting new challenge after they were introduced to a text generation model called "Markovify" in their Design and Technology course "Physicality of Machine Learning." The duo recently submitted "Trouble Maker," their version of Truth or Dare which utilizes Markov Chain, to Core77, which awarded the project a Student Notable Interaction Award.
"In a Truth or Dare game, the questions and tasks are endless, but it can be challenging to think of what to ask next," the designers explain. "We try to make it more fun by generating words and lines that may come out weird since a machine learning generator generates them. The fact that it will be based on a word previously used and the results will not always make sense makes it crazy but unique."
The Markov Chain makes the design innovative and fun, which was important for the designers, as the game is typically used during parties and other social events. In order to create absurd scenarios, Yuqing and Yibo programmed the game-gadget with various "serious" inputs, such as meditation, cocktail recipes, and workout instructions that would juxtapose cleverly with the unexpected machine learning prompts.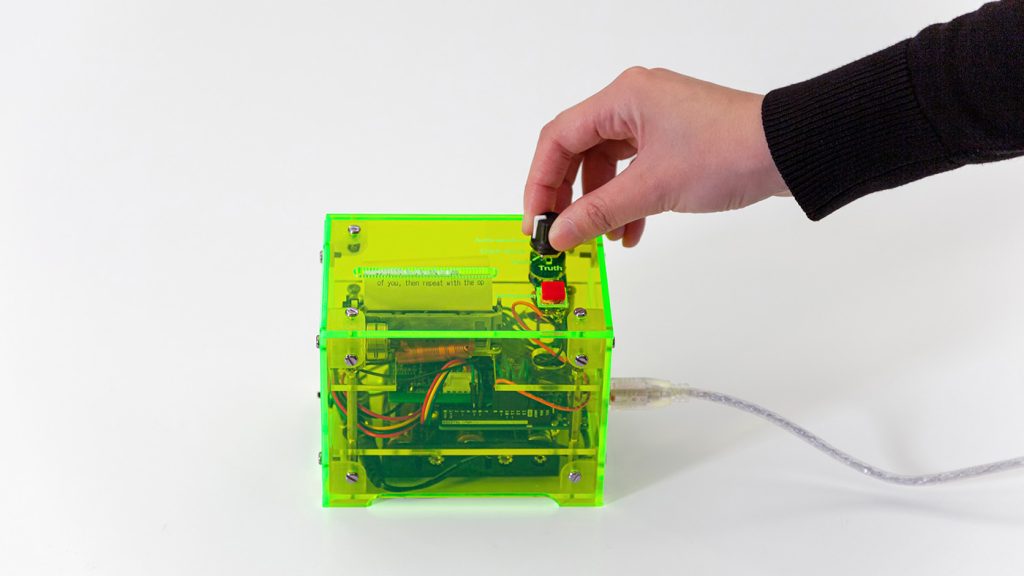 "A Markov chain is a stochastic model that generates random results based on probability. In the text generating process, a Markov chain model predicts the next word based on the previous word. Compared to pre-trained text generation models like GPT-3, Markov Chain models actually have a very poor understanding of the input text, which means the generated results make less sense. The absurdity of such primitive ML applications and the absurdity of the Truth or Dare game itself are perfect matches – "errors" in machine learning can be fun when put into the right place."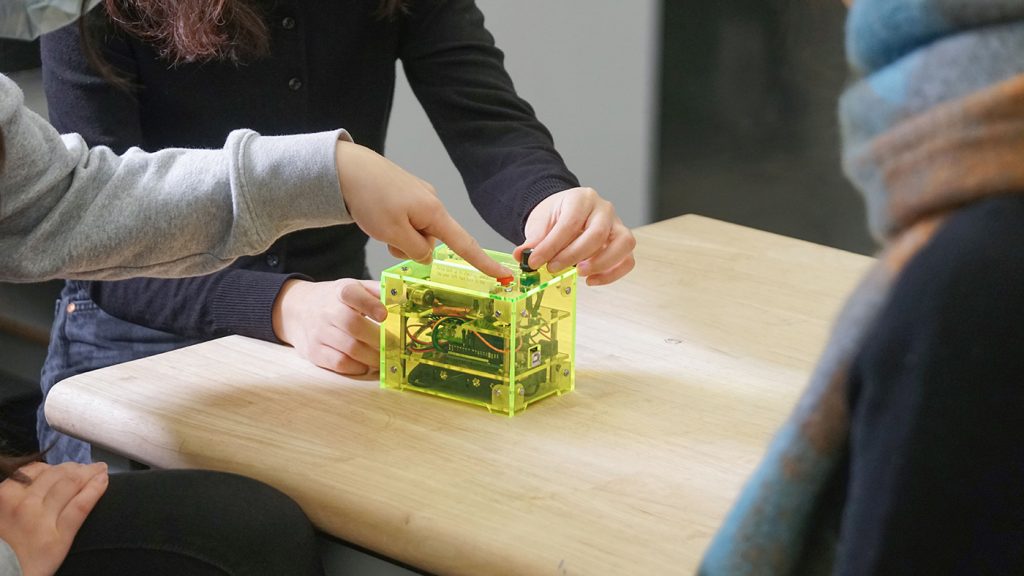 Thanks to their time at Parsons, Yuqing and Yibo have been exposed to a variety of emerging technologies, which has informed their design practices. For their proposed gadget, they developed a small box with a built-in thermal printer that generates prompts which will provide a getaway from the excessive use of screen-based electronics. With the prompts thermal printed on tips as the interface, the designers hope players will be fully concentrated on the reality and more importantly, on each other.
"Parsons gave us the freedom to do the design with whatever topic, tool, or tech we wanted," they share. "Studying here maximized the diversity and inclusiveness in our design projects."
The Parsons community has been much in the news recently thanks to innovative and unique design projects that address a number of wide-ranging issues. Fashion Design students wrapped up a collaboration with Special Olympics, where they developed new designs for athletes, while another collaboration between Interior Design, Product Design, and NIO, a leading Chinese manufacturer of premium smart electric vehicles, debuted sustainable designs created with leftover car materials.

With their Core77 award in tow, Yuqing and Yibo are looking ahead. Yuqing is currently working as a freelance designer for Brooklyn Research Studio, while Yibo is a design technologist intern for Smart Design.