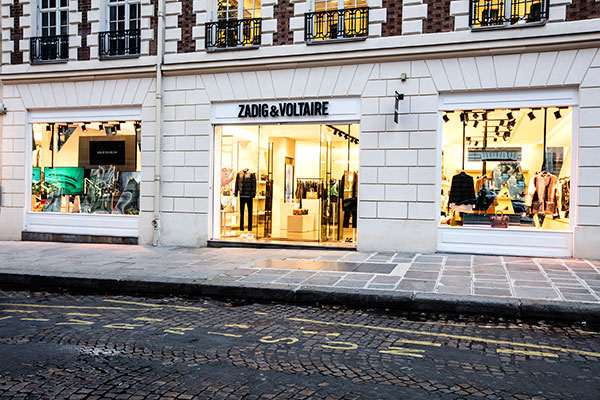 Reflecting Zadig and Reinventing Parisian Fashion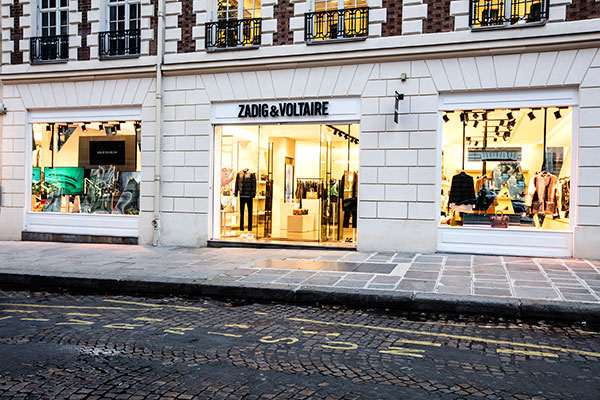 Spot the work of Parsons Paris students in the window displays of Zadig & Voltaire three times between now and September 2017.  The unique collaboration dubbed "Reflecting Zadig" was imagined to celebrate 20 years of Zadig & Voltaire and has resulted with first concept "The Mirror" that already dons the two flagship stores — Paris (20 Rue François 1er, 75008) and NYC (992 Madison Avenue) — this holiday season. "The Sculpture" will be revealed worldwide on February 2017, and "The Stencil" on September 2017 for the actual 20th anniversary during New York Fashion Week.

During the course of a semester, 20 BFA Fashion Design students as well as 5 BFA Art, Media & Technology students explored a contemporary reinterpretation of the figure of Zadig in the tale "Zadig, The Destiny" written by French poet and philosopher Voltaire. Students also took inspiration of the private collection of founder and CEO of the brand Thierry Gillier, in particular contemporary artists Dan Flavin, Steven Parrino, Rudolf Stingel, Christopher Wool and Alex Israel.

The project was spearheaded by BFA Fashion Design director Leyla Neri who saw the opportunity for students to get up close and personal, and go behind the scenes of a Parisian maison. Students worked closely with the Zadig & Voltaire team, meeting regularly with Creative Director Cecilia Bonström, and Communications Director Carol Gerland, both with visits to the Zadig & Voltaire for a look inside their brand DNA, colors, fabrics, and rock 'n roll style, as well as through presentations at Parsons Paris. During Paris Fashion Week, students also got to be guests at the Spring 2017 Z&V preview.

The process started with visits to the Zadig & Voltaire headquarters and showroom in the 16th arrondissement. The CEO exhibits part of his amazing collection in the working spaces and corridors of the headquarters. Creative Director Cecilia Bönström (left) and Communications Director Carol Gerland (right).


Back at school students worked in multidisciplinary teams to develop preliminary concepts and ideas, prototyping along the way.
Paris Fall Fashion Week conveniently fell during the project, which included a garden party setting and Spring 2017 preview, along with models and famous tattoo artist Virginia Elwood.

The entire crew (missing a few faces) during first round presentations.


It's not every day you get direct feedback from the Creative Director of a company!
The Reflecting Zadig window project is the first step of a larger project that comprises of the creation of a capsule collection. Each student has been invited to revolutionize the codes of the company and imagine the Zadig & Voltaire of the future.
See more inside the BFA Fashion Design program on their blog!
[vimeo 195313285 w=600 h=338]
Window images courtesy of Zadig & Voltaire. All other images by Monica Fraile and Arianna Padfield.