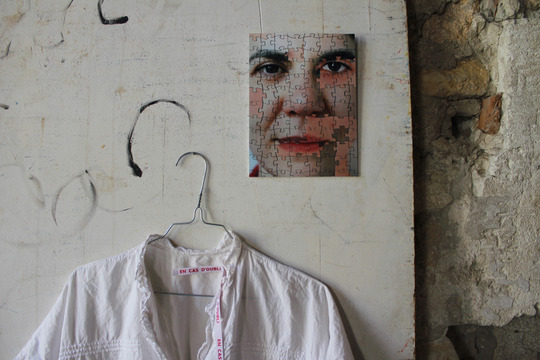 Dr. Emmanuel Cohen about Performance, Monocycling and Natalie Portman
I had the opportunity to sit for a talk with First Year Program Coordinator and Professor Dr. Emmanuel Cohen.
When and why did you decide to become a professor?
To be honest I never really wanted to be a teacher because my mom was an art teacher in the French education system, which is very different from the American one and she was always complaining about it.
I did my master's degree at the University of Pennsylvania, during the first year I was a French teaching assistant, it was really unexpected but I actually enjoyed it a lot.
Which one of the many different courses you teach interests you most?
I would say the closest one to my academic interests is Bodies in Space, a performance-based class. We go through the history of performance as an art form and look at different theories related to performance studies such as sociology, contemporary art and dance.
Another course I really enjoy teaching is Integrative Seminar. The class involves a lot of written assignments which help me understand the students and get to know them better on an intellectual and cultural level.
Is there a specific value or idea you try to transmit to your students?
I would say empathy, not as a discipline per-say, but I think in design, art and management you need to develop tools to understand what other people think, or why things are made in a certain way. Not to judge them but to try to accompany the process and be able to better respond to it.
You have invited the Japanese performance artist Tsuneko Taniuchi to participate in your Bodies in Space class, how do you know her?
I first worked with Tsuneko in one of her Micro-Events in 2006. She needed an assistant for a performance in which she was playing a homeless woman indoors and I was playing a guard asking her to leave. She also had another Micro-Event where she performed as a bride painting in the air, she needed someone to bring her the paint brush and that was me.
When I was asked to teach a class on performance at Parsons Paris, I contacted her to ask if she wanted to collaborate on workshops for students and experiment in different performance fields. The first year we did costumes, the second year food and the third year interactions and self defense.
Last year, she asked me to participate in two round tables on her work in a performance art center and a museum, it was a great experience that strengthened our working relationship even further.
To see more of Tsuneko Taniuchi's work visit: https://taniuchi.fr/en/micro-events/
Would you like to do more artistic performances?
Yes of course. I had to make a choice at some point whether I wanted to pursue an academic career or try to become a professional actor. I chose what I was really good at which is reading books.
I realized that when I'm doing research I have more freedom. To become an actor, I would need to work on the projects offered to me and play the character they want me to be with less creative freedom of personal interpretation, in my opinion.
With which artist would you like to collaborate in the future?
In addition to Tsuneko, I would like to work with Kathleen Ritter and Rachel Marks; both are my colleagues. Teaching Integrative Seminar and Studio with them has been an extremely fulfilling and enriching experience.
If I were to pick someone I do not know, it would be Kader Attia. I was moved by his exhibit "Les racines poussent aussi bien dans le béton"; https://vimeo.com/264395801. I'm fascinated by his research on the processes of repair and restitution, topics of great resonance with today's society and my personal history.
To see more of Kader Attia's work visit: http://kaderattia.de/works/
I know you have done research on theater and performing arts in the historical avant-garde movements, what have you discovered?
I have discovered without any surprise the way history of the avant-garde theater is taught makes women invisible. Gertrude Stein for instance, who was instrumental in the development of avant-garde theater wasn't recognized for it. Instead, she was recognized for being friends with Picasso when she started collecting modernists paintings and bringing them to the American audience.
I also focused on the role of primitivism in the way European and American arts were discussed and impacted the way people thought about art and theater in particular. This came to the realization that even though avant-garde movements very often pretended to be very progressive, there is a certain racist dimension that I never heard of before so explicitly. Racism in a way that they are instrumentalizing art from Africa, America or the Pacific without always acknowledging its origin. Today we would call it cultural appropriation and as theater deals with the real bodies of performers, sometimes you would find a very racist use of an African American cast for instance.
What question is driving your forthcoming research?
My question for a new research direction would revolve around how to bridge the gap between practice and theory in my research; how can I become a more informed theoretician through practice?
Today I work closely with one theater company and one performer, to try to be less theoretical in my approach and closer to what's really happening on a daily basis.
What can you tell me about your work in the film "Planetarium" as Natalie Portman's coach?
That happened the year I started working at Parsons Paris. At the time I was only teaching one class per semester, I had just finished my PhD and I was looking for job opportunities. A friend told me that for Zlotowski's next film, she was looking for someone with background in theater who spoke English and could teach French. Luckily enough, I met all the criteria.
Working with Nathalie Portman was a great experience because she knew quite a lot of French and she is an easy going person. I suggested texts on art history and the history of France in the 1930s for her to read since the movie was set in the 1930s.
We met once or twice a week for almost a year to speak French and then eventually rehearse scenes together. I worked with the director on rewriting dialogues and intentionally twisting perfect French dialogues to incorporate things American people tend to say in French. It was a really enriching experience.
I did not know you were a photographer, what do you enjoy photographing most?
I am not really a professional photographer. In general, I'm more interested in landscapes than portraiture or daily life scenes.
I had the opportunity to work on an exhibition called "Étant Donnée" (the name of Marcel Duchamp's last work), for commissioned work, it was with a series of portraits which I loved. The portraits were printed on puzzles, so we could recreate them mixing different faces.
The artist Cécile Portier doing the exhibition, was interested in the type of data we leave in the world. Is it possible to be anonymous? In Duchamp's piece the naked woman he is presenting has no identity. What would happen if she had amnesia, how would we collect information on her to find her identity? These questions become even more pressing in a world where we share and leave numeric data everywhere.
What do you consider to be your greatest achievement yet?
Finishing my PhD is probably my greatest achievement yet. It was five very demanding years where I doubted myself a lot. Sitting for ten hours a day in front of the computer, you are the only one telling yourself whether your work is good enough or not.
Where do you see yourself in 10 years?
I'm pretty happy with what I have. In 10 years my plan would be to make more time to do research and practical work, maybe even bring my passion for drawing into my research. I would really like to feel free and comfortable enough to bring together my serious professional life of academia, conferences and teaching with my creative activities, although I do think teaching is extremely creative.
With so many areas of expertise, is there a secret talent you would like to share?
I did circus for two years and I'm really good at monocycling.