Francesa Bonesio on the pleasure of making thoughts real
Ryuku Otsuka, AMT '21, interviewed First Year Program Coordinator and faculty of AMT Francesca Bonesio as part of his end of semester project for "Out and About" taught by Olga Rozenblum.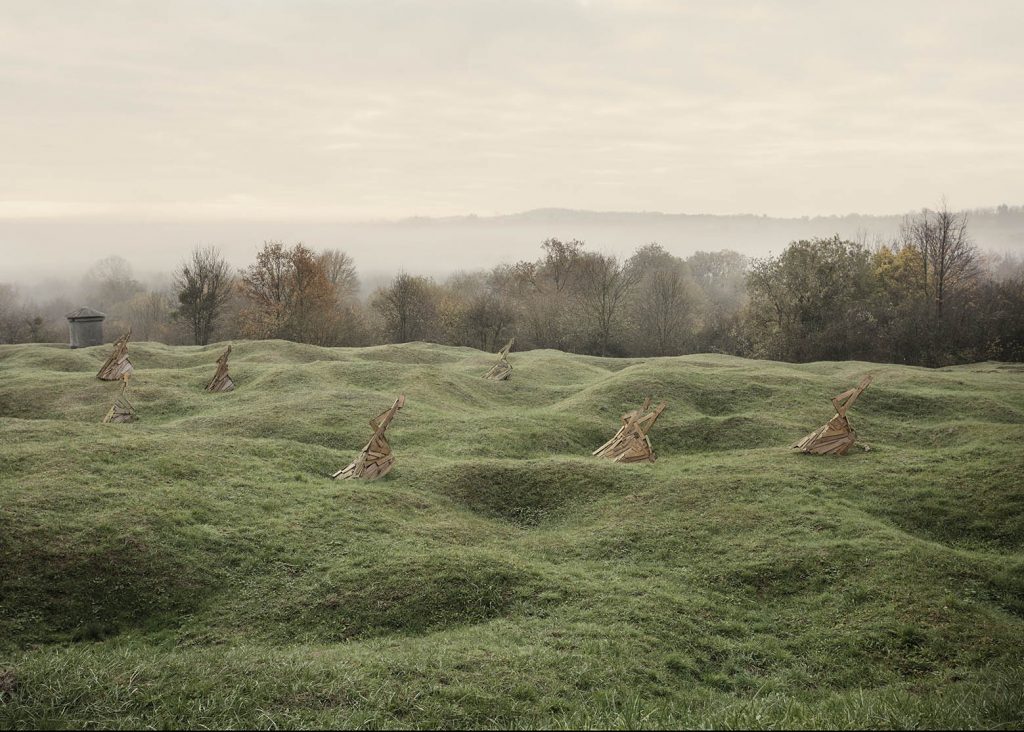 What is your studio organization?
"Atelier 37.2" is Nicolas Guiraud, a French photographer and visual artist, and myself. We have an open space in an old, shabby building in Paris that we share with other artists and designers. 
What is the general concept of your work?
We like to put a human presence at the center of our work. Our pieces are either made for the human body like a sculpture to be inhabited, as a wearable space ("Graft", "New Horizon", "Sloping House", "Arteology") or they represent the human body itself ("The Whitewalkers").
We mainly respond to briefs for competitions, museum invitations or residency calls. We have worked on sites such as cultural institutions, cities, museums, theatres and even an ancient volcano, adapting our approach based on constraints, timing, weather and accessibility.
We like installing in public spaces because it leaves the audience more freedom to ask questions. When you go to a museum, you don't get to ask questions to the artist.
What materials do you work with?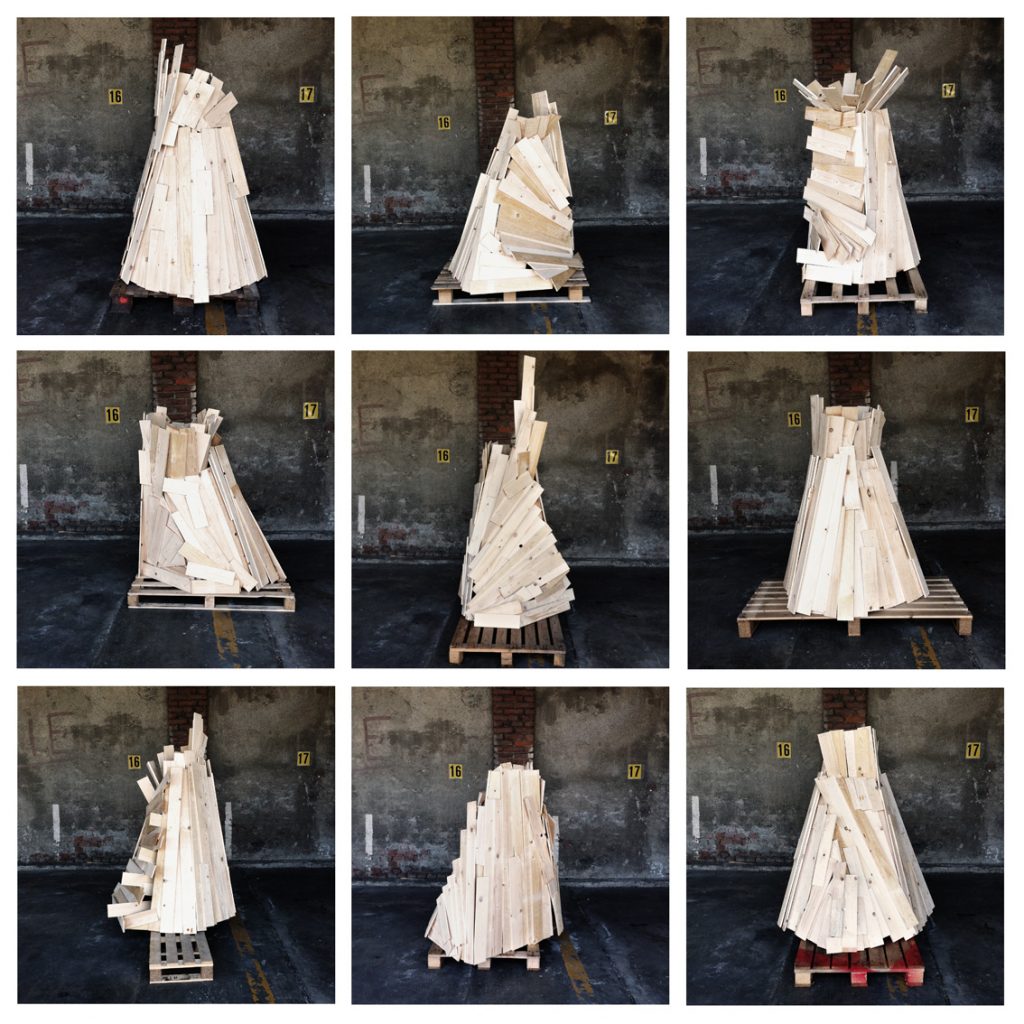 We work a lot with wood because it is sustainable, easily recyclable, and quite light. We also work with other materials depending upon the project brief, in which case we look for a specialist and we collaborate with them.
Collaborating is a nice part of the work because it opens us up to new mediums and we get to know people who are passionate about the material they are working with.
What steps do you go through in order to produce a project?
The first step is selecting a competition in which we want to participate, or in which we are invited to participate. Then we study the brief specifications and analyse the context.
Our initial process is really about narrowing down what we will build by identifying constraints. We love constraints; they are the engine of our art machine!
We always start by throwing ideas back and forth like a game of table tennis. It's a very free, inspired process at the beginning. Then there is a moment when it becomes annoying because we both need to let go of some of what we believe in and accept another point of view. We need this tension, the uncomfortable moment when you think, "I can't stand one more minute of this" and want to walk away from the project. The uncomfortable moment is key, which is something I tell my students when they are working in groups. It acts as a catalyst.
We may change our minds about our concept as we go along, but at some point an artist has to stop reshaping the concept and start making the project in order to move forward.
Then what is important is to stop thinking and start making. Making is the fundamental step in a piece of artwork.
Do you collaborate with other artists?
In the beginning, it is just the two of us. When we get to the production, the number of people involved depends upon the scale of the project, the budget and the location. Generally if there are specific materials, we work in smaller teams with specialised skills.
For instance, our project "Bleu Calcaire" is made of shell limestone and a huge slab of glass. We had to find an artist who could make something in glass that would be massive. Stone is a heavy material to work with. We couldn't travel away from Marseille to work with someone we already knew because we would have spent all of our budget transporting the stone. We had to find someone locally which was a great way of meeting another artist.
In other examples, our "Arteology" project involved a 150m long art piece built on the top of a volcano in Auvergne, so we were a group of 15 or 20 people. For the initial construction of "The Whitewalkers", we worked with 25 architectural students.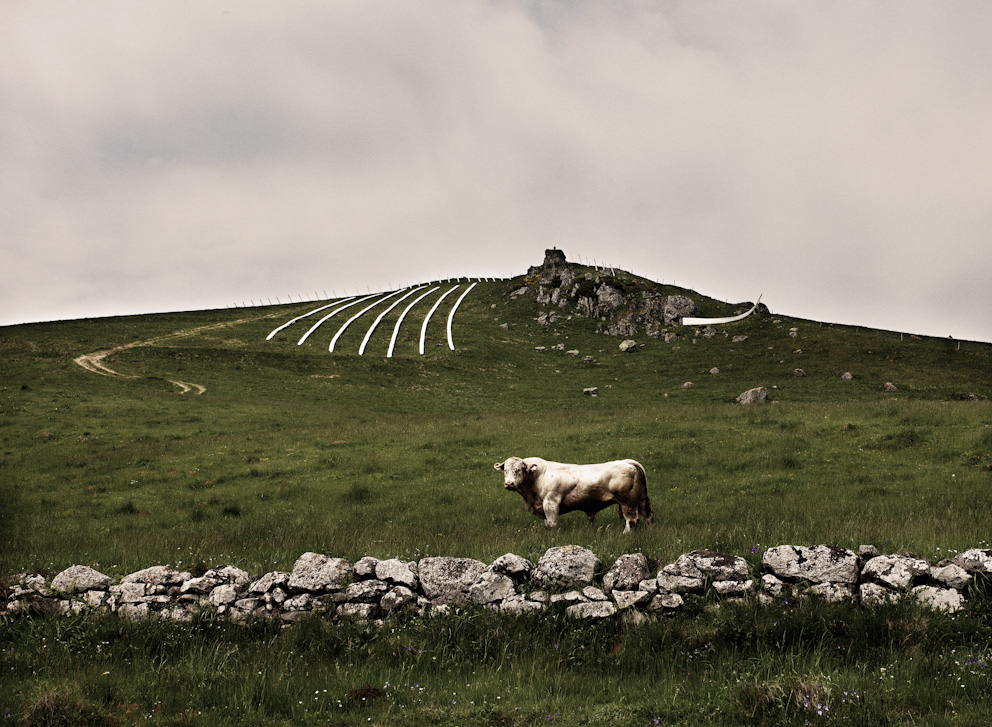 How do you know when a project is finished?
A project is never finished because every project leads to another one.
"The Whitewaters" is a series that was originally a 6-month exhibit for a city in the south of France that ended up lasting 7 years. When the original goal of the project was finished we transformed it into something else. We decided to put it into uninhabited landscapes.

We started building them in Iceland and in Italy and in the end completed 120 installations around Europe. We travelled 15-20,000km with our sculptures in a trailer behind the car, crossing borders and styling the sculptures into landscapes just the time to photograph them. In the space of a few hours we unlocked the sculptures, which are bigger than human beings, carried and installed them, photographed them and carried them back to the car.
Today, some of the pieces have gone to collections and some have been left on site and to decompose. They were constructed to have a lifespan similar to humans. Depending on where they are installed, they will last 10, 20 or 30 years, no more.
There is a woman in Iceland who sends us photos of them in the snow every winter. They are submerged and eventually they will disappear.
Where do your work and installations go after being exhibited?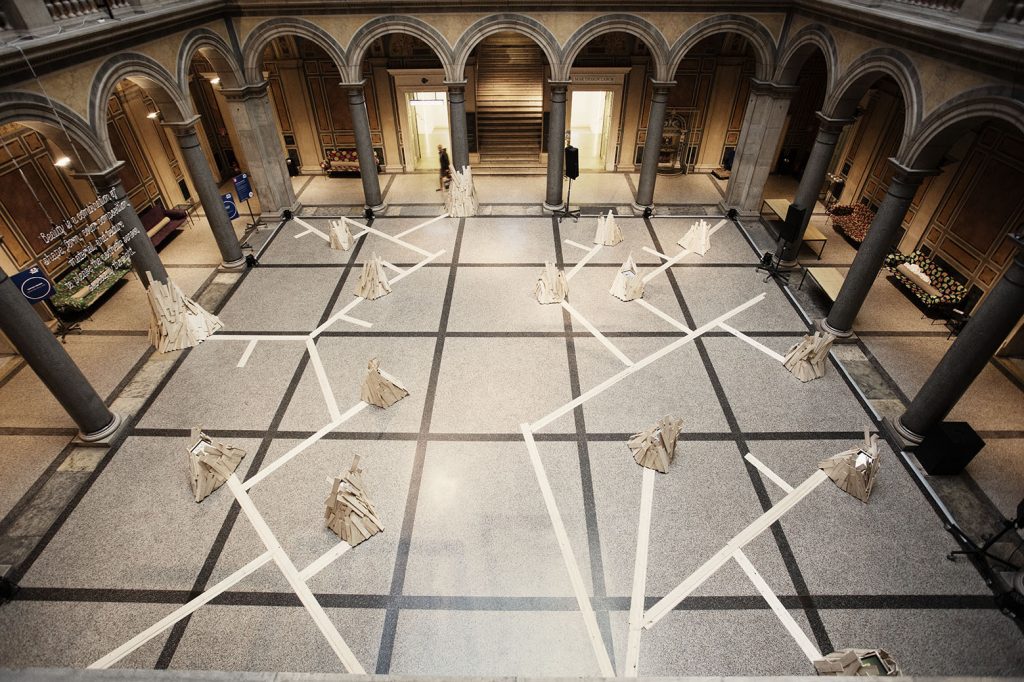 I don't believe in the everlasting character of a piece of art. When we dismantle a project and make something else, that is the best part of it.
Our work is mainly ephemeral. It lasts years, months, days or sometimes only a few hours and then we recycle our pieces. From the beginning we already think about how it will become something else afterwards.
"Arteology" was carefully dismantled piece by piece, screw by screw and became "Sloping House" a year later.
"Tree of Life", Klimt's remake that we did for the MAK Museum of Contemporary Art in Vienna, took 3 days to build, 1 night to showcase (to 20,000 visitors), and the next day we dismantled it. It was transformed into a group of "The Whitewalkers". It is hard to dismantle your own pieces the day after the opening, but it is a humble way of conceiving art.

As an artist, what do you consider an accomplishment?
That is a hard question Ryuku! I would say that I enjoy the pleasure of making thoughts real.